The decadence of a horror double feature is undeniable. When properly paired, watching two films back-to-back is not only time well spent, but also an opportunity to examine, compare and discuss the two movies all the while celebrating them. However, determining which films a double feature should consist of can be challenging; but it can be a fun exercise, too, as Rabbit and I recently discovered for ourselves.
After agreeing on a list of 12 classic horror films as the starting point, we retired to our respective corners and with careful consideration assigned a second title to couple up with the first. The only rules in this challenge were as follows:
The proposed second feature CANNOT be a sequel, remake, or reboot of the first.
You must provide a reason for your second feature selection.
SPOILER ALERT! – NONE of our proposed second feature selections were identical! (OOO.MMM.GGG!)
Here is a list of each of the movies (in chronological order) that were the basis for the horror double feature challenge:
THE EXORCIST (1973)
THE TEXAS CHAINSAW MASSACRE (1974)
JAWS (1975)
HALLOWEEN (1978)
ALIEN (1979)
FRIDAY THE 13TH (1980)
THE SHINING (1980)
THE EVIL DEAD (1981)
POLTERGEIST (1982)
A NIGHTMARE ON ELM STREET (1984)
SCREAM (1996)
THE BLAIR WITCH PROJECT (1999)
What would be your ideal horror film to complete the double feature for each of those titles? (And remember, it cannot be a sequel, remake, or reboot.) Are any of your selections in agreement with Rabbit's or mine? Make your list and then scroll down to find out!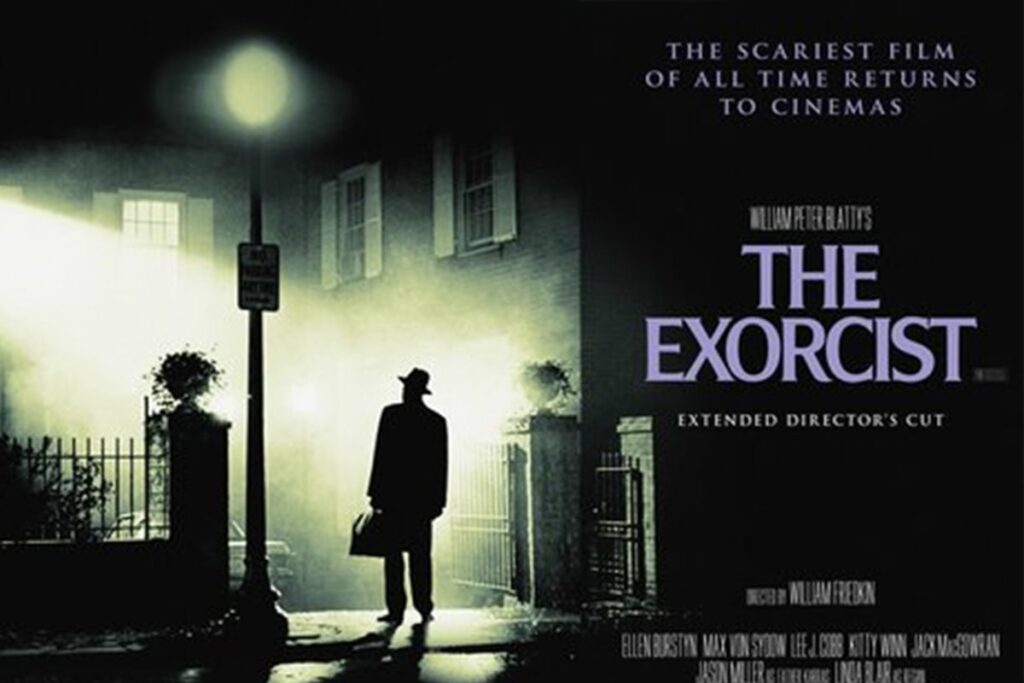 THE EXORCIST (1973)
Rabbit's Choice: ROSEMARY'S BABY (1968)
Why: These supernatural horror films have a lot in common and paved the way in their respective genres. Both trailblazing films, based on books published in 1967 and 1971, deal with religious anxiety and satanic behaviour revolving around youth. They're also Academy Award winners; Ruth Gordon winning for Supporting Actress in Rosemary's Baby and The Exorcist taking home Best Screenplay and Sound.
Scarlett's Choice: THE OMEN (1976)
Why: While I love the fact that both films won Oscars (The Exorcist for Adapted Screenplay and Sound Mixing, The Omen for Original Score), an extremely rare occurrence for the horror genre, what makes The Omen a great companion piece to The Exorcist is that at the core of each film is a fascinating battle with The Devil, whether it's in the form of possession or with the Antichrist's actual spawn, and the role religion plays as a weapon in that battle.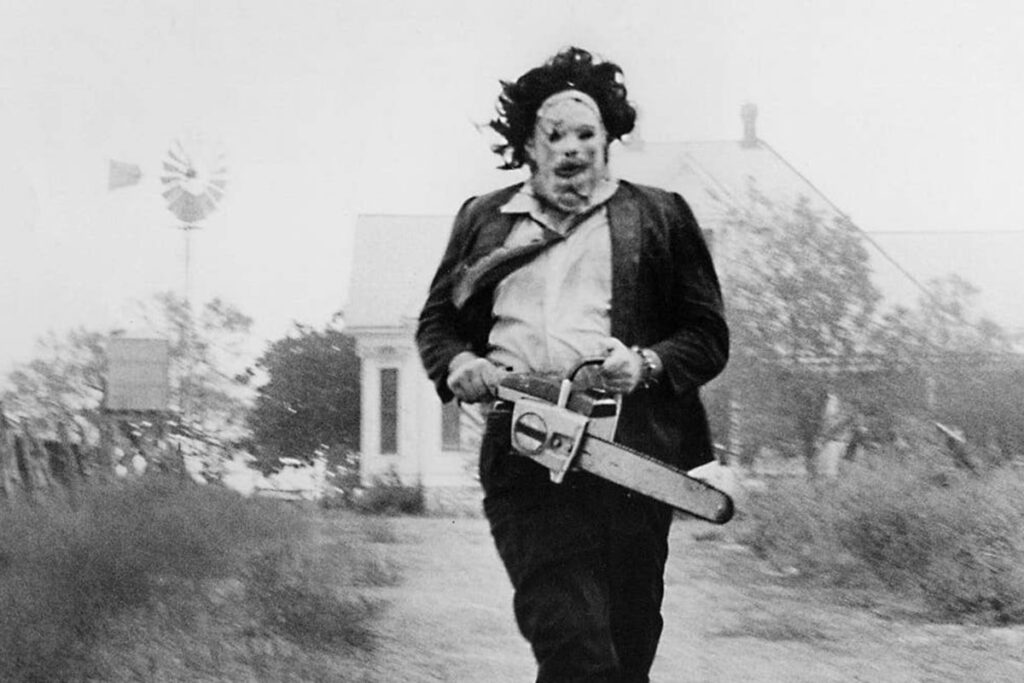 THE TEXAS CHAINSAW MASSACRE (1974)
Rabbit's Choice: THE TOWN THAT DREADED SUNDOWN (1976)
Why: These terrifying '70s slashers are loosely based on true crimes. Tobe Hooper's The Texas Chainsaw Massacre follows the story of Ed Gein, also known as the Butcher of Plainfield, who committed his crimes in the 1950s, and The Town that Dreaded Sundown, directed by Charles B. Pierce, is based on the never-caught Phantom Killer, who murdered five people in 1947. Both horror films, realistic in nature, feel very raw and amateur, further playing up elements of isolation, darkness and terror. They also both take place in the state of Texas.
Scarlett's Choice: THE SILENCE OF THE LAMBS (1991)
Why: The Texas Chainsaw Massacre is such a stand-alone classic film that I struggled with finding a suitable companion piece for it. After considerable thought, I landed on The Silence of the Lambs, if only for the fact that both Buffalo Bill and Leatherface have a weakness for human skin as bold fashion statement pieces, and Hannibal Lecter would fit in almost perfectly with TCM's family of cannibals, especially when it came to meal-planning and who to invite for dinner (pretty much the same thing).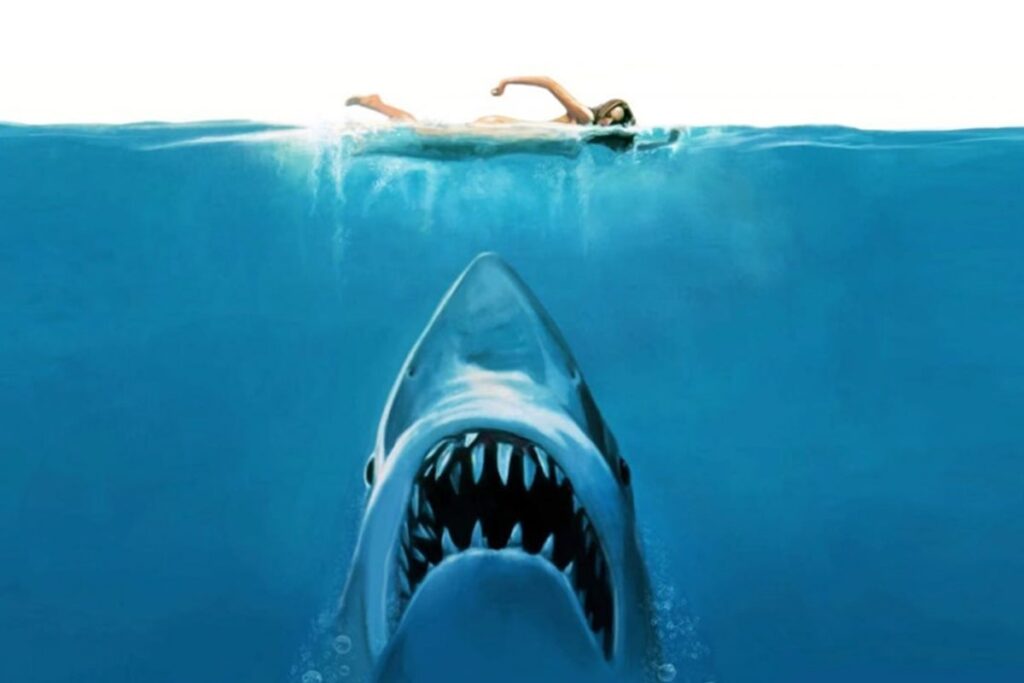 JAWS (1975)
Rabbit's Choice: DEEP BLUE SEA (1999)
Why: Who doesn't love a good back-to-back creature feature? There is a plethora of low-budget, shark-focused horror films out there (hello Sharknado), but Jaws and Deep Blue Sea are of the highest calibre. Deep Blue Sea, which recently celebrated its 20th anniversary, is actually considered the biggest mainstream shark film since Jaws and offers a fresh take on the subgenre, without simply repeating what's already been done. As an homage to Jaws' director Steven Spielberg, you'll notice the same license plate is removed from a tiger shark in both films.
Scarlett's Choice: CRAWL (2019)
Why: I never want to come face-to-whatever with either a great white shark or an alligator/crocodile, unless it is on a movie screen. These two creature features deliver tension-building suspense and an adrenaline-fueled rollercoaster ride for audiences. Jaws may be the masterpiece big fish here, but for me Crawl is an almost equally terrifying, satisfying journey.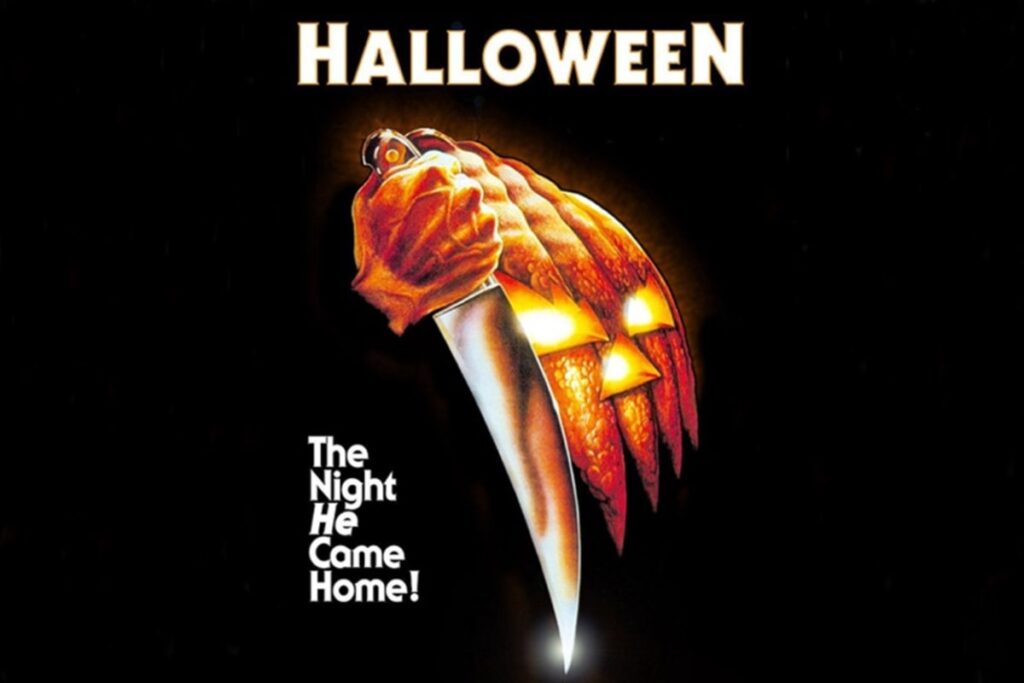 HALLOWEEN (1978)
Rabbit's Choice: THE FOG (1980)
Why: Make it a John Carpenter and Debra Hill kind of night! The team's eerie theatrical follow-up to Halloween shares a lot of similarities with the 1978 classic. The Fog may not be ground-breaking, but it's an effective ghost story that captures the same atmospheric, small-town feel as Halloween. We're reintroduced to cast members Nancy Kyes, Charles Cyphers, and Jamie Lee Curtis, this time adding her mother, original scream queen Janet Leigh, to the mix. Carpenter's piano-driven score, another one of his best composed, also shares a striking resemblance. Halloween season, ghost stories, the two go hand in hand.
Scarlett's Choice: BLACK CHRISTMAS (1974)
Why: Experiencing this, my ideal horror double feature, feels like being part of an orgasmic threesome, with me happily in the middle. Back-to-back slashers, each an undisputable horror classic, one undeniably influenced by the other without it feeling like a rip-off. Until my dying day, I will never tire of watching either Halloween or Black Christmas, nor will I limit myself to watching them during the season of which they are part.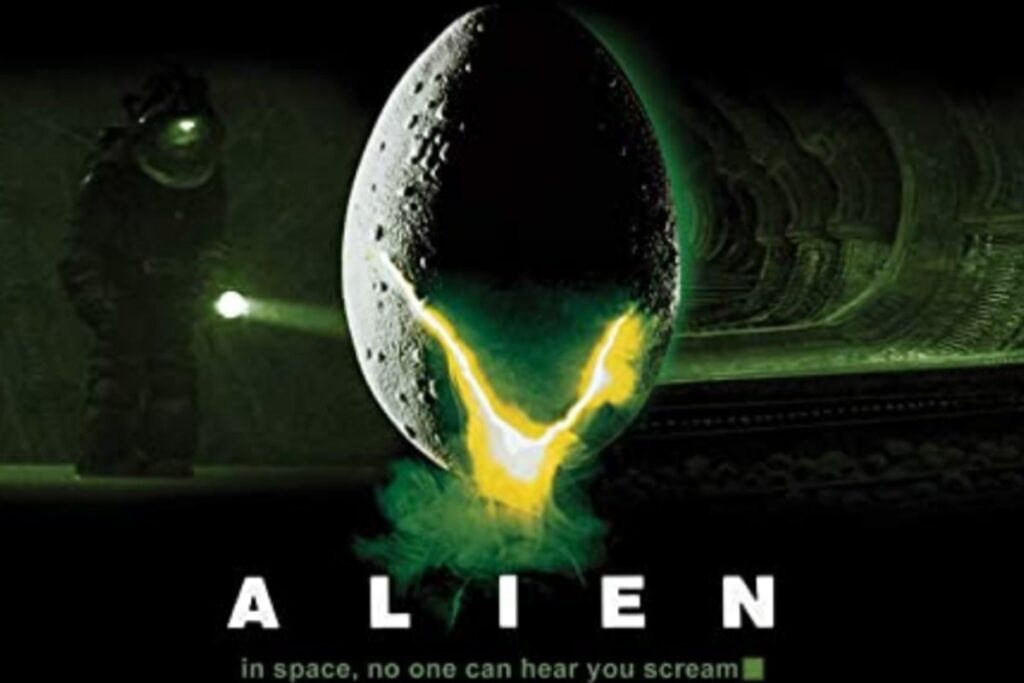 ALIEN (1979)
Rabbit's Choice: EVENT HORIZON (1997)
Why: If you're in the mood for sci-fi horror films set in space, these two make a good pair. Filmmakers of Event Horizon have credited Alien as a big influence and the films share plenty of similarities ranging from the spaceship design right down to their taglines: "In space, no one can hear you scream" (Alien), and "Infinite space, infinite terror" (Event Horizon).
Scarlett's Choice: LIFE (2017)
Why: Despite possible storyline similarities with Alien, for me Life is its own separate entity when it comes to sci-fi horror. It's a visually stunning (and I'm not just referring to Jake Gyllenhaal and Ryan Reynolds), well-written film that delivers great performances from its talented cast and the final minutes of the movie are unexpected, unforgettable and chilling.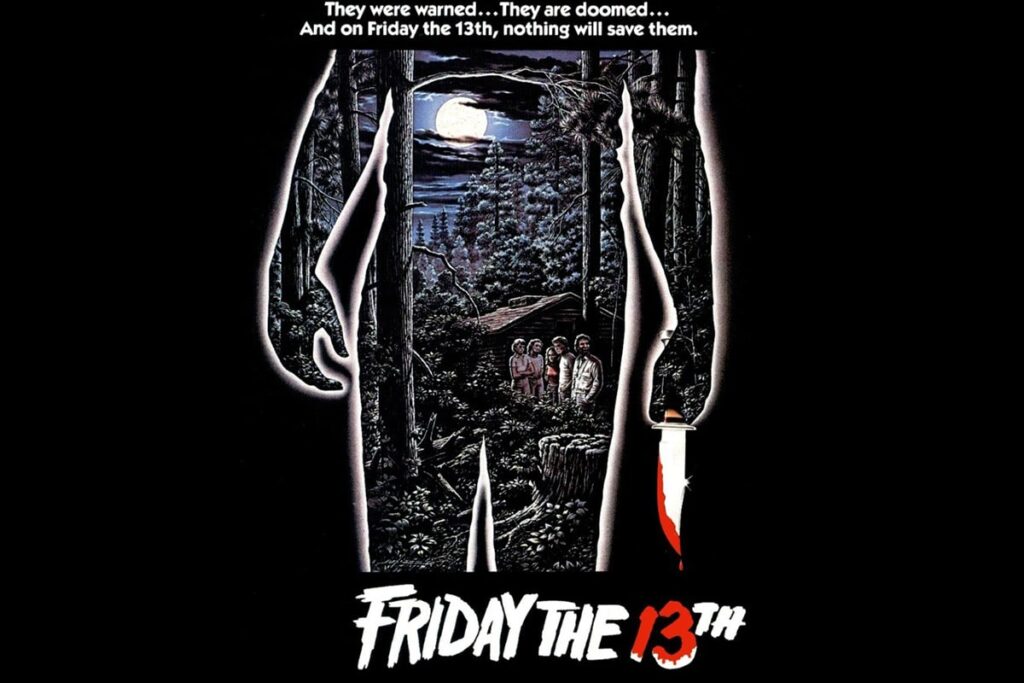 FRIDAY THE 13TH (1980)
Rabbit's Choice: THE BURNING (1981)
Why: Friday the 13th and The Burning are so alike that you can make a drinking game of comparing their connections! Coming out less than a year after Friday the 13th, The Burning repurposes major plot points from its predecessor. Both campground slashers feature killers with a tragic past who are focused on murdering a group of good-looking teens in creative ways. Fun, right? Top-notch special effects artist Tom Savini can also be credited for both Jason Voorhees' and Cropsy's makeup. This double feature is ideal in a camp setting!
Scarlett's Choice: SLEEPAWAY CAMP (1983)
Why: Neither Friday the 13th nor Sleepaway Camp is a great film—good, not great–but both entertaining movies take place at summer camp (with one coming across as more "camp" than the other) and deserve high marks for pulling off a fun plot twist the audience does not see coming, which makes them the perfect double feature to watch while roasting marshmallows over a campfire.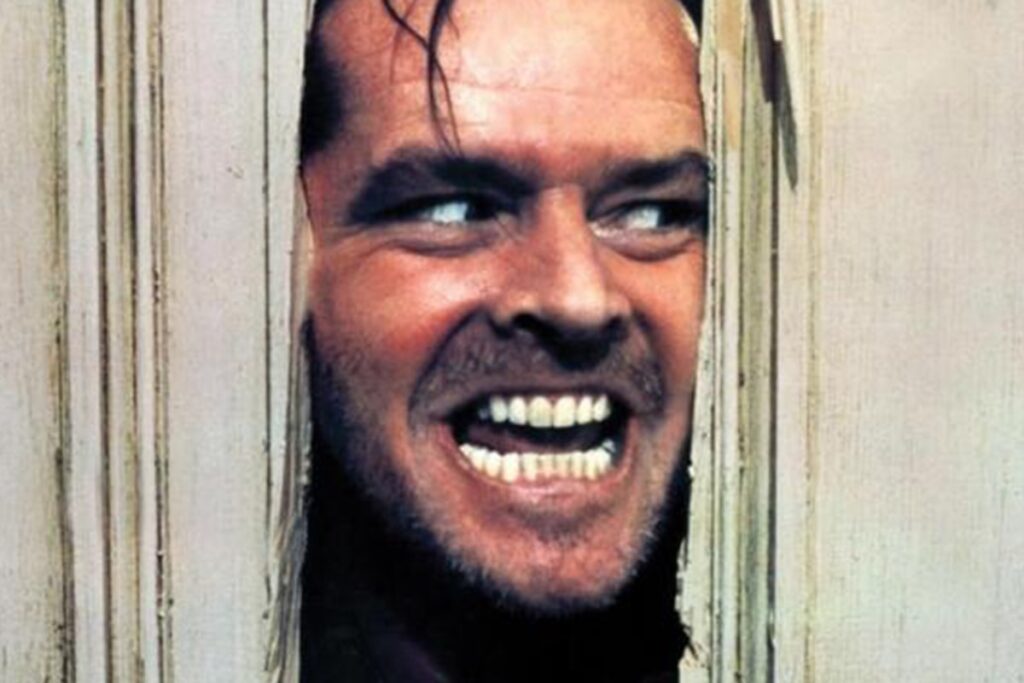 THE SHINING (1980)
Rabbit's Choice: MISERY (1990)
Why: Cozy up with a warm drink for these two winter-themed horror films, both impressive Stephen King adaptations. The Shining may have made a bigger impact, but each film holds a special place in horror history, offering outstanding lead performances (Kathy Bates, James Caan, Shelley Duvall, Jack Nicholson) and major suspense. If you've read the novel version of Misery, you may recall a mention of the Overlook Hotel, hinting that the two stories may exist in the same universe.
Scarlett's Choice: PSYCHO (1960)
Why: Stanley Kubrick and Alfred Hitchcock are two of the greatest film directors of all-time, and each's horror masterpiece, The Shining and Psycho, respectively, make for a great double feature. Both include an isolated hotel/motel setting, involve originally-thought-to-be-stable men who eventually demonstrate that "We all go a little mad sometimes", are complimented by a music score that takes on a life of its own, and have a pivotal, instantly classic scene occurring in, of all places, a bathroom.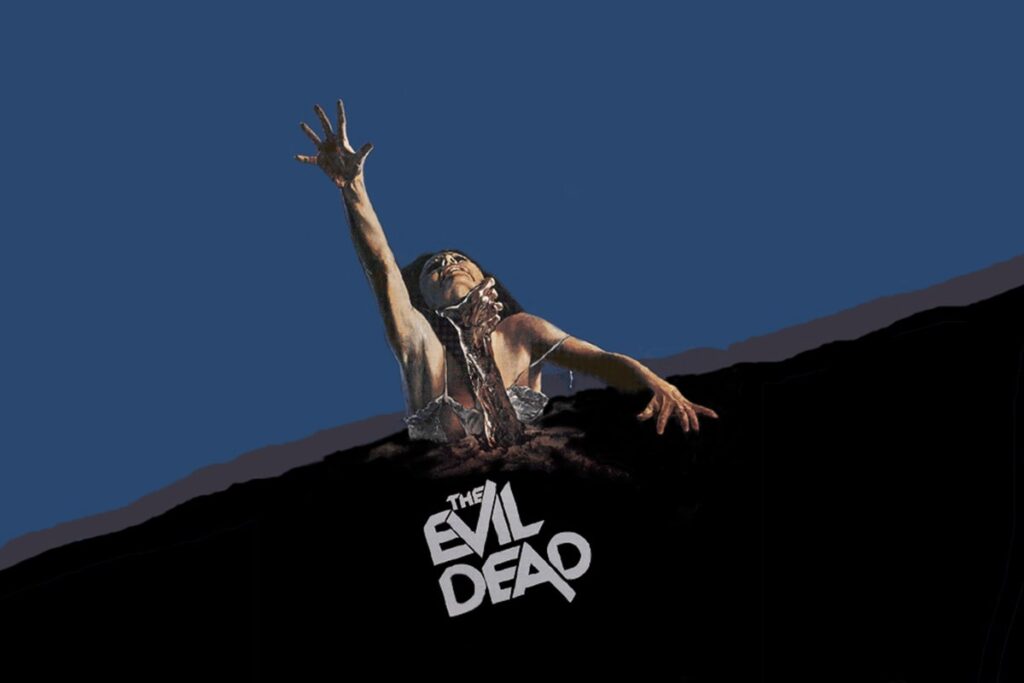 THE EVIL DEAD (1981)
Rabbit's Choice: NIGHT OF THE LIVING DEAD (1968)
Why: You're in for a bloody good time with these zombie-centric cult classics. Featuring two of the most iconic leading men in horror, Duane Jones as Ben in Night of the Living Dead, and Bruce Campbell as Ash in The Evil Dead, they deliver on the scares but also present protagonists to root for. Watching these two films back-to-back will leave you full of adrenaline and ready to kick ass!
Scarlett's Choice: THE CABIN IN THE WOODS (2011)
Why: The Evil Dead and The Cabin in the Woods are both incredibly entertaining films that prove escaping the city for a fun weekend in the country with friends isn't all it's cracked up to be…unless your idea of a good time is trying to stay alive.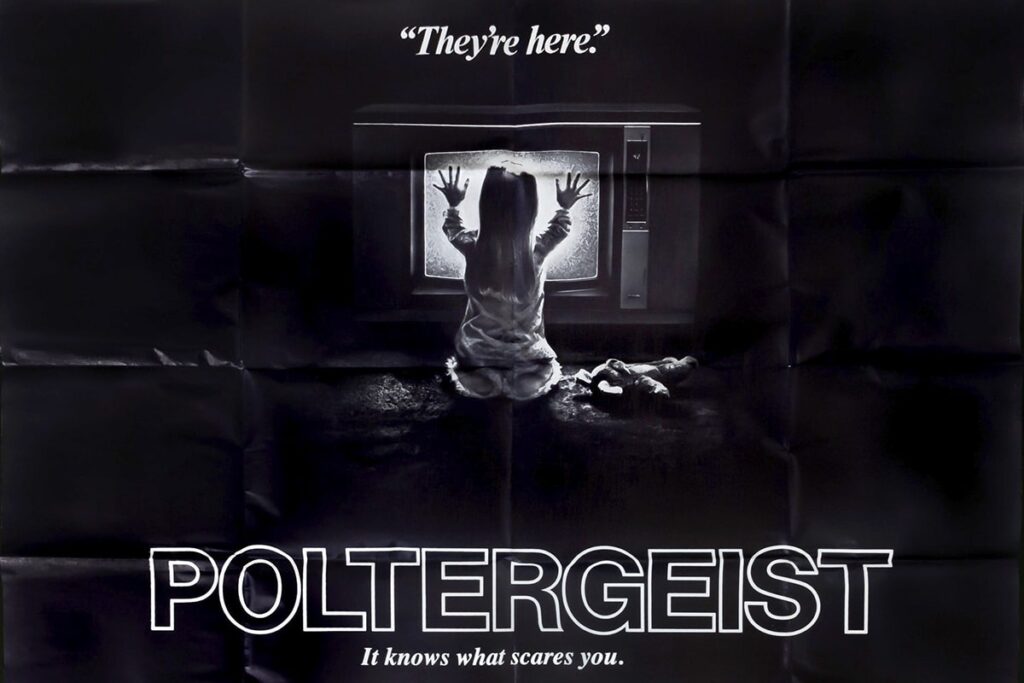 POLTERGEIST (1982)
Rabbit's Choice: THE AMITYVILLE HORROR (1979)
Why: Haunted houses have always been a staple in horror, and these are two of the most distinguished. Start the evening off with the more serious-in-tone Amityville Horror before switching to the spooky and wildly entertaining Poltergeist. Making this double feature even more spine-chilling is that they're both inspired by true events. The Amityville Horror is based on George and Kathy Lutz and their three children and what they experienced after moving into a house at 112 Ocean Avenue in Amityville, New York. Poltergeist focuses on James and Lucille Herrmann, and their children Jimmy and Lucy. In fact, the Amityville house is only about seven miles away from the Herrmann house in real life. Creepy stuff! Both films spawned remakes which, naturally, don't live up to the original.
Scarlett's Choice: THE CONJURING (2013)
Why: Whether it is a planned community in suburban California, or a farmhouse in Rhode Island, malevolent ghosts are non-discriminating spiritual forces to be reckoned with, and in both Poltergeist and The Conjuring, experiencing these hauntings as they build towards their climax, and how they are eventually dealt with, is scary and extremely entertaining for the audience.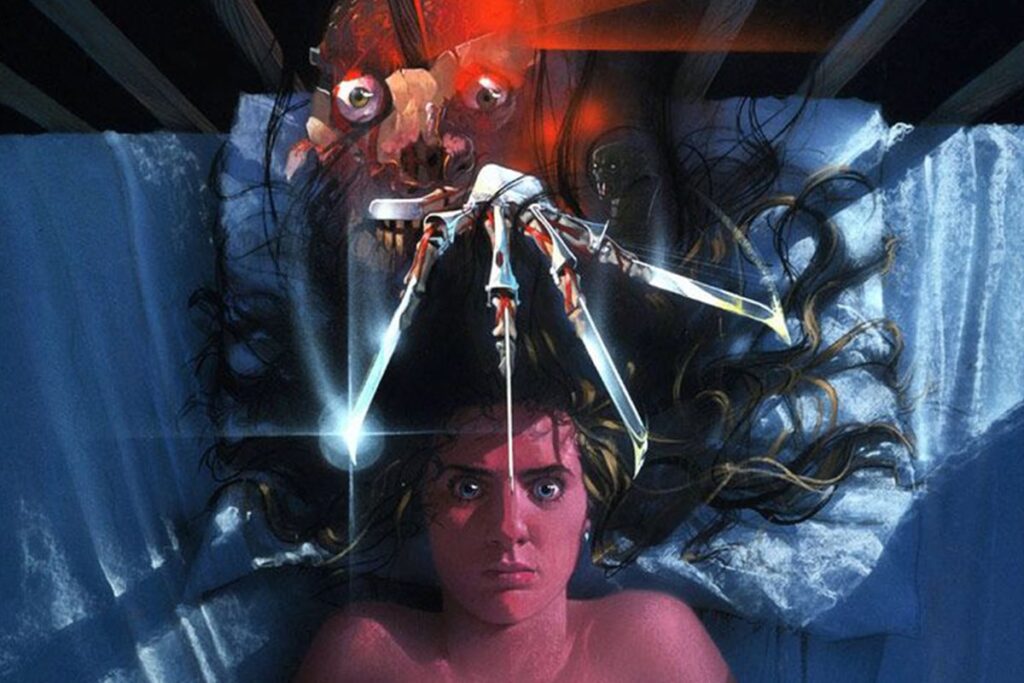 A NIGHTMARE ON ELM STREET (1984)
Rabbit's Choice: HAPPY DEATH DAY (2017)
Why: Wes Craven's classic '80s slasher follows a group of high school students who fall victim to Freddy Krueger, a disfigured serial killer who attacks teenagers in their dreams, ultimately killing them in real life. In Christopher Landon's Happy Death Day, a college student is murdered on her birthday and must relive the same day over and over until she finds the killer and stops her own death. Strong final girls are in the spotlight, Heather Langenkamp as Nancy Thompson and Jessica Roth as Tree Gelbman, with each having to battle evil in an alternate reality. Tree withstands reliving the same day, and getting killed repeatedly, whereas Nancy lives in fear of falling asleep. Both films present an animated, fun-to-watch killer, especially the marvellous Robert Englund, and a satisfying amount of camp.
Scarlett's Choice: THE BURNING (1981)
Why: Although I was at first tempted to pair The Burning with Friday the 13th, I think coupling it up with A Nightmare on Elm Street makes more sense. And, yes, it has everything to do with both Freddy Krueger and Cropsy having suffered severe burns prior to embarking on their respective killing sprees, as well as their weapon of choice being something that has more than just one blade.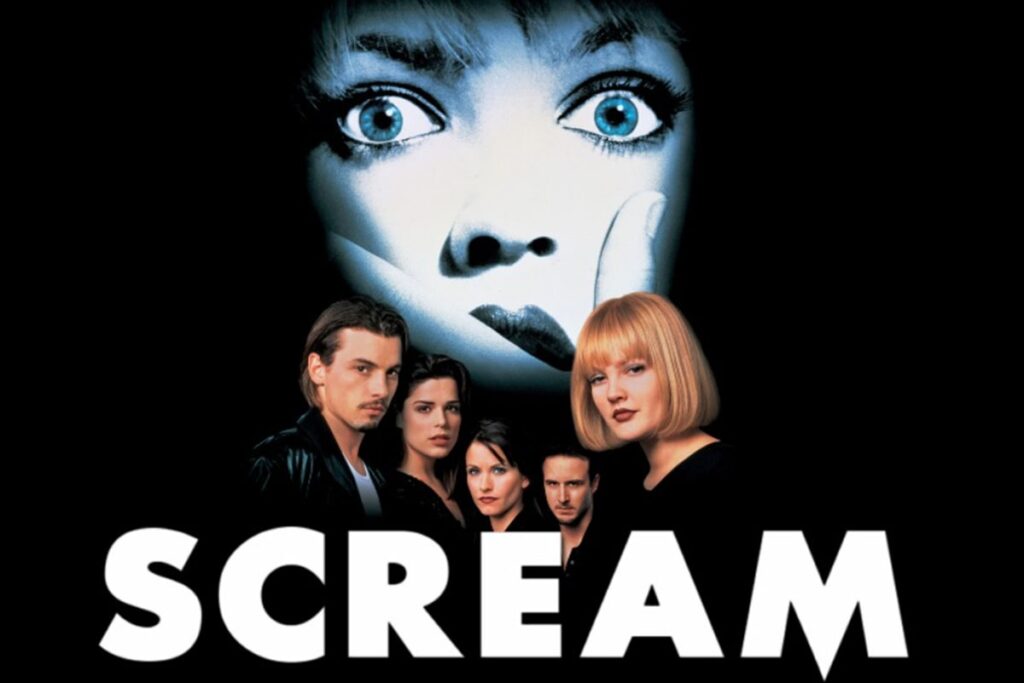 SCREAM (1996)
Rabbit's Choice: URBAN LEGEND (1998)
Why: Scream, one of the most successful slasher films of all time at the box office, made way for a resurgence in the genre during the late '90s. Many films tried to imitate its recipe, with Urban Legend being one of the most notable. The film presents a thrilling whodunit and a dynamic cast including cameos by horror royalty like Brad Dourif, Danielle Harris and somewhat ironically, Robert Englund, who also gets a nod in Scream from his A Nightmare on Elm Street creator Wes Craven. These two titles are self-aware, Scream focusing on horror movies and Urban Legend, well, on urban legends, and they never fail to satisfy, no matter how many times you've watched them.
Scarlett's Choice: THE FINAL GIRLS (2015)
Why: Scream is a love letter to horror films (and fans) that focuses almost as much time on character development as it does on building suspense, memorably creative kills, and a beyond-satisfying finale. The same can be said about The Final Girls, even if it's not in quite the same league as the Wes Craven classic. After all, it's not very often you find yourself getting emotional during the conclusion of a horror film.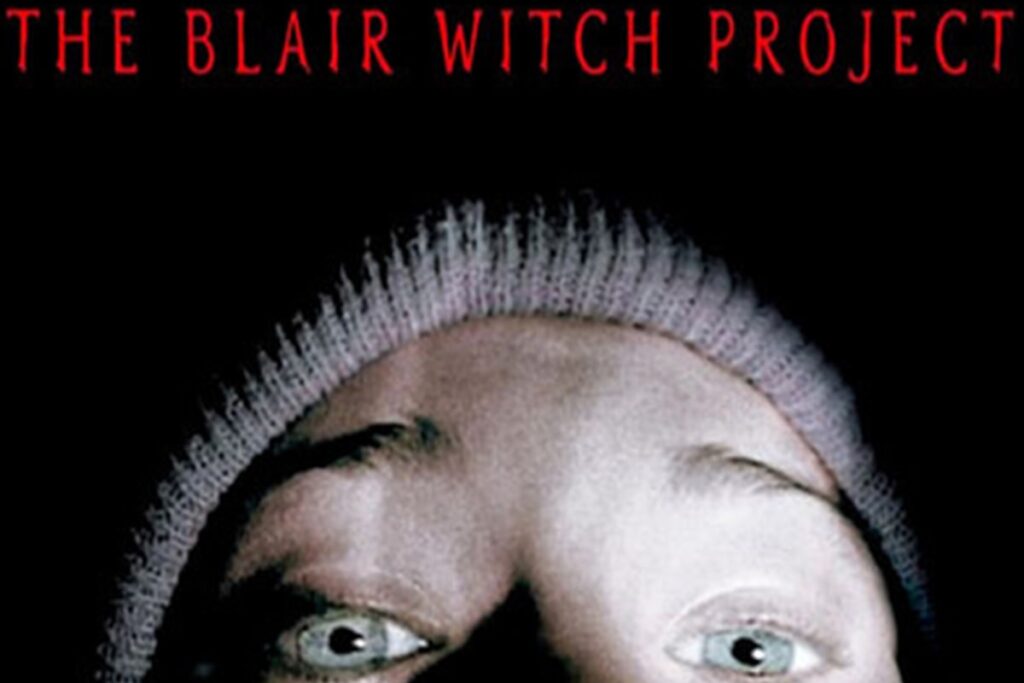 THE BLAIR WITCH PROJECT (1999)
Rabbit's Choice: THE RING (2002)
Why: What's more frightening than discovering a videotape of horrific "real-life" footage? Dying exactly seven days after watching it, of course! These two supernatural horrors aren't completely parallel but they both feature deadly subject matter revolving around technology. While not the first found-footage film, The Blair Witch Project definitely paved the way for many to follow. And The Ring, a remake of Japanese horror film RINGU, is quite momentous with its stylish imagery and intense scare sequences. Picture this double feature on VHS?
Scarlett's Choice: HELL HOUSE LLC (2015)
Why: The Blair Witch Project kicked opened the door for the found-footage sub-genre of horror, and while I was quite impressed with (read: scared by) the first three installments of the Paranormal Activity franchise, Hell House LLC delivered on a different, unexpectedly claustrophobic, and ultimately more terrifying level.
You might also like
---
More from Stories
---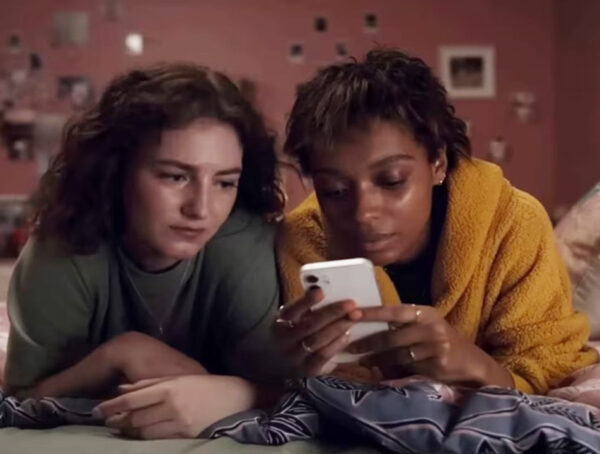 174
For the 2023 North American summer movie season, which officially started May 5 and continued through the (September 2-4) Labor …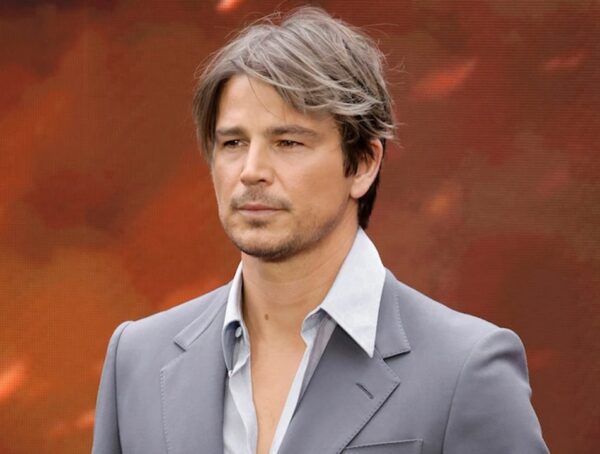 170
While watching writer-director Christopher Nolan's epic film Oppenheimer (2023), the story of American scientist J. Robert Oppenheimer, and his role …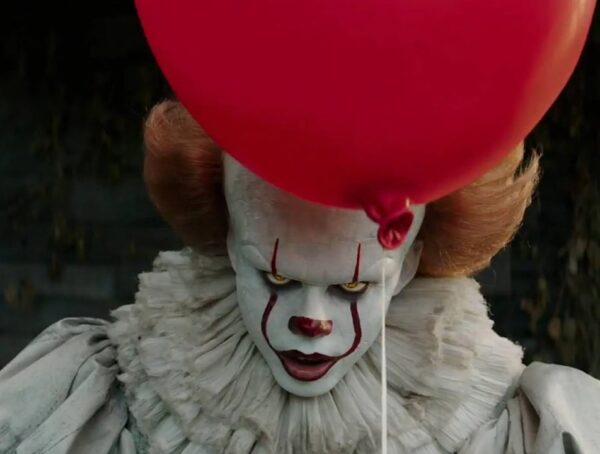 318
Almost as great as my love for watching horror films is my fascination with how well they perform at the …