Sponsored feature: Cataract Pictures
Synonymous With is a Queer Horror / Fictional Documentary written and directed by Thom Hilton.
Film student Jackson Weil grows up watching SYNISTER SYNEMA – a weekend horror marathon on local public access. After the channel goes dark, Jackson scores an interview with the show's quirky queer host Myster Synonymous. Their conversation takes a vulnerable turn as they discuss identity, fandom, and their futures. What starts as a spooky mockumentary veers into a discussion about creativity, loneliness, and intergenerational queer mentorship.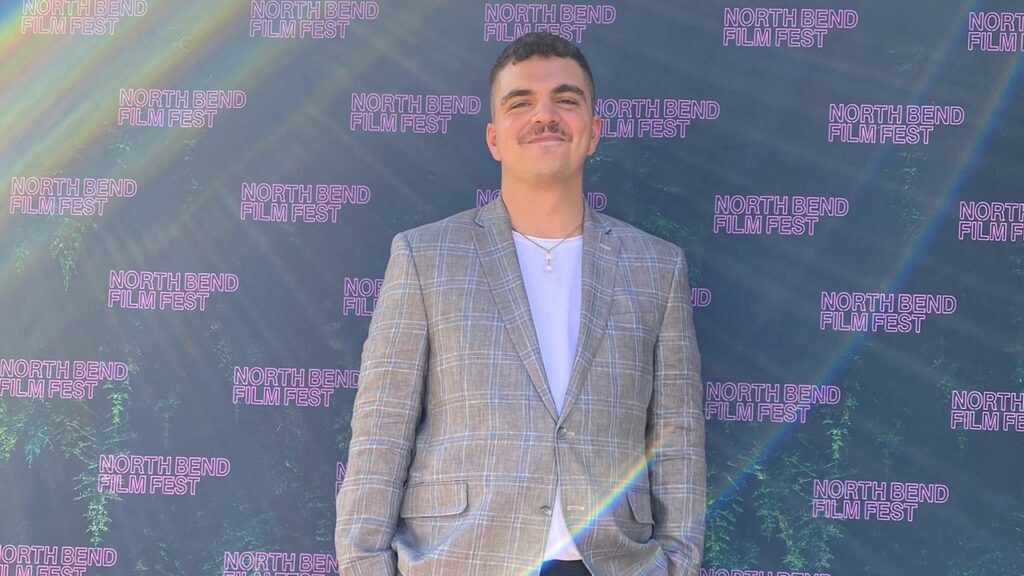 A Q&A with writer/director Thom Hilton
Thom! Congratulations on the release of your new horror short Synonymous With. Such a unique and clever concept and truly a love letter to queer horror genre fans. What sparked the idea for this film?
Thank you! Growing up in Portland, there were local channels that would have late night horror screenings with hosts on really low-budget sets. I remember watching 'Gamera' on one. There was also this woman who was kind of a mix between a newscaster and a comedic personality – she would visit local haunted houses around Halloween and host marathons of Treehouse of Horror episodes of The Simpsons. The memory of those were the embers just waiting for some fuel.
The atmosphere you create in this short is really outstanding. I felt nostalgic seeing all the horror memorabilia and easter eggs. Almost a comfortingly familiar feel, but still eerie nonetheless! Tell us about your methods for achieving this atmosphere. And how did you source all the horror gems!?
There were direct inspirations for the atmosphere of each section of the film. Syn's public access show is based on Bob Wilkins' Creature Features. The opening establishing the town is based on the credits of Halloween 4. The interviews and phone calls are based on the Monica Bellucci Dream scene in Twin Peaks season 3 – lots of low humming droning sounds. Syn finally leaving the house is based on the beginning of Paranorman when he goes for a walk. The sound work and scoring from Ethan River Cohen, Jake Mackie, and Roman Chimienti really helped blend those vibes together. I called this a musical a lot in the edit. The music never stops and it has the same rise and fall as the dialogue.
As for sourcing, I am lucky to live in this big loft filled with really rugged, homey pieces. There's a synthesizer here – nobody knows where it came from or who it belongs to. I thought "oh, maybe Syn wrote the theme song for his show on this" and so it sits behind him when he's eating the orange in the kitchen.
The wall of posters are all from my personal collection – as were most of the VHS tapes. The Halloween decor was tricky to find… a lot of the new decorations have a very specific look that the ones from 1999-2009 didn't have. We borrowed a lot and found things at vintage stores, but I wanted it all to be real. The only piece that we had to create was the table.
There was also this theme I was exploring that Syn and Jackson were the same person, but that Jackson needed to learn from this experience and choose a different path. So when you see pictures of Jackson and his bedroom, he has some of the same posters as Syn, he has that same orange Pendleton-style blanket. A lot of the props do double- or triple-duty because you see them in the public access show and then repurposed in Syn's home. Every prop in this film has a very specific purpose and journey.
Every prop in this film has a very specific purpose and journey.

—Thom Hilton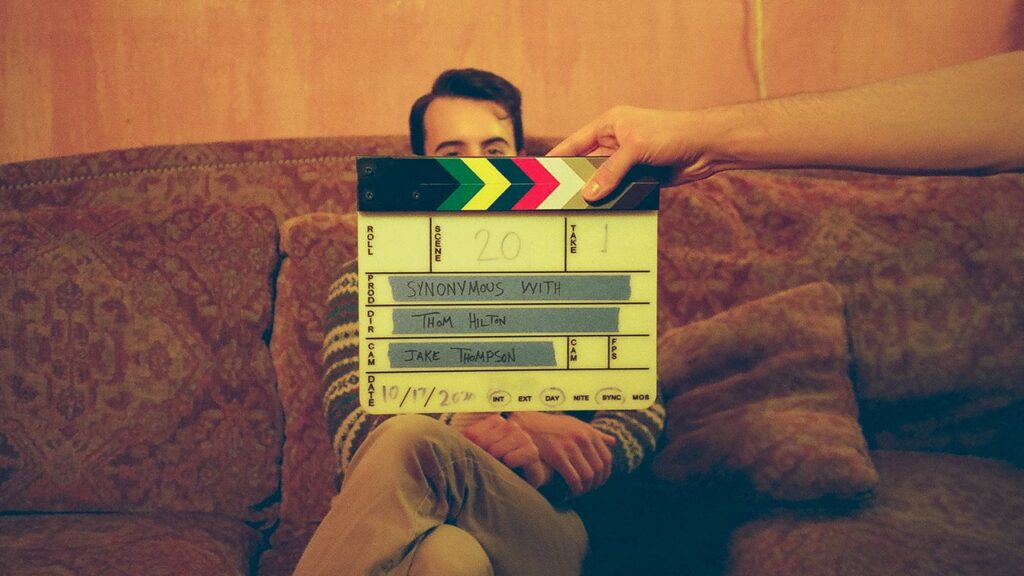 Remy Germinario brings a vulnerability to the role and really embodies the character of Syn, short for Myster Synonymous. Did you have him in mind when writing the script or was there a casting process?
There was no casting process – because without Remy there would be no script. We were having coffee together in summer 2019 and he had that mustache and I saw Vincent Price in him. Once you see something like that, you can't unsee it. So I was walking down the street, dreaming on that, and I remembered the transition from analog to digital television in 2009 and the ideas really started flowing. I had written a monologue a few months earlier which was repurposed as his climactic speech. He is a standup comedian so he is a real technician with text. There is a lot he character has to do – you have to believe that he is handsome and talented but also awkward, off-putting, reclusive and can't get a date. He makes that balance look really easy and he never leans in too hard.
What were some of the challenges while filming during the pandemic? Any fun BTS stories?
The most important thing was crew safety. We shot for three weekends and on any given day there were never more than five of us on set – all masked except for Remy when he was acting. For the public access stuff, it was just Remy and Mark (our line producer and hand actor) and me.
The other big challenge was shooting the exteriors – not only were there very few period cars that we could find, but everyone was wearing a mask. Working around that ended up giving everything a kind of eerie, lonely quality that I love. We didn't rush anything. It all just flowed.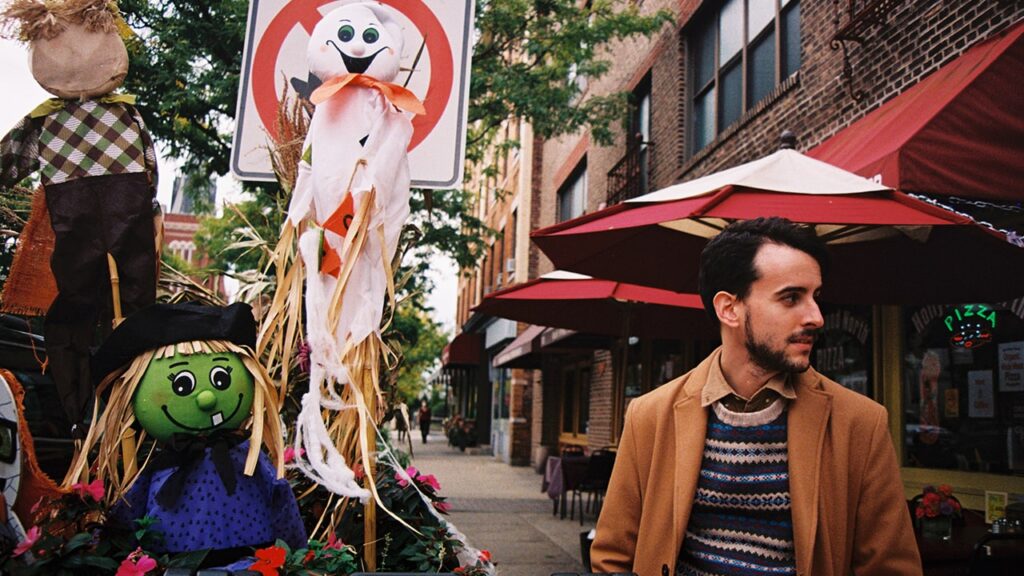 I know the film has been a selection of several film festivals this past year and recently won the Audience Award for Best Short at Soho Horror Pride. These are some big accomplishments! Did you have any expectations when you began this project?
Thank you! Honestly, no I did not expect any part of this journey to work out how it did, but I am very grateful.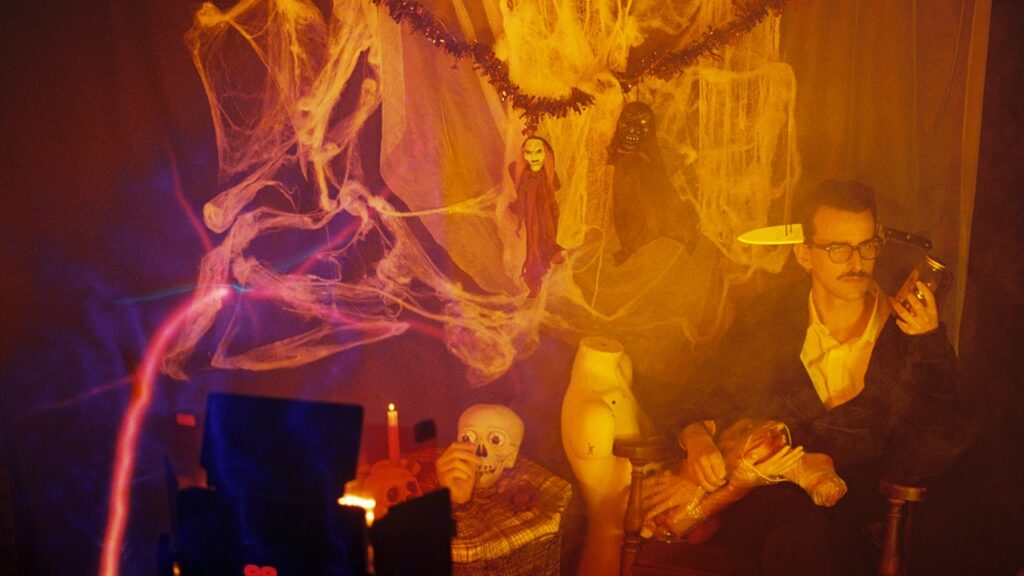 Synonymous With not only gets audiences in the Halloween spirit, but it touches upon some hard-hitting themes like identity and loneliness, while also exploring the cultural impact the horror genre has had on the queer community. What are you hoping audiences will take away from this film?
In early cuts, there were scenes that colored Syn as being colder, meaner, less innocent. People really did not like that. So we took the shame out of it and made it more about grief. Something he loved was taken away and it wasn't his fault – a theme we are all experiencing through this pandemic. None of the fault comes from his sexuality or who he is at his core – so, at the end, there is hope. It's very hard for shame and hope to coexist.
Your website title Rabbit in Red comes from my favorite movie, Halloween. We have the mini posters on the wall behind Syn and he mentions Laurie Strode towards the end. I'm actually a big defender of Halloween H20 as a great sequel. Laurie experienced this trauma, she has become embittered and has alienated herself like Syn. But those fallow periods in their lives are not wasted times – she has been sharpening her sword (or axe, rather) and is ready to fight Michael Myers back. When Syn finally confronts the interviewer at the end, there's suddenly this feistiness and a huge burst of joy. Like Laurie, he's ready to fight for himself – and everyone who watches this should fight for themselves, too. And everyone should walk into a parking lot and bellow "MICHAEL!!!!"
Follow @thomjh on Instagram for movie updates.
You might also like
---
More from Indie Horror
---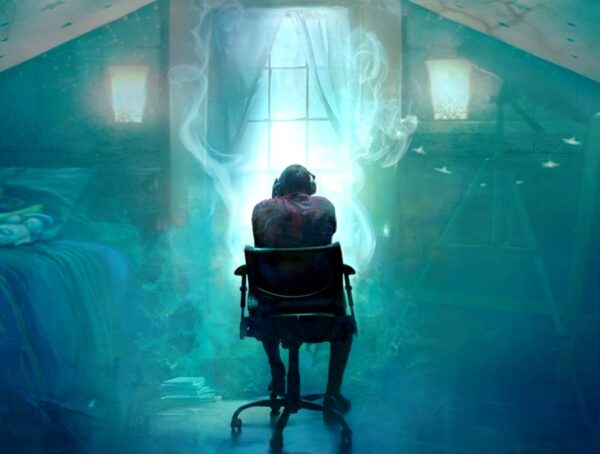 193
Sponsored Feature: Jett / León Ltd. & TMP Entertainment Film Kin Dread is a psychological thriller written and directed by Adrian León & …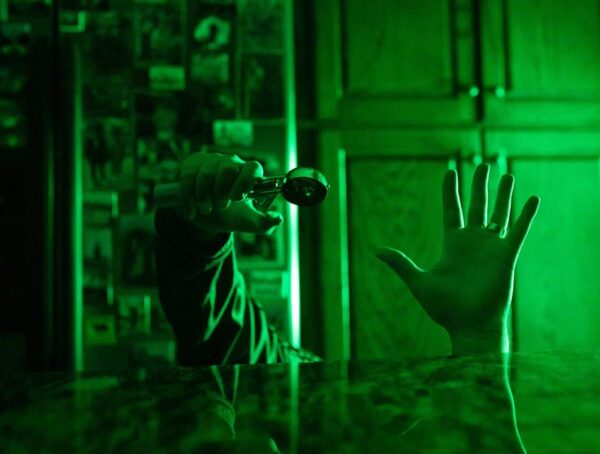 411
Sponsored Feature: Petrichor Motion Pictures Attack of the Swole People is a new horror comedy written by Sean Furey and directed by Elijah …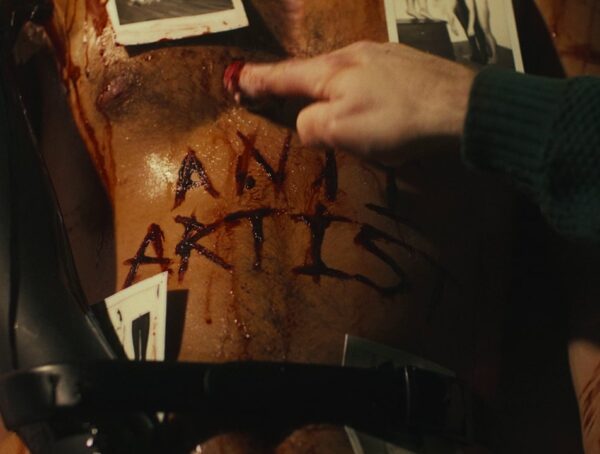 303
Sponsored Feature: SPK Productions & Classified Films AI ARTIST is an award-winning horror short, written and directed by Jessey Nelson & Dani Barker, …