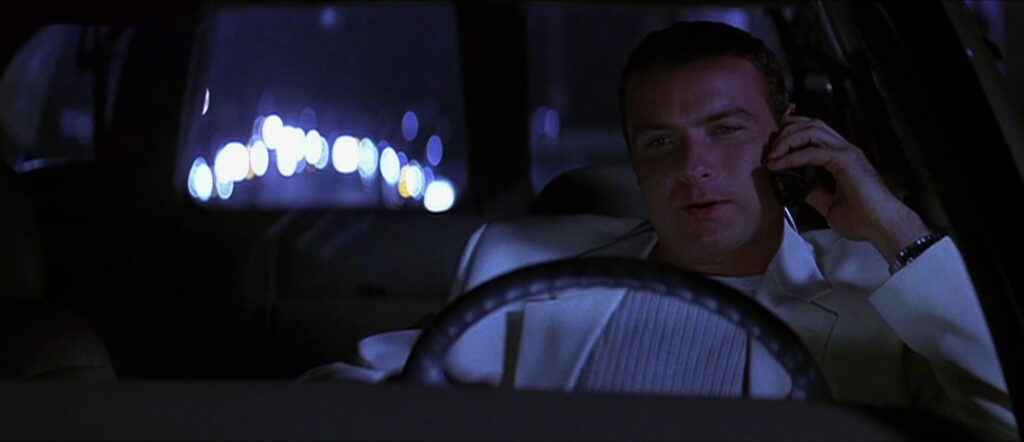 25) Scream 3: Opening Scene (0:00:00-0:09:25)
Cotton Weary returns for the third movie to get killed and oh, what an impact.
Since the events of Scream 2, Cotton Weary has earned his very own talk show appropriately titled 100% Cotton and is set to cameo as himself in the film Stab 3. Stuck in LA traffic, he receives a call from a woman, who turns out to be the killer, who threatens to kill his girlfriend if Cotton doesn't tell him where Sidney Prescott is.
Why would Cotton know this by the way? Did the killer know Cotton wouldn't know? Was he going to kill him no matter what?
We cut to Cotton's home, where the killer stands outside the bathroom as Christine (played by Kelly Rutherford) takes a shower. It's disturbing and Ghostface has never sounded more angry and vindictive than he does here. Also, Rutherford probably has the best scream in the series and I guarantee you it's why she landed the role, being relatively unknown at the time.
In the end, both Cotton and Christine are stabbed to death, confirming that even survivors can't escape the opening scene of a Scream movie. It was nice knowing ya, Cotton.
Also, can I mention how funny it is that the killer uses his voice changer to talk to Cotton before his final blow? If Cotton's dying anyway, why go through the trouble of disguising his voice?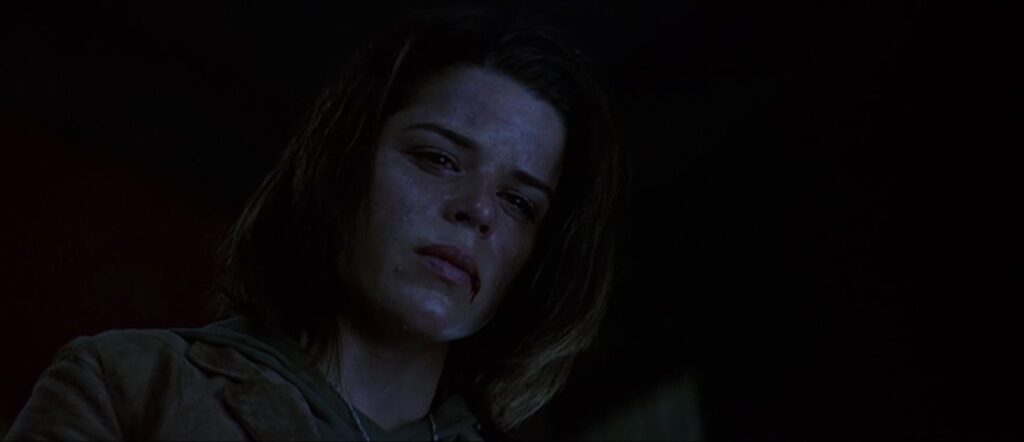 24) Scream 3: Finale (1:30:48-1:47:18)
This final showdown is expert Wes Craven. The suspense, the direction, the cinematography, and the performance Neve Campbell gives is all excellence. It's very well done and it's always entertaining.
Like lots of fans of the franchise however, it loses us at story.
When the killer is revealed to be Roman, the director of Stab 3, we're like what? Didn't Gale find his "dead" body and check his pulse a few scenes earlier? How did he have no pulse? Does Gale just not know how to check for a pulse? And of course, we get the motive as to why Roman wants to kill Sidney. He is her long lost brother, the bastard child of Maureen who abandoned him in Hollywood to go create a life in Woodsboro. We also discover that he's the mastermind and the one who convinced Billy to do what he did a few years ago. It cheapens Billy and Stu is what it does and it's almost unforgivable.
As farfetched as this is, and it really is, I don't completely hate it. At least 3 goes back and reveals something about the past we didn't know. The major issue is what are the chances that Sidney's half brother ended up landing the gig as director of a movie about Sidney's life? How much of a coincidence is that? Couldn't her half brother have been like a production assistant or a key grip on the movie? That would have at least been more believable. Or maybe John Milton paid him out when he discovered Roman was his son, which got him a role on the film? I don't know. Anything more to explain why Roman conveniently happened to work on this film would have been appreciated. I know the script was being written while being filmed, but with some fine tuning, this could have been so much better.
Also, what a wasted opportunity to not have Sidney meet Roman earlier in the movie. He takes off the mask and reveals himself and she literally has no idea who this idiot is.
Also also, this is the first and only Scream movie to have one killer and it's hard to buy it. There's no way Roman was able to do everything the killer did in this movie by himself. Rumour has it there was supposed to be a second killer and it was to be Emily Mortimer.
Okay, now that we have the negatives out of the way, here are the positives: everything else. Sidney's arrival and inclusion in the finale is believable. Using Gale and Dewey as bate to get her there works. The killer making her throw her gun into the pool only for her to surprise him with a second gun is also a big HELL YEAH moment.
SIDNEY: It's your turn to scream, asshole!
The final fight between Sidney and Roman is grand. They make us believe Sidney will lose this time, and unlike Jill, I understand why Roman would mistakingly fail at killing her. Also, I love how Sidney loses all patience.
SIDNEY: God, why don't you stop your whining and get on with it. I've heard this shit before! Do you know why you kill people, Roman? Do you? Because you choose to! There is no one else to blame! Why don't you take some fucking responsibility!
When Sidney finally does kill Roman, she does the unthinkable. She holds his hand and comforts him during his dying breaths. This literal bastard doesn't deserve it, yet Sidney feels for him, understanding that their mother ruined both her life and his, even if in very different ways. It's beautiful.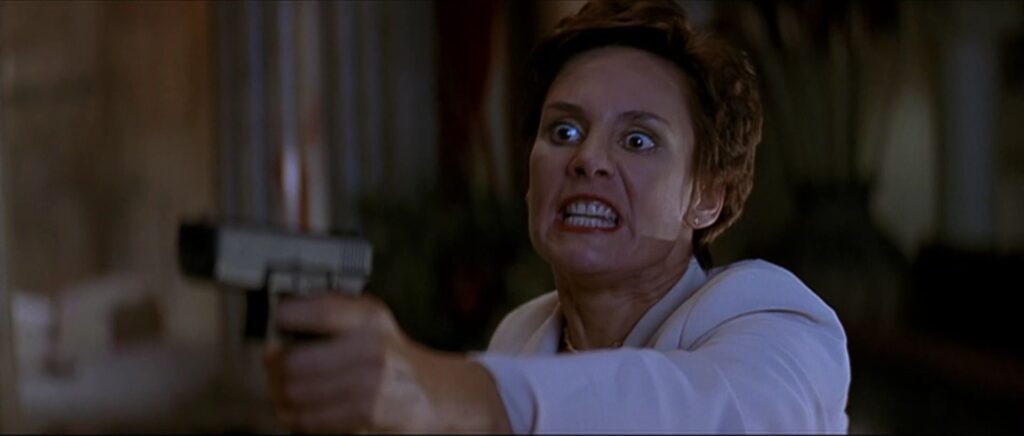 23) Scream 2: Finale (1:32:52-1:50:47)
Oh the imagery here is quite in your face and that isn't a complaint. Sidney has her final confrontation with both killers on the stage of a theatre as if it's one big performance. How meta can you get?
I really enjoy the reveal of both killers in Scream 2. Mickey as a killer is super random, but that's what I like about it. He's just a psychopath who gets off on killing people. He lives for the drama and wants to be world-renown for bloodshed. The way he messes with Sidney's head, meticulously trying to convince her that Derek is his partner is probably the most twisted thing someone could do to her at this point in time.
MICKEY: Poor Derek. He's completely innocent and such a nice boy too. He's bright and funny and handsome, decent singing voice. And he was going to be a doctor. This is just the kind of boy you'd like to take home to mom. If you had a mom.
SIDNEY: Fuck you!
Does anyone else love how much Sidney throws the F-Word around? What a fucking boss.
Then we get the biggest twist of the movie with Debbie Salt being the second killer, Billy Loomis' mother. Seeing how screwed up Billy was, are we really surprised the apple didn't fall far from the tree?
My gripe is this is when the Scream movies become formulaic. With Billy and Stu, the reveal was new and it came together so gorgeously. With this movie and future sequels, it becomes a little predictable, with both killers having to reveal their motives and waste time instead of you know, actually trying to kill Sidney. Debbie has the gun pointed to Sidney for a few full minutes when she could just shoot and kill her and get away with it, you know?
This scene does have the best line spoken by Sidney Prescott though.
SIDNEY: You're forgetting one thing about Billy Loomis. I fucking killed him.
In the closing moments, the inclusion of Cotton Weary is tense. He's been so unstable, you really don't know what he's going to do. Luckily for Sid, Cotton makes the right decision and saves her life.
Also, in what is probably the funniest of all "the killer comes back to life, for one last scare" moments, Mickey pops up to be dramatically shot several times by Sidney and Gale. Girl power!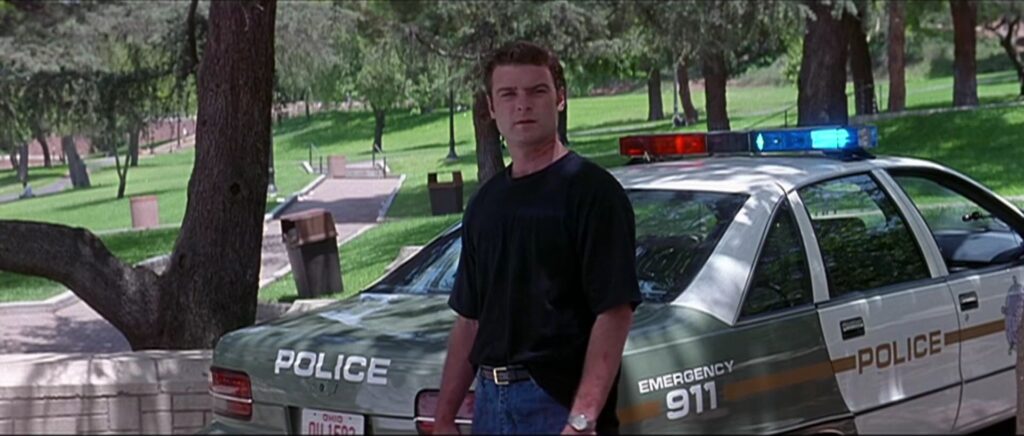 22) Scream 2: The Final Scene (1:50:47-1:53:48)
Sidney hands Cotton the fame and fortune he's been begging for by insisting the reporters talk to him since "he's the hero." Cotton finally gets his 15 minutes and it's so glorious.
The saddest ending to a Scream movie though is this one. Sidney holds the necklace given to her by Derek as she walks into campus with nobody but herself. Alone. This truly sets up where we see Sidney in the next movie and all I want to do is give her a hug and tell her it's going to be okay. Even though it's not going to be okay, because we all know this isn't the last of the madness.
Additionally, in what's truly the greatest character arc, Gale chooses love over doing her television report, rushing over to Dewey as soon as she learns he's alive.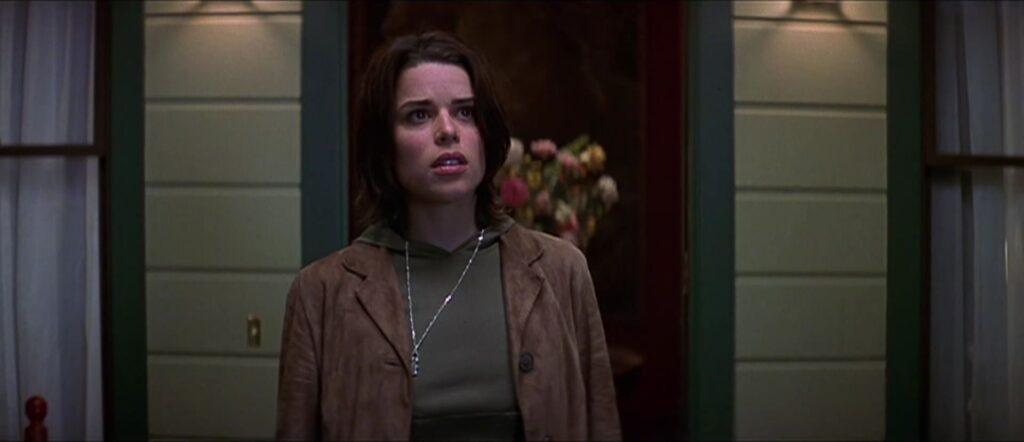 21) Scream 3: Sidney's Chase Through The Set Of Stab 3 (0:59:44-1:08:03)
Sidney follows Angelina onto the set of Stab 3, and boy what a trip.
Like us, our heroine is in awe as we walk through an exact replica of not only her home in Woodsboro, but a replica of Stu's home too. To no surprise, Ghostface makes his move and the attack is thrilling from start to finish. To the jump scare at the window to the goosebump-inducing moment where the killer disguises himself as a dead Maureen.
Our only complaint is that Roman couldn't have done all of this by himself. Either Angelina was totally planned to be the second killer at this point during filming, or Randy was right – the killer was superhuman and could teleport from room to room due to some unspeakable magic. Jokes aside, this is scene is amazing.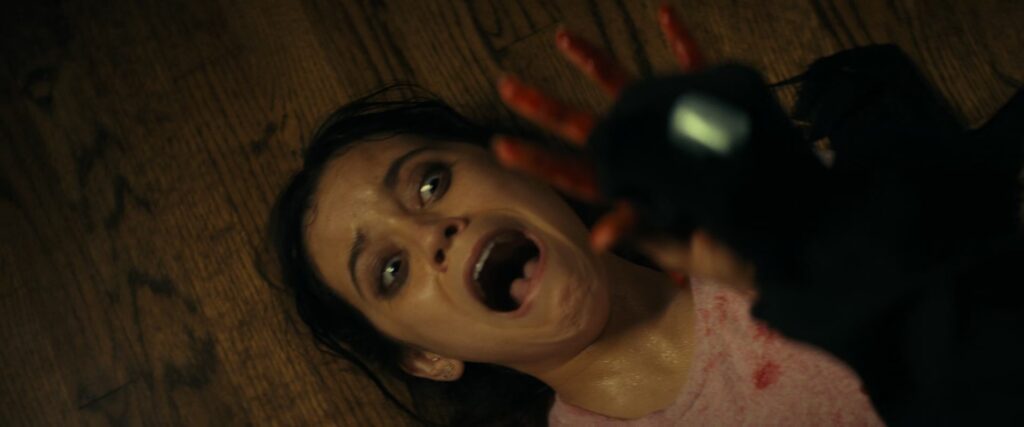 20) Scream (2022): Opening Scene (0:00:00 – 0:11:18)
This scene can be summed up with this line of dialogue spoken by our sadistic murderer. "It's a girl at home, alone. She answers a wrong number and starts talking with the killer, who makes her play a game." It brings us back to basics and it is what the fifth movie needed. The shot of Ghostface slowly rising from the floor after being kicked down by Tara is already iconic and makes the killer daunting af. The use of the locked door app is inventive, and Jenny Ortega's Tara brings an innocence to the character like Drew Barrymore's Casey Becker did twenty-five years before. And hey, she survives! That's a first and I hope only the first. Kill the next opener!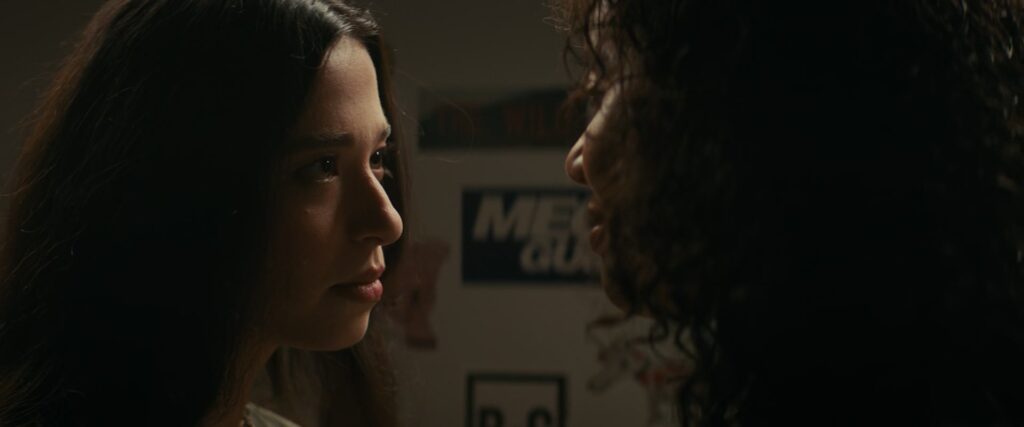 19) Scream (2022): Basement Hijinx (1:13:57 – 1:16:28)
"To Wes!" Chad cheers and it's the most touching tribute to Craven any fan could ask for. Naming a character Wes and killing him in brutal fashion just to get to this moment is truly incredible.
Amber and Mindy's exchange in the basement is what we love about these movies. It's perfect. It's playing with the tropes in a new and refreshing way. Instead of accusing each other of being the killer like we've seen before, the two characters joke that they themselves are the one behind the Ghostface mask.
AMBER: How do you know I'm not the killer?
MINDY: Because I am.
We're swerved twice into thinking we got our killer reveal. The fact that one of them actually turns out to be the killer makes it even better on repeated viewings. Bravo.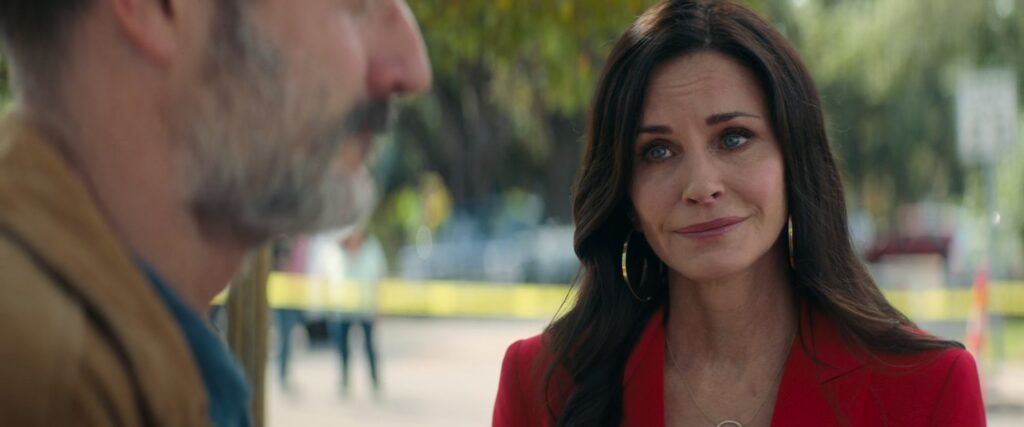 18) Scream (2022): Aftermath of Wes and Judy's Death & Gale Returns (0:53:03 – 0:58:03)
There are a lot of moving parts in this scene with Sam and the police, but we're going to focus in on Dewey and Gale here. Their exchange is brief, yet it packs so much punch. These characters (and actors) have had 25 years of history, with too many ups and downs – or stabs and slashes – to count.
Looking back on the series, we see how much Dewey grounded Gale and helped her grow. She sacrificed a lot for love, and we learn Dewey didn't do the same once it was her turn for success. We can't fault him for it though because Dewey was "meant to be in Woodsboro." Gale simply wasn't. The Ghostface killings always brought these characters closer, and I guess we will never know what would have happened between these two had Dewey survived this entry. *Insert sad face emoji*.
The acting here is terrific and this scene honestly makes me tear up every time. Yeah, I'm not embarrassed to say this. I grew up with these characters and I'm a hopeless romantic.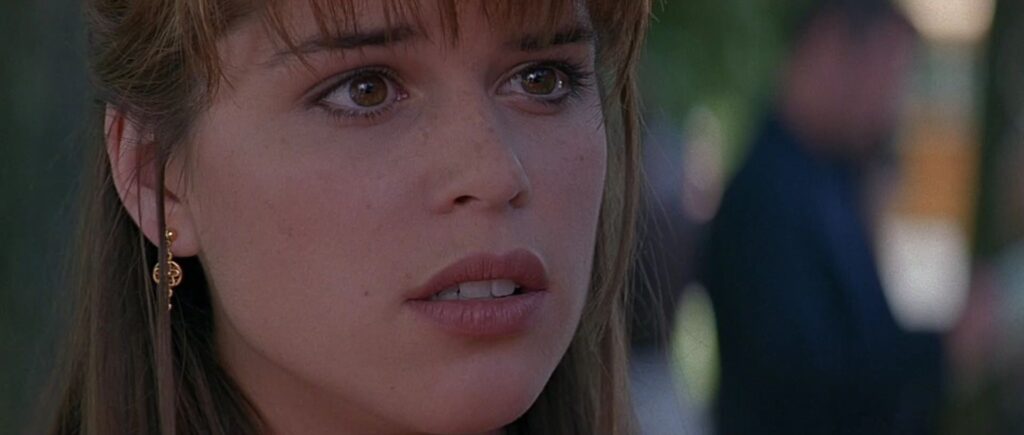 17) Scream: Sidney and Gale At Woodsboro High (0:39:22-0:42:16)
Sidney arrives to Woodboro High where she confronts Gale and we at last learn of the film's rich backstory. The look in Sidney's eyes when she realizes just maybe she was wrong. Just maybe Cotton didn't kill her mother. And just maybe her mother's murder might be connected to what is happening now. Could she really have sent the wrong guy to prison? Is she really next?
It's all so so great. The dialogue is perfection and the acting between Cox and Campbell is magnificent. This is the scene that really hooks you to the mystery and leaves you wanting more.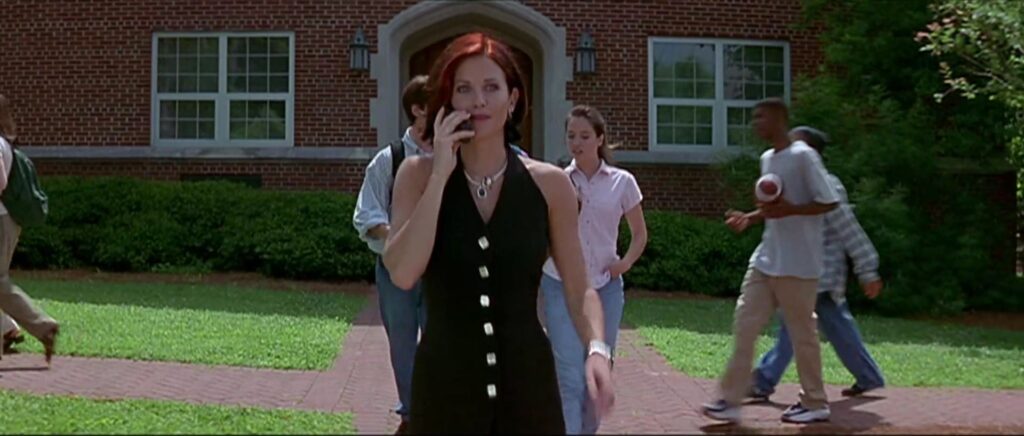 16) Scream 2: Sidney and Randy's first scene together. Introduction of Derek, Gale Weathers, Joel, Debbie Salt, Mickey, Sister Lois & Murphy, & Dewey Riley (0:17:13-0:28:00)
Some of the best parts of these movies are our introduction of the characters – those new and old. Scream 2 does this best of all four – balancing like 18 characters in ten and a half minutes. We get so much conflict and drama and it's just as thrilling as the kills to come.
Our introduction of Gale Weathers shows us she's just as cold and heartless as before.
GALE: Are you kidding me? They would be stupid to pull this movie. With all this free press, it'll break box office records.
Gale clearly feels no remorse about the college kids killed during the sneak preview of her new movie, instead more concerned with how much money it is going to make. What's so great is this version of Gale is completely different than the version of Gale we see by the end of this movie.
Where shit hits the fan is when Gale surprises Sidney with a live interview. With Cotton Weary! Like the first movie, Gale is struck in the face and this is why Sidney Prescott is my hero.
Hallie has her best line in the movie.
HALLIE: Did you get that on film?
So does Joel.
JOEL: (imitating Hallie) Yes, I got that on film!
Lastly, we can't forget Dewey Riley who shows up to make sure Sidney's okay. Along with Gale, I truly believe Arquette gives his best performance as Dewey in this movie. Speaking of Dewey and Gale, their confrontation is perfection and again their chemistry is next level.
DEWEY: How do you know that my dimwitted inexperience isn't merely a subtle form of manipulation, used to lower people's expectations thereby enhancing my ability to effectively maneuver within any given situation.
This line of dialogue would only ever work for the character of Dewey.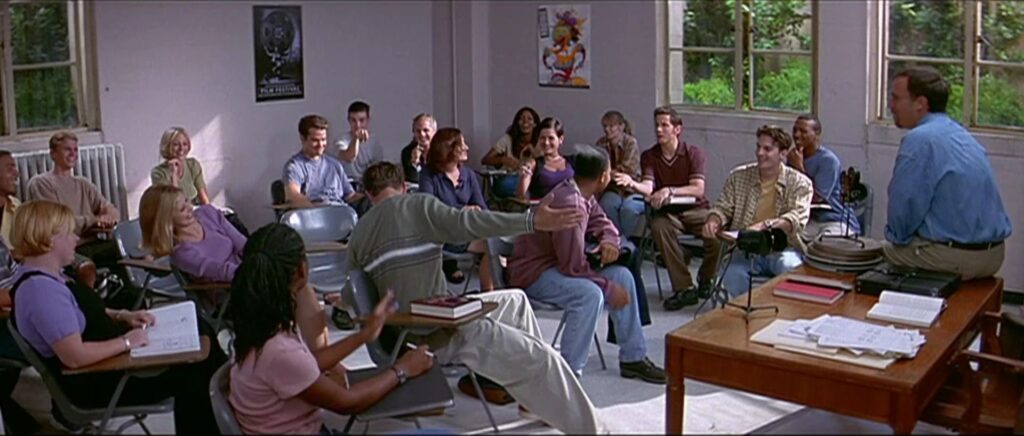 15) Scream 2: Classroom Sequel Discussion (0:15:03-0:17:13)
Within the first 15 minutes of Scream 2, writer Kevin Williamson bravely comments on what this movie is. It is a sequel and most sequels are inferior to the original, except for a few exceptions. It's clever and tells the audience, hey, you might not like this more than the last one but we're gonna take you for a rollercoaster ride no matter what.
We meet three major players too.
Firstly, the returning Randy Meeks, who hilariously is the first to claim that sequels suck.
FILM TEACHER: So you're trying to suggest that someone is trying to make a real life sequel?
RANDY: Stab 2? Who would wanna do that? Sequels suck.
Second, Mickey, who has way too much fun talking about James Cameron. And lastly, Cici Cooper (Sarah Michelle Gellar), who has no problem challenging Mickey on his thoughts, which becomes scarier on repeated viewings because we know what he will do to her later.
The classroom goes deeper into a discussion about violence in film and how it may or may not be a direct link to the bloodshed occurring in these movies. It's wonderfully written and the meta-ness comes about so expertly here. There's an argument from all sides.
FILM TEACHER: You could say what happened in that theatre was direct result of the movie itself.
CICI: That is so Moral Majority. You can't blame real life violence on entertainment. Movies are not responsible for our actions.
Then there's Joshua Jackson in a random but welcome cameo.
JOSHUA: Hello? The murderer was wearing a ghost mask just like in the movie. It's directly responsible.
Mickey of course has his own thoughts (clearly speaking from experience here).
MICKEY : It's a classic case of life, imitating art, imitating life. The killer obviously patterned himself after two serial killers who were immortalized on film.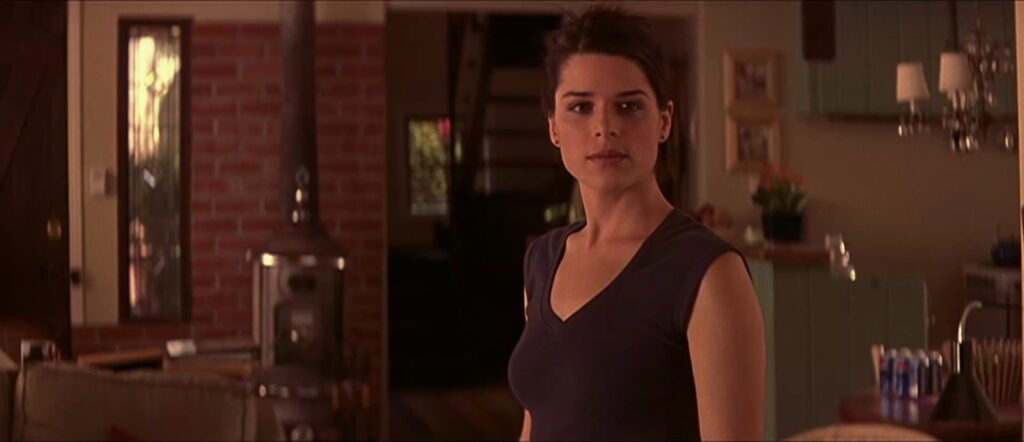 14) Scream 3: Final Scene (1:47:18-1:50:18)
People like to shit on Scream 3, but they would be crazy to deny the loveliness that is the trilogy's final scene. After all the trauma we've seen Sidney endure, she finally feels safe at home. The very last frame of her front door mysteriously opening is brilliant and hints at two things. 1) Sidney is no longer afraid and 2) the door is open for more sequels.
And can we talk about the score by Marco Beltrami? No wonder why he's an Oscar nominee.
We also have Dewey and Gale realizing they're way too good for each other not to give it a serious go. Dewey's proposal to Miss Weathers mixed with their terrific onscreen chemistry is a joy to watch and this is hands down the best love story in any horror franchise. Sorry, Ed & Lorraine.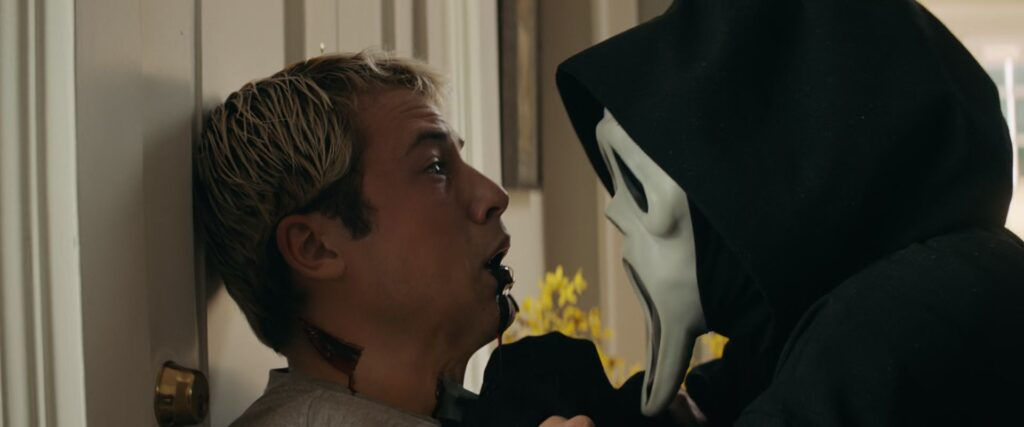 13) Scream (2022): Judy and Wes's Death Scene (0:44:22 – 0:53:03)
A mother and son dying in one scene. Now this is gruesome.
This is masterful slasher movie making to simply put it. We are sad because we know Wes lost his mother and he is unaware of it. We are afraid because we know he's going to die, it's just a matter of when. And we are laughing because the directors are having way too much fun with all these opened doors. This is also a subtle homage to the opening scene in Scream 3, yeah?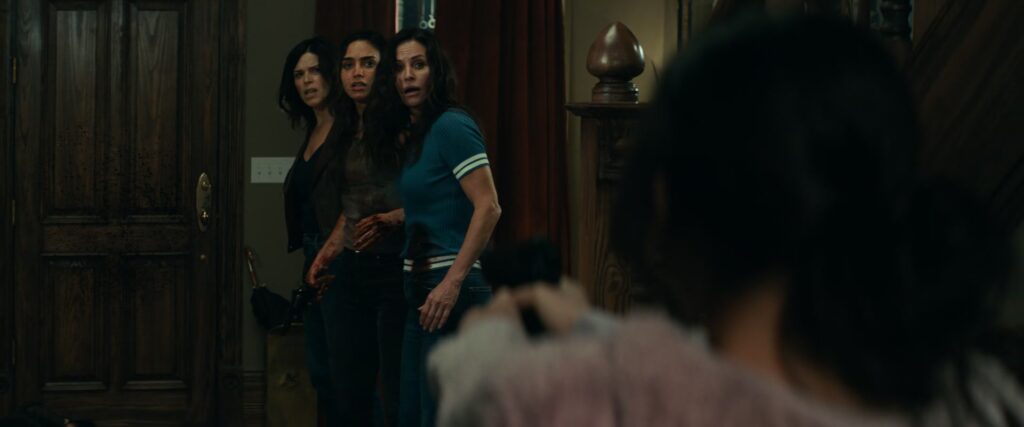 12) Scream (2022): The Final Act (1:17:56 – 1:44:44)
The finale in Scream (2022) is the best since the original. Yes, it's a recreation of the first but that was the point; there are so many moving parts and it all comes together so wonderfully.
Before I get to the amazing (which is 90% of it), let's get the questionable decisions out of the way. First, bringing back Stu's house for nostalgic reasons is fine, as nostalgia was the point of the requel, but does it work? If moving there really inspired Amber, okay, sure. But what's hard to accept is nobody in Woodsboro, including Mindy, not knowing where Stu's house is, especially since it's the exact same house in Stab and Stab 3. It would be a known fact these murders occurred in this house.
Second, if the killer had Liv's phone, then how did Liv get her phone back? Or did the killer clone Liv's phone? Also, I feel like Liv was originally supposed to be the killer instead of Amber. Had Liv been the killer, then Vince, Stu's nephew, showing up out of the blue just as the murders began, would have tied things together. Liv would have been the one to suck him in. But I will say, Liv's death is so abrupt and iconic, that I'll accept her not being the killer. And yes, Amber has the best killer reveal in the franchise. She just says "fuck it", and blows someone's brains out.
Chad has a "death" scene just as Richie, Sam, and Tara show up and the problem with Amber as Ghostface is she stabs her victims too low. Half of her victims don't die. She stabs them in the stomach instead of the back or chest like previous killers. Roman stabbed once and still got the job done.
Mindy is a lot of fun but she doesn't seem to be even a little sad about her friends being stabbed. She's sort of a sociopath when you think about it. If she turns out to be the killer in a future movie, I would not be surprised. She enjoys what's happening around her. Who puts on Stab after their friend just got horrifically murdered? Like seriously, if someone in a Michael Myers mask stalked and murdered your friend earlier that afternoon, would you throw in the Halloween DVD?
PS. If you're going to recreate a scene from Stab, how are you not going to bring back Parker Posey? We would have all blown our collective load in the theater. Seriously Radio Silence, make this happen! Though I do appreciate them casting Joe Blow Nobody to play Randy.
Mindy's one of many great moments is when Richie asks her to go downstairs with him to get a beer. Funny stuff. She's smart to say no as he would have totally killed her.
As Tara arrives, Amber tells everyone to leave the party, which is when I knew for sure she was Ghostface. Why does everybody have to leave for Amber to get Tara's inhaler?
When Sidney and Gale arrive, in true Gale fashion, she's taken out with a bullet. Even though she may bleed out, Gale doesn't let Sidney call 911. They need to finish this. They must avenge Dewey!
Sidney's theme coming on as she enters the house is magical and can we talk about how Sidney is the best final girl ever? Look at this woman. She didn't have to come to Woodsboro, but here she is, with a gun, ready to murder these new Ghostface killers.
The motive is what makes this movie for me. It's not a distant relative or someone avenging the death of their murderer son, it's just crazy fans. For better or worse, in this case, worse, what Gale did was turn this into a phenomenon. The Stab franchise was born out of her books. In this world, psychos don't shoot up schools for infamy. They put on Ghostface masks and go on murder sprees and it's scary.
As always, the good guys win and this is why we like the Scream movies. Sure, we lose some loved ones but Sidney, Gale, and now Sam and Tara, come out on top. Amber and Richie's deaths are so satisfying too. Gale finally gets hers and lights the bitch up and Sam channels her inner Billy and stabs Richie over and over as if he was Casey Becker. This is the moment we like Sam.
Oh and Tara's "I still prefer the Babadook"? The cherry on top.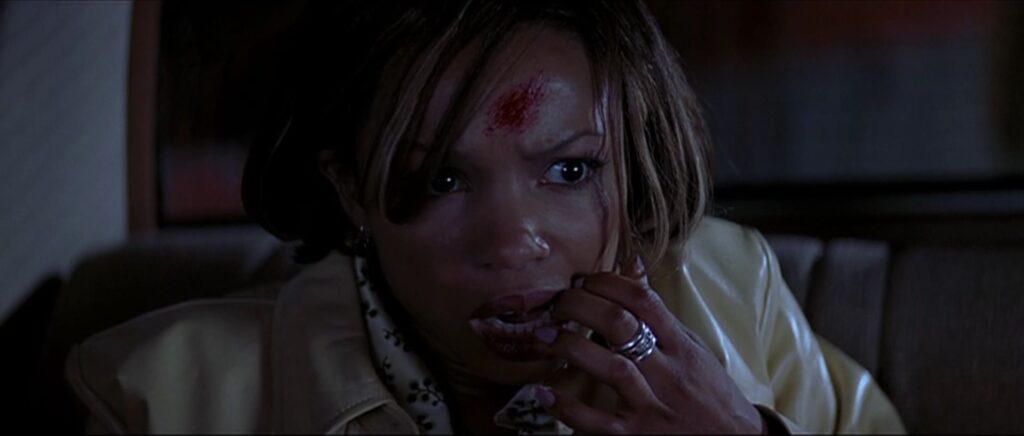 11) Scream 2: Police Car Fright (1:25:30-1:32:00)
Probably the biggest nail-biter of the series, Ghostface takes the wheel of a cop car and crashes it against a wall. While unconscious in the front, Sidney and Hallie are trapped in the back. The only way to escape is by crawling into the front seat past the killer out the driver's side door.
Also, can we talk about the giant pole through the officer's head? This death isn't talked about enough.
HALLIE: Oh, right through his eye…
As fantastic as this scene is, it has one major flaw and that's the last 30 seconds. As Sidney demands Hallie and her go back to remove the killer's mask, Ghostface miraculously escapes the car without anyone noticing (does nobody have peripherals?) and stabs Hallie to death. It's a little cheap and doesn't really make that much sense the more you watch it.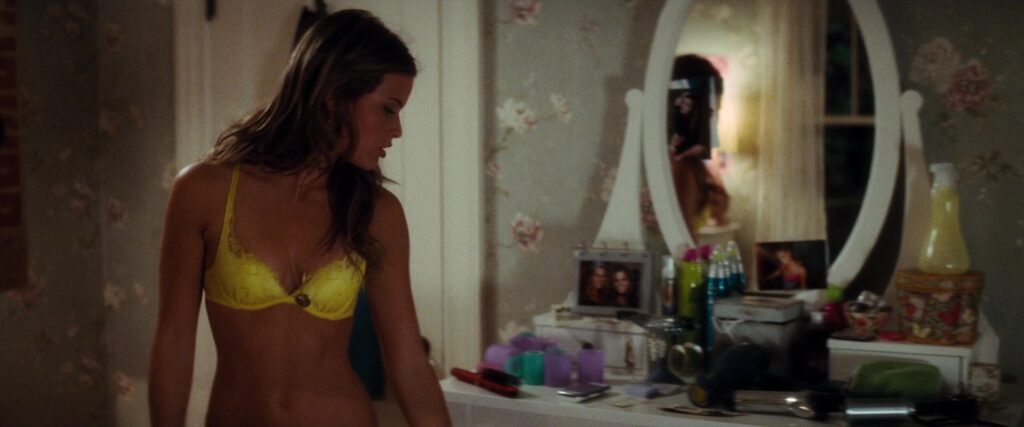 10) Scream 4: Olivia's Death Scene (0:31:17-0:38:50)
This is the best scene in Scream 4 and I don't think anybody will disagree. It's initially pretty damn funny and above all else, a terrifying reminder of how scary Ghostface can be.
Also, can we talk about how terrible of a mother Olivia's mom is? Two students have been butchered and Olivia receives a threatening phone call from the killer who did it. So where is Olivia's mom? At her boyfriends?? Dicks before kids, I suppose.
Anyway, Jill decides to prank Olivia with Kirby's phone when she receives a call on her own cell from Trevor. Except it isn't Trever. It's Ghostface, the moment turning serious when he proclaims to be standing in the bedroom closet.
In what could be a nod to Rear Window/Disturbia, Jill's bedroom window faces Olivia's bedroom window.
GHOSTFACE: I never said I was in your closet.
Most of us are swerved, and Olivia is brutally and I mean B-R-U-T-A-L-L-Y stabbed to death as Jill and Kirby are forced to watch like it's some Stab movie.
Sidney becomes her most badass version of herself here, running straight to the killer to fight and the dialogue between Sidney and Killer #6 is some of the best in the franchise.
SIDNEY: Why don't you come for me, you have the balls for that?
GHOSTFACE: Awe, you think this is still about you. You think you're still the star.
SIDNEY: This isn't a fucking movie!
GHOSTFACE: It will be. You've done very well for yourself by all this bloodshed, well how about the town you left behind? I got plans for you. I'm going to slit your eyelids in half so you don't blink when I stab you in the face. You'll die when I want you to, Sidney. Not a moment before. And until then, you're going to suffer.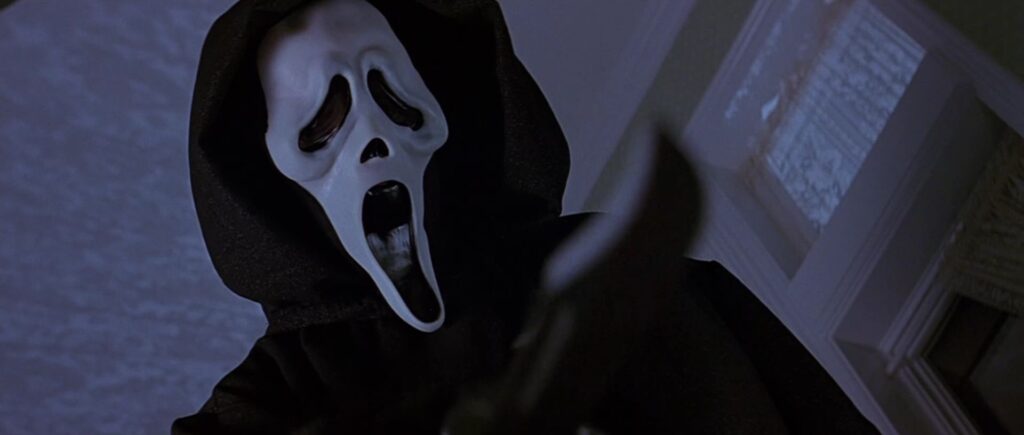 9) Scream: Sidney's First Phone Call/Attack From The Killer (0:21:41-0:30:37)
Sidney arrives home from school, and notice how she gingerly checks the mailbox. Could she be checking for potential splines and livers?
Naturally, she receives a call and we prepare for Sidney's first fright. We know it's the killer as we've heard him speak with Casey already, except Sidney doesn't buy it, believing it to be Randy.
GHOSTFACE: What's your favourite scary movie?
SIDNEY: You know I don't watch that shit.
GHOSTFACE: Why not? Too scared?
SIDNEY: No. Just what's the point? They're all the same. Some stupid killer stalking some big breasted girl who can't act who's always running up the stairs when she should be going out the front door. It's insulting.
As we all know, Sidney is attacked and forced to run up the stairs and we sort of laugh even though we're mostly terrified. The subtle blend of comedy in this movie is first-rate, unlike say Scream 4 which tries way too hard with lines like "Fuck Bruce Willis". Sidney locks herself in her bedroom with that closet door and somehow calls the police from her computer. Even in 2021, I still don't know how to call the police through the computer, so what is this technology that Sidney has in 1996?
Anyway, Billy shows up and drops his cell phone so of course, he's the killer, right?
What makes this scene and movie so terrific is this was definitely supposed to be the final night in Billy and Stu's massacre. Their plan clearly was to kill Sidney and wait to kill Tatum as soon as she arrived to pick her up. It's their failure here that leads to their last ditch effort to throw the party the following night.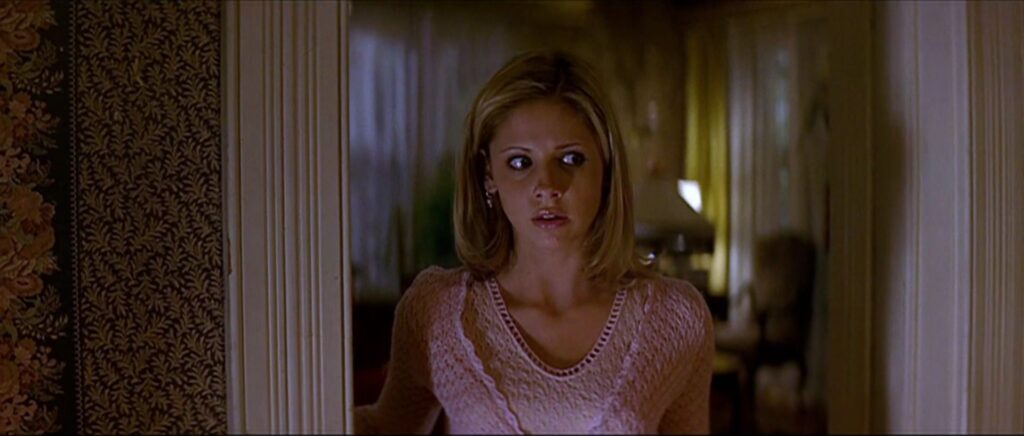 8) Scream 2: Cici's Death Scene (0:28:51-0:35:17)
My love for Sarah Michelle Gellar might make me biased, but all of us Scream fans know how much this scene slays. Pun surprisingly not intended, only realizing it once I wrote it.
This scene exists because poor Cici's real name is Casey. So because her parents chose to name her Casey, she becomes a victim in Scream 2. That's sad, right? So because of that, we get somewhat of a recreation of the Drew Barrymore scene – gorgeous blonde seemingly alone at home receiving a phone call from a flirty man who turns out to be a vicious killer.
Notice when the killer runs into the home (more expert direction from Craven) that he isn't holding a phone, even though Cici is currently on the phone with the killer. Hint hint 😉 PS. The first time eight-year-old me watched this (I was way too young), when Dawnie popped up behind Cici, I literally jumped out of my skin.
Ironic, Cici runs up the stairs instead of out the front door and it costs her her life.
Also, fun note Scream fanatics surely already know but the woman on the phone with Cici is voiced by Selma Blaire. Little did they know they'd be smacking lips a year later.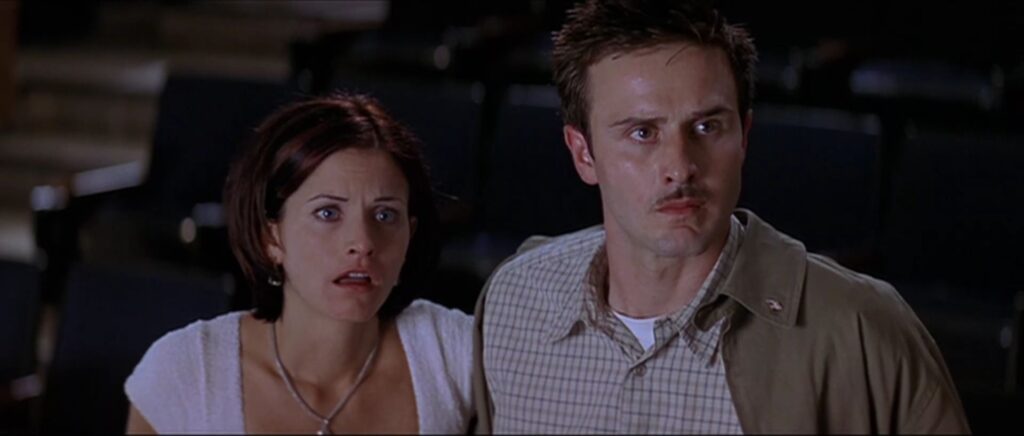 7) Scream 2: Dewey and Gale Attacked At College (1:15:39-1:23:04)
The most suspenseful chase sequence in the franchise, this scene works for many reasons. It's thrilling obviously, but we also have the budding romance between Gale and Dewey in danger and this is the closest both of them come to death in the series (until Scream 5 that is). The look in Gale's eyes when she thinks she is watching Dewey die before her is heartbreaking and some of Cox's best acting.
Okay, this might be a controversial opinion but who else thinks Dewey should have died here? This scene would have made much more of an impact had he remained dead.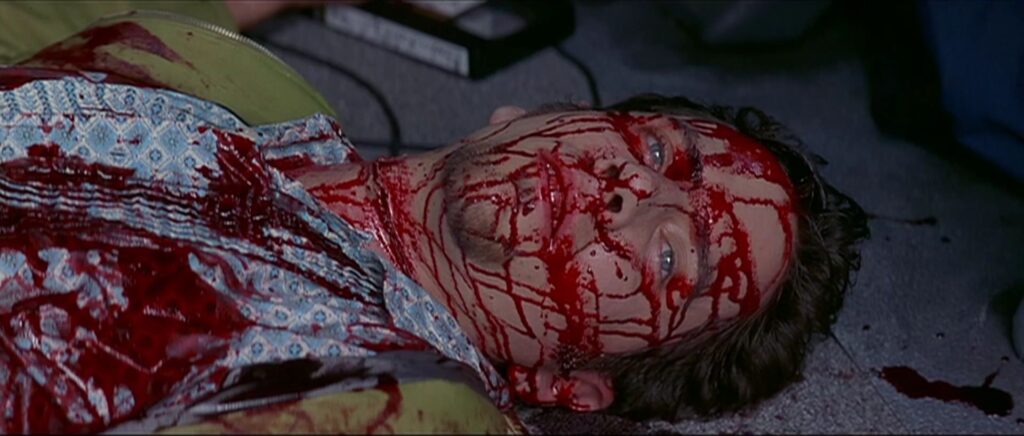 6) Scream 2: Randy's Death Scene (1:00:46-1:06:07)
The movie had the balls to kill off a beloved main character halfway through and it gets mad props for that. Especially a character horror fans related to. We all wanted Randy Meeks to be the leading man and to get the girl, but alas, he was never going to be the hero.
This is also a scene like no other in the franchise. The characters receive a call from the killer in broad daylight with countless people around them. Surely, they're safe, right? NOPE.
Randy, Gale, and Dewey discuss the copycat murderer and who could be next.
DEWEY: It could be any one of us.
He's right! When Gale mentions her dead cameraman, Joel flips…
JOEL: Now I don't need to hear about no dead cameraman. I'm gonna get some donuts, some Prozac; see if I can find some crack, Special K, X… not Malcolm, and I'll be back when y'all start talking about something a little more "Saved By The Bell"-ish!
Hilarious, yes, but this also points suspicion at Joel. He disappears just as Ghostface calls.
Randy answers Gale's cell and this makes me feel even worse for him. What if Gale had answered the phone? Would Dewey have gone on his wild goose chase with Randy instead, leaving Gale to roam around towards her news van? Think about it. The killer was in HER van, calling HER phone. She was 100% the target. This is the scene that changes Gale.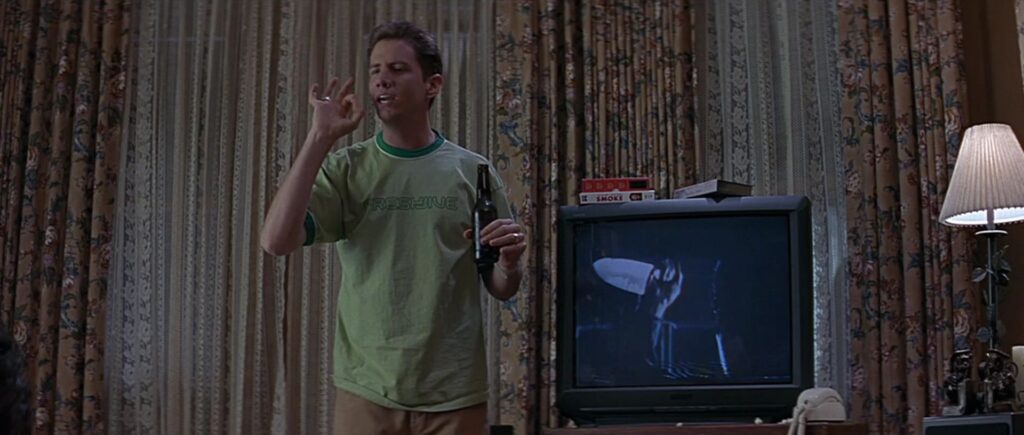 5) Scream: Randy Explains The Rules (1:12:21-1:13:57)
As a group of teens sit around and watch John Carpenter's Halloween, someone asks Randy…
"How do you watch this shit over and over?"
I chuckle every time. Why do we watch these movies over and over? What is it about slasher movies that some people gravitate to? That's another question answered for another post.
Stu impatiently waits to see Jamie Lee Curtis' breasts, in which Randy has to explain how virgin characters never get naked, leading us to our infamous rules of surviving a horror movie.
You can never have sex. Sex equals death.
You can never drink or do drugs. It is an extension of rule number one.
Never ever in any given circumstance say "I'll be right back." Because you won't be back.
While Randy is talking about the predictability of the genre at this point, many of the characters in this movie are predictably engaging in these risky activities.
Upstairs is Sidney getting it on with Billy.
Randy along with everyone else watching the movie is drinking beer and smoking up.
Gale and Stu both say they'll "be right back."
By the end of the film's climax, these rules are broken. This scene is just as imperative to the success of the movie as the reveal of the killers or even the opening scene. Randy speaks for every horror fan at this point in time in 1996 and the meta spin on the genre is talked about so hilariously and intelligently here.
Also, Stu's delivery of "I'll be right back!" never fails to make us laugh.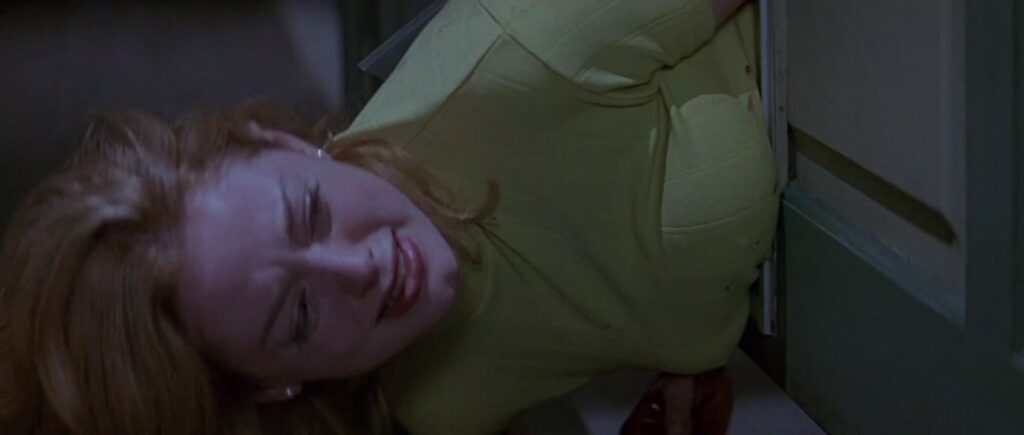 4) Scream: Tatum's Death Scene (1:04:26-1:07:43)
Tatum is sent to the garage by her boyfriend to get some beers and it's the last we see of her.
Is this scene not the reason why we love slasher movies?
Like Sidney earlier, she mistakes the killer for Randy and cracks jokes about wanting "to be in the sequel" and puts up one of the best fights in the franchise minus Sidney. Tatum isn't your average slasher movie blonde. She bashes the killer's skull with a refrigerator door, smashes him in the face with a beer bottle and even back body drops him like some future WWE Champion.
Sometimes, I wonder how the finale would have been like had Tatum survived? Imagine her teaming up with Sidney to face off against their ex boyfriends during the finale? Would Tatum have been Sidney's roommate in Scream 2? As fun as this is to think about, her death is way too iconic for it not to have happened. Yeah, we hate to see her die but we also love to see her die, you know? It's one of the most inventively fucked up deaths we will ever see. Also, her last word being a cry for her "Mom!" is gut-wrenching and ad-libbed by Rose McGowan herself.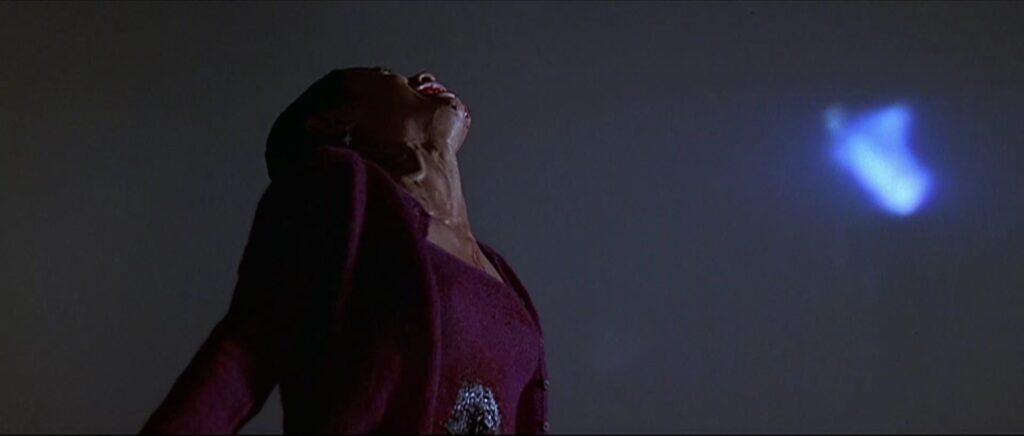 3) Scream 2: Opening Scene (0:00:00-0:11:45)
It was always going to be tough to try and top the opening of the first movie, but Scream 2 comes close.
What better way to go meta about horror movies than to go meta about your own movie? Scream 2 boldly makes the decision to center its plot around the release of a new horror movie called Stab – a film based on the original film's events written by Gale Weathers. Yeah, the movie within a movie narrative could have failed miserably but thankfully it didn't.
Having only a mayonnaise cast the first time around, the sequel wisely chooses to change it up, having Jada Pinkett's Maureen Evans provide her own commentary, angry that her boyfriend Phil Stevens (played by the gorgeous Omar Epps) is forcing her to watch this "dumbass white movie about some dumbass white girls getting their white asses cut the fuck up."
I especially love how they portray Casey Becker in Stab. Instead of the sweet and innocent version of Drew Barrymore, we get Heather Graham getting naked to take a shower.
MAUREEN: What does that have to do with the plot, her being butt ass naked?
Scream is the rare slasher franchise that never shows nudity and it's refreshing.
After Phil is impaled in the ear in the men's washroom, the killer assumes his identity by taking his jacket and chills run down our spine as he sits next to a clueless Maureen. With a rambunctious crowd all wearing Ghostface costumes, we knew this wasn't going to end well. While watching Stab play out before her, Maureen claims "if that was [her], [she] would be out of there." It's horrifying and hilarious because Maureen is Scream 2's Casey! If only she knew that she was going to be the opening kill of the next Stab movie!
Unlike Casey, Maureen isn't alone in the middle of the night. She's in public with hundreds of people and nobody is there to help her. The crowd hollers and cheers as the killer stabs her seven times. They simply watch her die, believing it to be a publicity stunt. It's disturbing. Before the audience can realize her murder was very much real, the killer disappears in a sea of masks.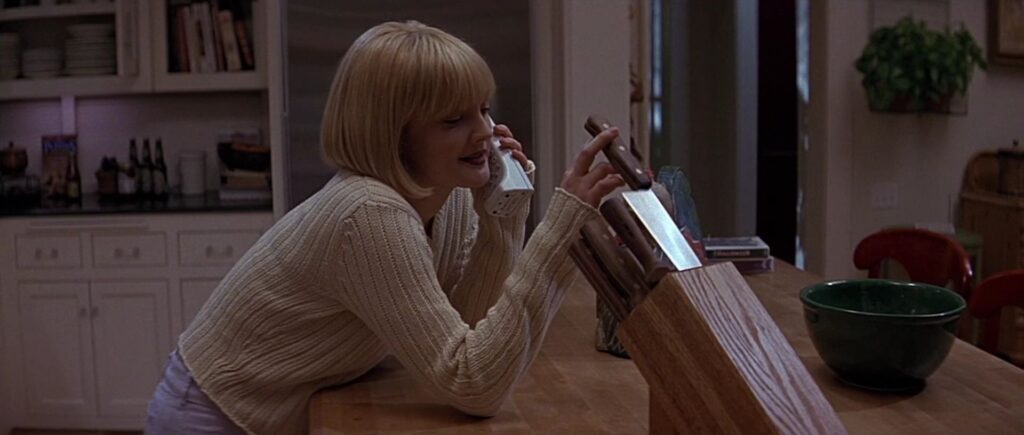 2) Scream: Opening Scene – Drew Barrymore (0:00:00-0:12:58)
Here she is. Drew Barrymore. The Janet Leigh of Scream. The star audiences expected to lead the film killed off in the opening scene. What is there to say about this scene that has not already been said? It's not just one of the best scenes of the franchise, but of the entire genre of horror. This is not a bold claim, it's the truth and everybody knows it. It's clever, terrifying and cruel. And to think Drew Barrymore almost played Sidney Prescott before changing her mind to play Casey Becker. I can't imagine it this way.
GHOSTFACE: You never told me your name.
CASEY: Why do you wanna know my name?
GHOSTFACE: Because I wanna know who I'm looking at.
This exchange still scares the shit out of me.
Casey Becker and her boyfriend Steven Orth are merely murdered because ex-boyfriend Stu couldn't handle the fact that Casey chose someone else over him. There's no other reason for it except jealousy. Even if Casey didn't dump Stu, she would have been killed anyway. Just look at Tatum. The duo of Billy and Stu almost fetishize ending the lives of these women.
Can we talk about Casey's mother and her harrowing scream as she sees her dead daughter hanging from the tree? Wow, wow, wow. It never fails to give goosebumps.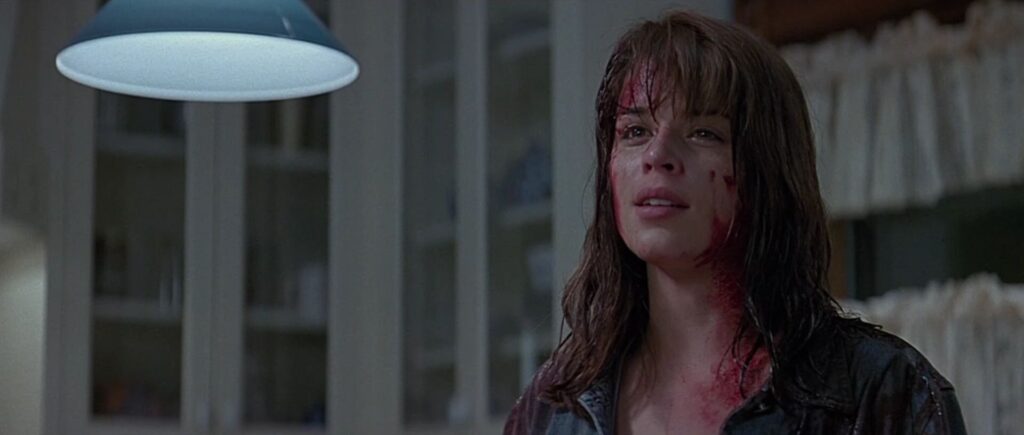 1 ) Scream: The Final Act (1:18:50-1:42:56)
The moment Billy fakes his death in front of Sidney to the moment she kills him with a bullet to the head, this is the best of the best. Had these final twenty-five minutes not delivered as well as they did, the phenomenon that this movie was wouldn't have happened. Everything works. The acting. The stunts. The terror.
Randy watching Halloween alone in the living room, yelling for Jamie Lee Curtis to turn around while Sidney and Kenny watch him from the news van, yelling for him to turn around is nothing short of genius. We laugh out loud and scream once we remember that damn 30-second delay.
The twist of there being two killers shocked us all, which has become the formula for the series minus 3. Unlike the sequels, Billy and Stu's reveals come about the most natural here. I believe it. I understand why at this point after failing to kill Sidney all night they stop to explain themselves. They're getting off on Sidney's fear. It turns them on.
Their plan is sadistically brilliant, which is why Jill in Scream 4 copies them. What better way to look innocent than to make it look like you survived a stabbing. It's wickedly violent.
SIDNEY: You sick fucks have seen one too many movies.
BILLY: Now, Sid. Don't you blame the movies! Movies don't create psychos! Movies make psychos more creative!
Some people like to blame violence in movies and video games as motive for one to later commit violence, but Scream is telling you to shut up with that idea. Is there a reason for this violence we are having to watch? Not really, but Scream at least tries to say something about it. Sure, watching these movies might theoretically inspire some psychopaths (it did them), but they're inherently bad for their own reasons. In their case, maternal abandonment and/or peer pressure.
Skeet Ulrich plays a terrific serial killer, but for me, Matthew Lillard steals the scene and plays the part so over the top and we thank him for it. He is my personal favourite killer and there are too many lines that leave us cackling.
Side note: Billy and Stu are totally gay for each other and we all know it.
Needless to say, Sidney becomes the heroine we love to root for, and watching her take down Billy and Stu in the end is nothing short of empowering. We can't forget Gale Weathers either, because if it wasn't for her, Sidney most likely wouldn't have survived. It's a duo of women that overcome the evils of man.
Also, so much blood and scares, and still we get so many laughs!
SIDNEY: Oh my God, Randy. I thought you were dead.
RANDY: I probably should be. I never thought I'd be so happy to be a virgin.
This is a perfect horror movie and of course I think this as I only spent countless hours writing about every single scene in this franchise (so far). I had so much fun deep diving and for anyone of you who spent time reading this, thank you. Feel free to talk Scream with me ANY TIME.
To close, let's give a round of applause to Wes Craven and Kevin Williamson (and Ehren Kruger… and Neve Campbell… and Courteney Cox… and David Arquette… and Patrick Lussier (editor) and Marco Beltrami (music composer), and now Matt Bettinelli-Olpin and Tyler Gillett… and honestly, EVERY SINGLE PERSON INVOLVED).
Now bring on Scream 6!
Photos courtesy of kissthemgoodbye.net and homeofthenutty.com
You might also like
---
More from Uncategorized
---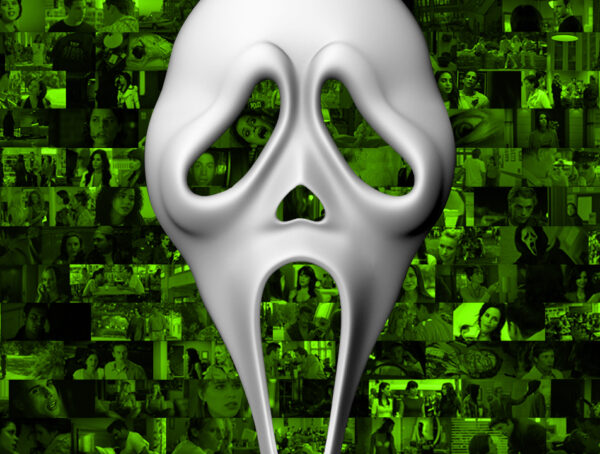 1.8K
97) Scream: Police Questioning Sidney. Dewey's Introduction (0:18:59-0:19:34) The Woodsboro police are questioning every student and faculty member at the school. …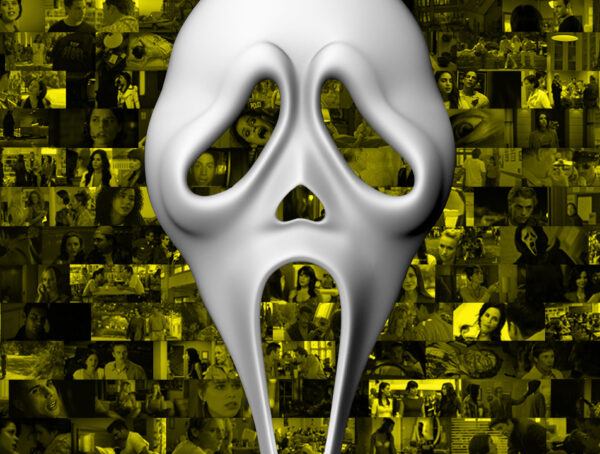 1.7K
58) Scream 2: Cotton Interrogated (1:09:34-1:12:54) Cotton Weary is arrested, becoming the number one suspect to the grisly campus killings. The …