With the latest installment being released earlier this year, Scream remains my favourite horror franchise. The films are so consistently entertaining, incredibly well-written and superbly performed that it doesn't do justice to simply describe them as a straight-up serving of the slasher sub-genre. Unlike some other successful franchises, Scream has always been more focused on quality than quantity, and gratefully has never jumped the shark by having the character(s) of Ghostface enter supernatural waters.
26 years after the original Scream (1996) arrived in theaters, and the first movie not to be directed by the late, beyond great Wes Craven (R.I.P. Wes), Scream (2022) once again delivers thrills, chills, kills and even some tears. In other words, it is another deserving TRICKS AND TREATS candidate, where I share my personal list (presented in chronological order) of some fun observations and curious questions about the movie.
Below is the SCREAM (2022) edition of TRICKS AND TREATS. Have a read and let me know if I've missed anything!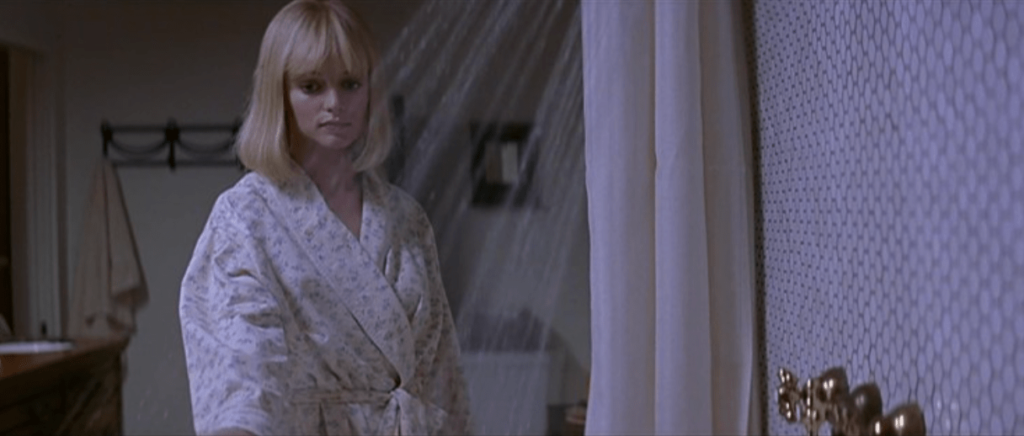 1/ With the goal of scoring a perfect 100% on Ghostface's over-the-phone, pass it-or-die quiz, Tara uses her mad web-search skills to determine who played Casey in the original STAB (1998) movie. In doing so, the audience is provided a very quick glimpse of the fictional film's FULL cast. And what a FUN and INSPIRED list it is:
TORI SPELLING as Sidney Prescott
DAVID SCHWIMMER as Dewey Riley
LUKE WILSON as Billy Loomis
HEATHER GRAHAM as Casey Becker
JENNIFER JOLIE as Gale Weathers
CRAIG BIERKO as Cotton Weary
VINCE VAUGHN as Stu Macher
ALICIA SILVERSTONE as Tatum Riley
CHRISTOPHER SPEED as Randy Meeks
RON HOWARD as Principal Arthur Himbry
Of course, the only fictional actor on this list is Jennifer Jolie, played to over-the-top perfection by the wonderful Parker Posey in Scream 3.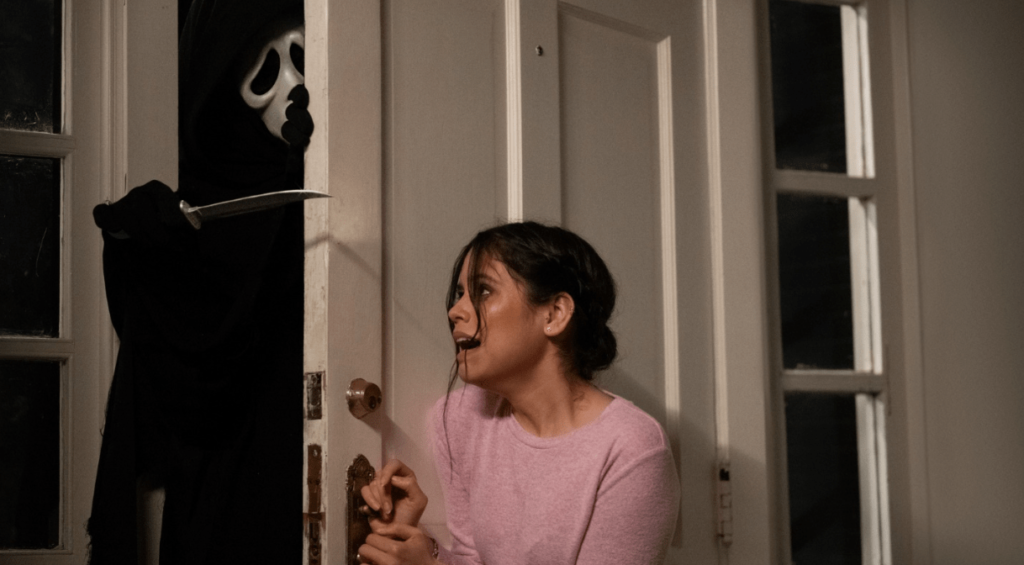 2/ The front door of Tara's house has windows on either side of it; one, if broken, would allow an intruder easy access for their arm to reach in and unbolt the door's lock. I guess Ghostface was more in the mood for a high-tech game of cat-and-mouse than going old school when terrorizing poor Tara.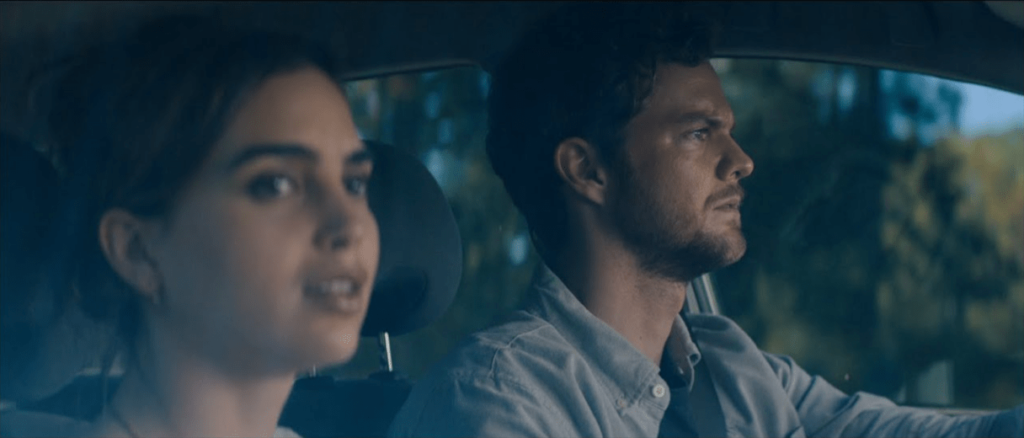 3/ While Sam and Richie are driving to Woodsboro, she shares a brief history of the story behind Stab and how "Every decade or so, some idiot gets the bright idea to put on a mask, kill his friends, and get famous, too. The last time it happened was in 2011." One of many curious coincidences in this film, the last movie in the Scream franchise was also released in 2011.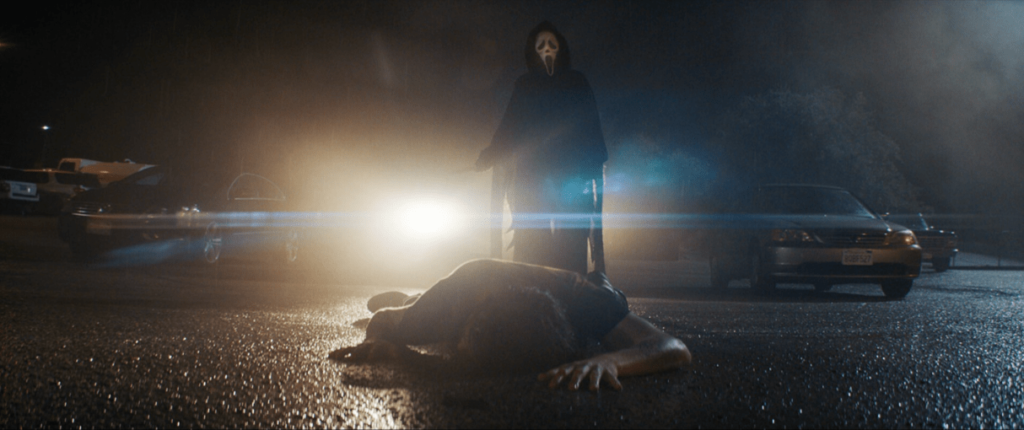 4/ Vince's death feels like one of the quickest start-to-finish, struggle-free kills in the franchise; one strategic, precise stab to the side of the neck by Ghostface and Vince quickly bleeds to death in the parking lot.
5/ After having words with Sam, Sheriff Judy (Hicks) struts down the hospital corridor like she's on a runway at New York Fashion Week. Look at Sheriff Judy sashay away!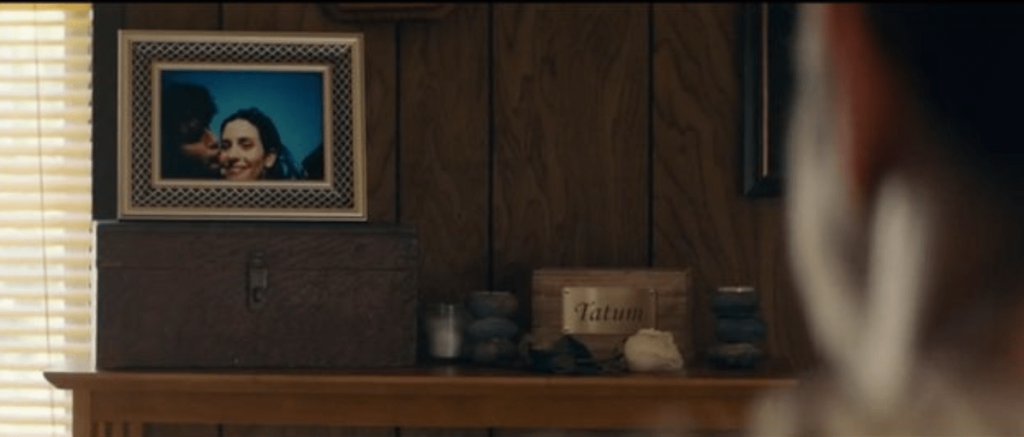 6/ In Dewey's trailer park home, placed on the mantle beside a photo of Dewey and Gale is a white rose in memory of Dewey's dead sister Tatum, as well as what appears to be a box containing Tatum's ashes. The white rose is also a cool nod to actor Rose McGowan whose performance in the original Scream (1996) as Tatum was everything.
7/ The front of Dewey's fridge is like a page out of a pets' photo album featuring 5 individual dogs and a cat. There's also a couple of photos of two children, presumably of a much younger Dewey and Tatum.
8/ Speaking of cats, what's the deal with that…um, striking painting (or is it a photo?) of a feline on the wall above Dewey's sofa?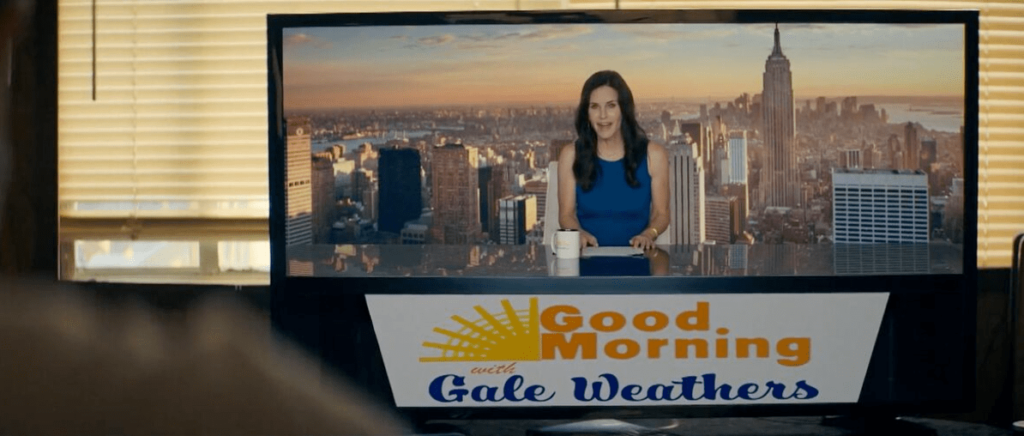 9/ On her Good Morning with Gale Weathers television show, Gale declares at the end of a segment that "If I ever get bangs again, someone stage an intervention", which is a hilarious reference to Gale's very noticeable, deeply unforgettable hairstyle choice in Scream 3 (2000).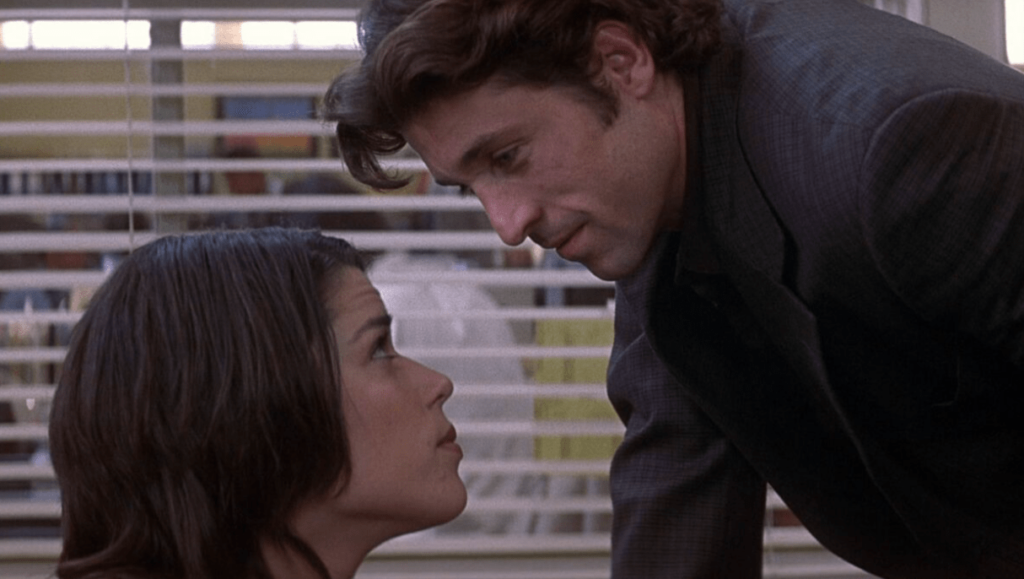 10/ When Sidney's husband Mark is referred to, one cannot help but to wonder if this is the same Mark Kincaid from Scream 3 (and portrayed by McScreamy Patrick Dempsey).
11/ Back at Dewey's, the clock on the wall above the photo of Gale and Dewey appears to NOT be working (the seconds hand doesn't move).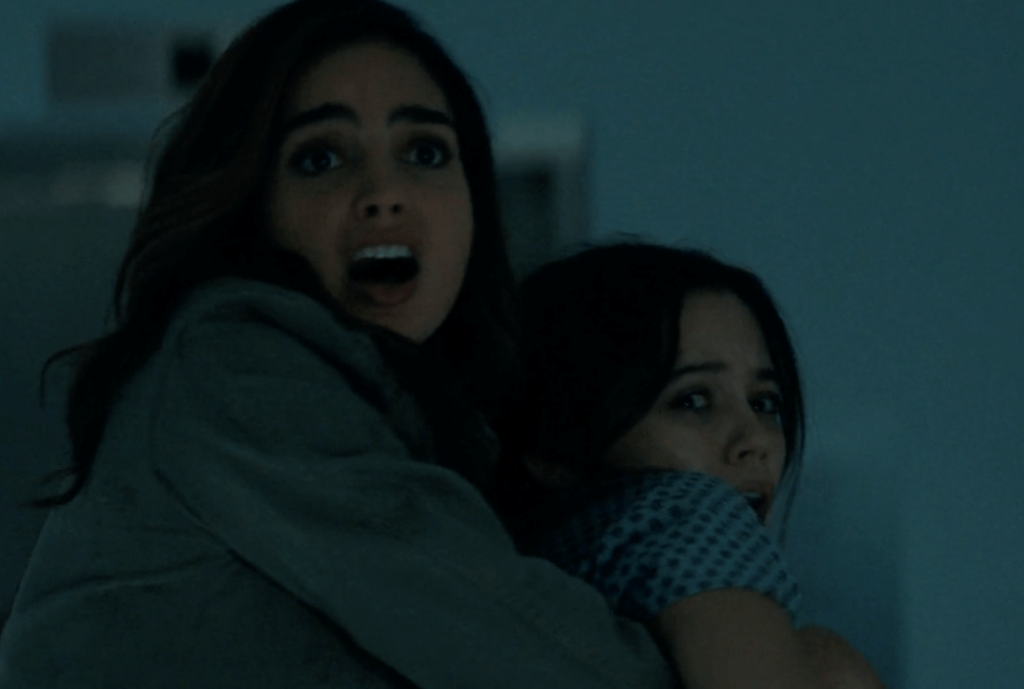 12/ Is it a coincidence that Sam's and Tara's last name is the very horror-friendly "Carpenter"?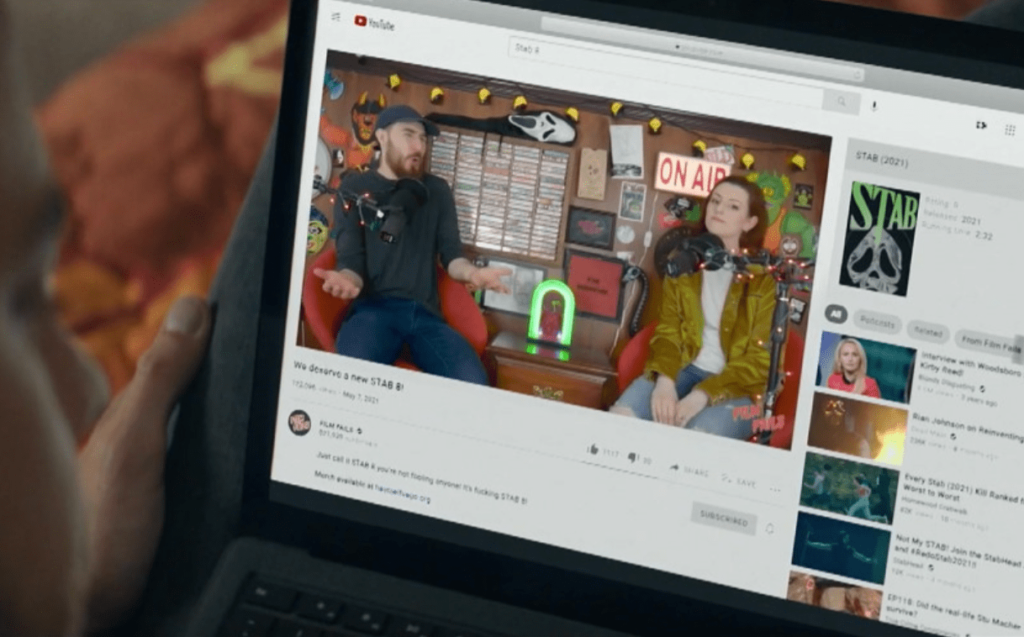 13/ While Ritchie is watching an episode of the web series Film Fails, notice some of the clips being promoted on the right side of the screen, especially: "Interview with Woodsboro Survivor Kirby Reed!", and "Ep. 118: Did the real-life Stu Macher survive?"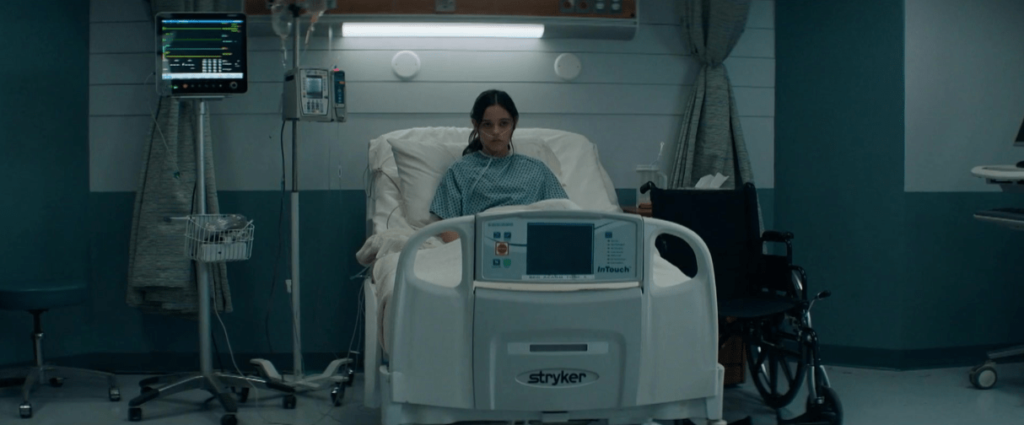 14/ The tv series Tara is watching from her hospital bed is an episode of Dawson's Creek, which was created by Kevin Williamson, who just happens to also be the screenwriter of Scream (1996), Scream 2 (1997), and Scream 4 (2011). He's also an executive producer of Scream 2 and Scream (2022) and a producer of Scream 3 (2000) and Scream 4. (Have I missed anything?)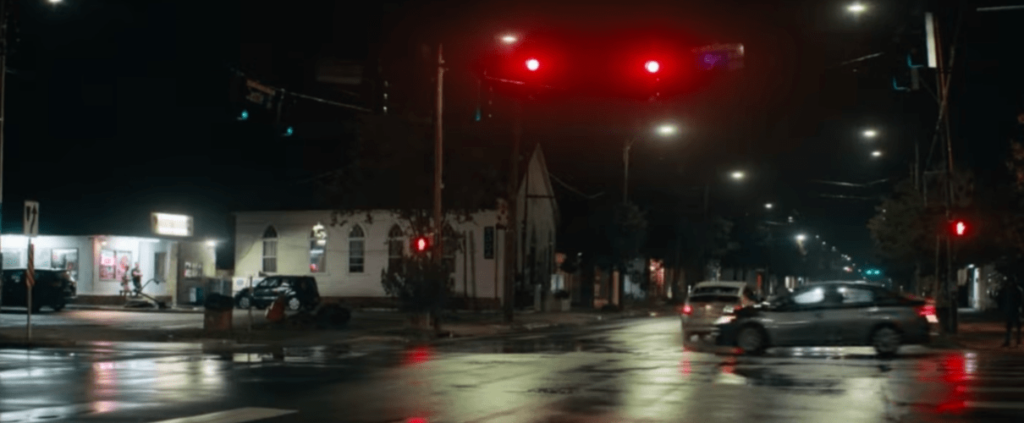 15/ Having crossed 5th Avenue (500) in the prior scene, why is the car Sam and Dewey driving to the hospital shown in the next scene turning right onto 5th Avenue (600)? Clearly, I need to see a road map of Woodsboro.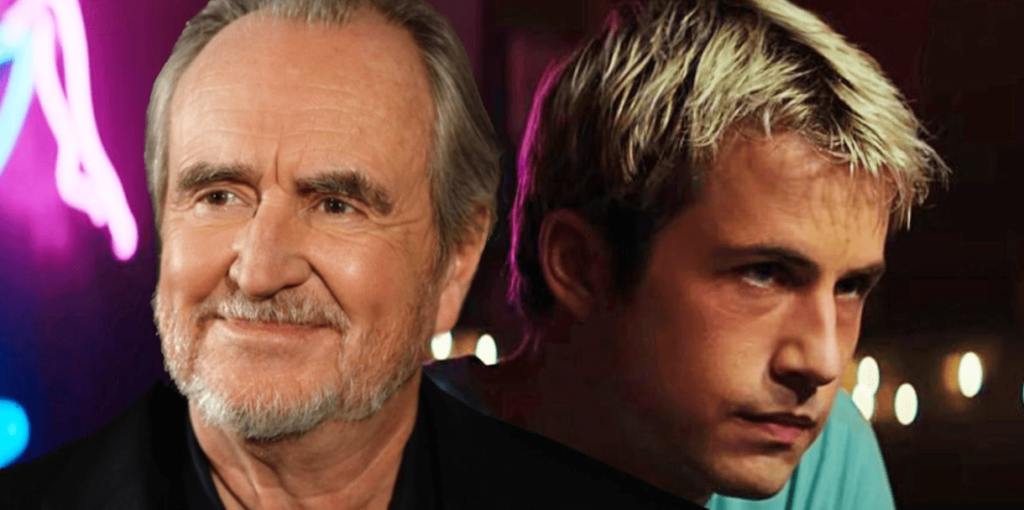 16/ When Chad and the rest of the partygoers raise a celebration-of-his-life glass "To Wes", it's as much a touching tribute to horror legend (and master of all things Scream) Wes Craven, as it is to the film's recently murdered character Wes Hicks.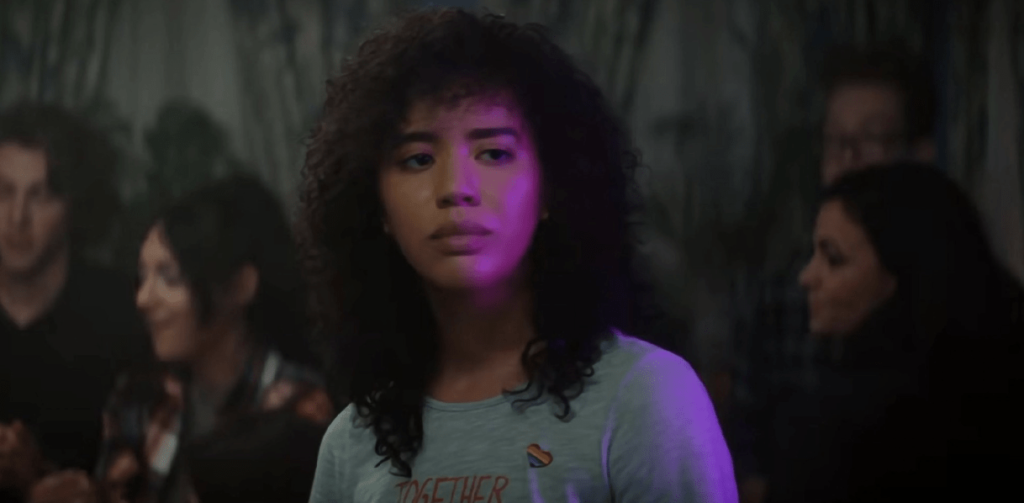 17/ Is Mindy the first openly LGBTQ+ character in a Scream film?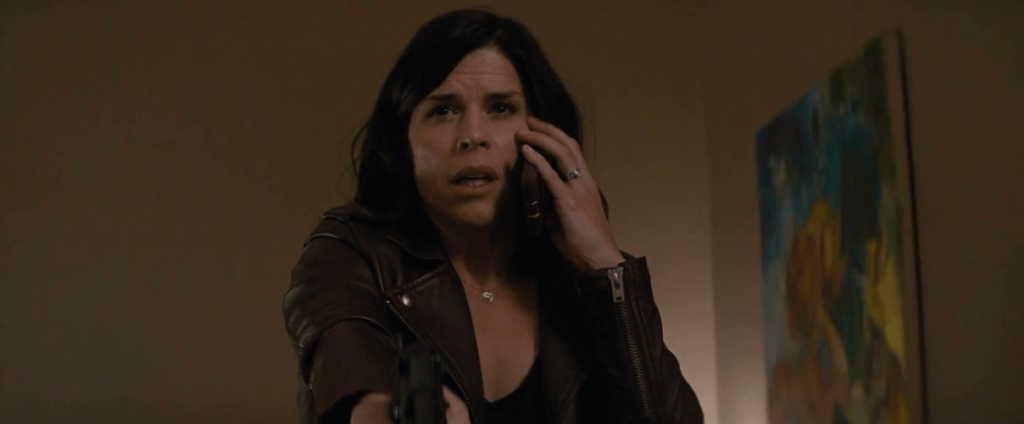 18/ How did Ghostface get Sidney's cell phone number? (Maybe from having possible access to Dewey's phone?)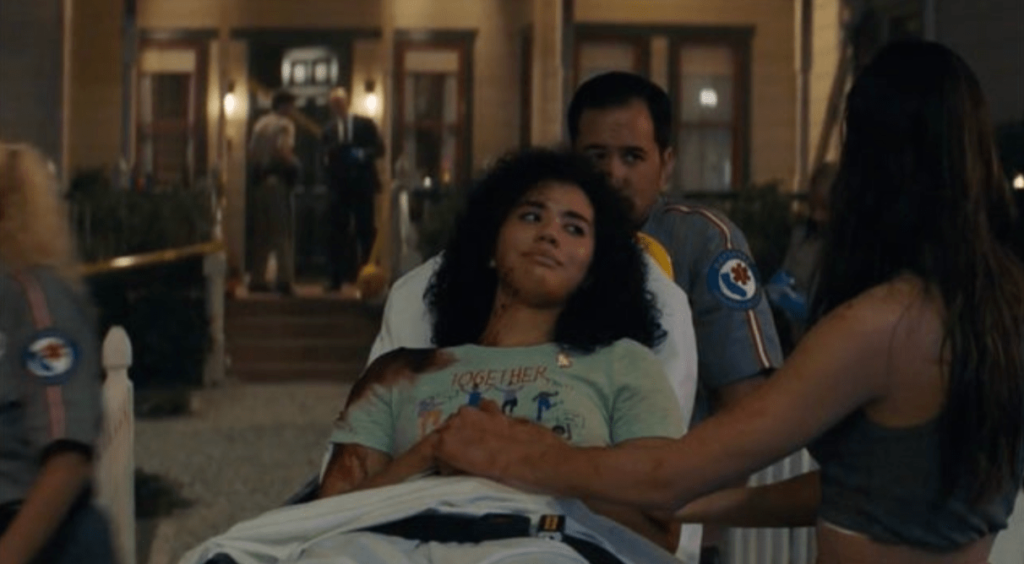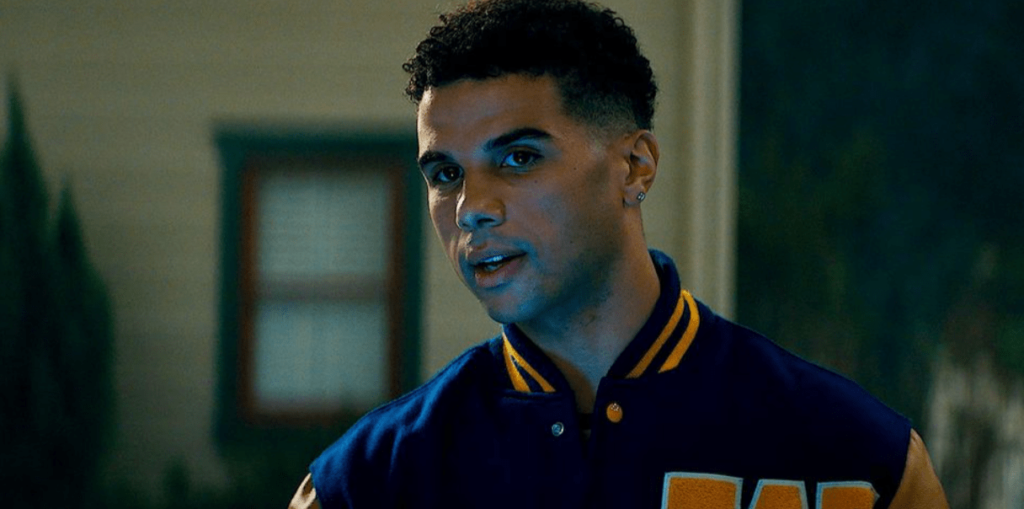 19/ Siblings Mindy's and Chad's equally miraculous survival brings new meaning to the term "twinning".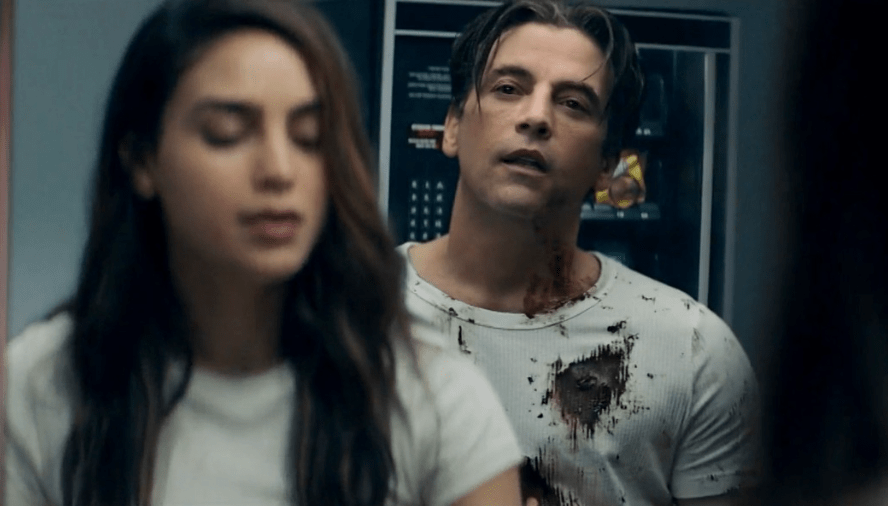 20/ How weird is it that Billy Loomis ends up being a sort-of hero in this movie?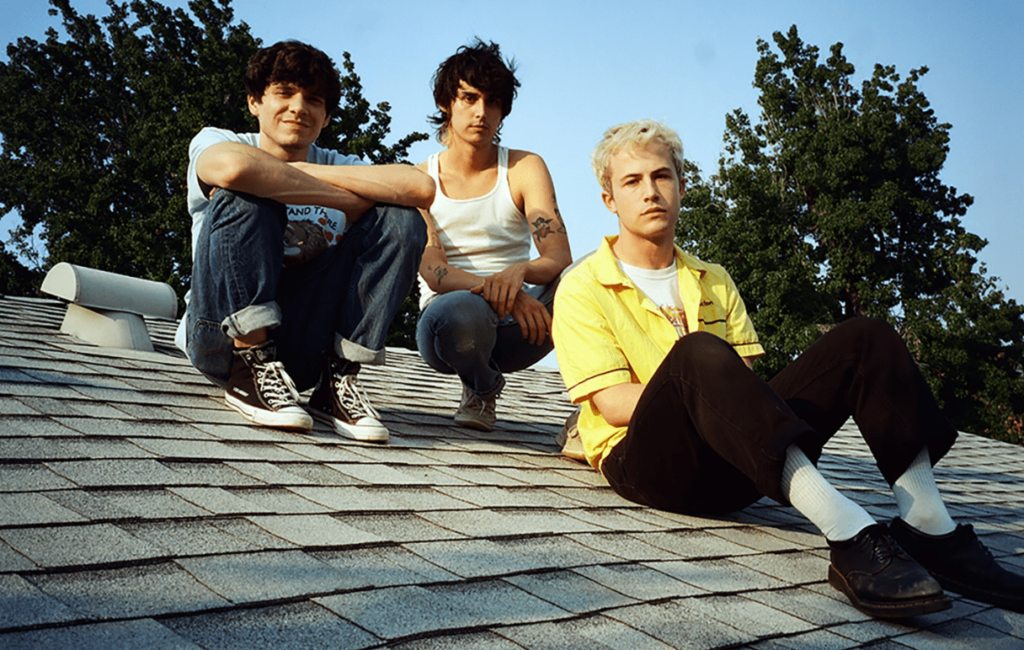 21/ The song "I Don't Want to Talk" that plays over the closing credits is co-written by Dylan Minette (Wes) and performed by his band Wallows.
22/ "The Producers Wish to Thank" list appearing at the end of the closing credits is a very curious one:
Iya Labunka [Producer of Scream 4, Production Manager on Jason Lives]
Marco Beltrami [Composer of Scream 1-4, Red Eye, and Cursed, all films directed by Wes Craven]
Patrick Lussier [Editor on Scream 1-3, Red Eye, Cursed, and Wes Craven's New Nightmare, as well as Halloween: H20]
Drew Barrymore [played Casey in the original Scream]
Jamie Kennedy [played Randy in the original Scream]
Matthew Lillard [played Stu in the original Scream]
Henry Winkler [played Principal Arthur Himbry in the original Scream]
Julie Plec [Producer of Scream 2 & 3, Cursed]
Hayden Panettiere [played Kirby in Scream 4, and is confirmed to return in Scream 6]
Gregory Plotkin [Editor on Paranormal Activity 2,3, and 4, Get Out, Happy Death Day]
Rian Johnson [Producer, Director, Writer of Knives Out]
Sophia Takal [Director and Writer of 2019's Black Christmas] Lars Klevberg [Director of 2019's Child's Play]
You might also like
---
More from Stories
---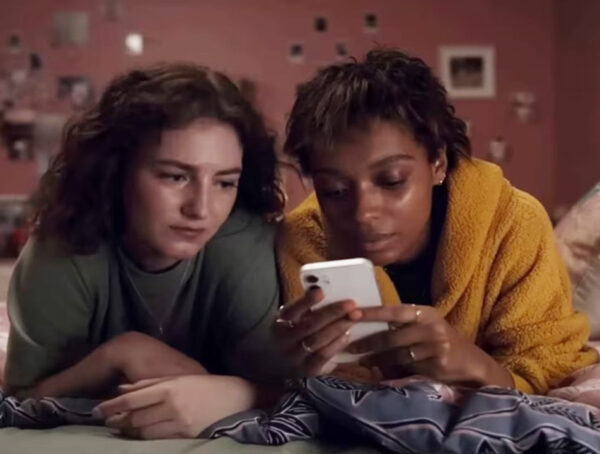 174
For the 2023 North American summer movie season, which officially started May 5 and continued through the (September 2-4) Labor …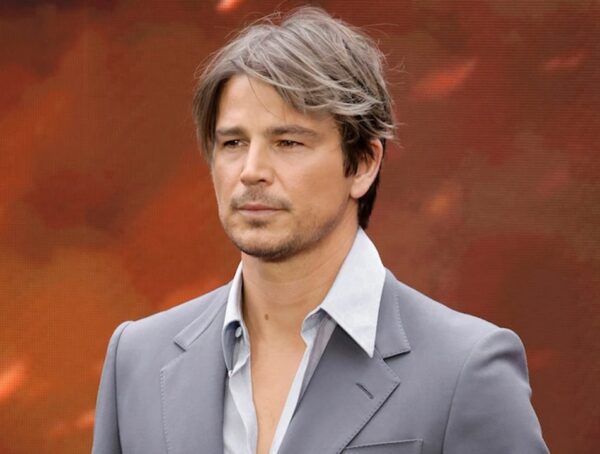 170
While watching writer-director Christopher Nolan's epic film Oppenheimer (2023), the story of American scientist J. Robert Oppenheimer, and his role …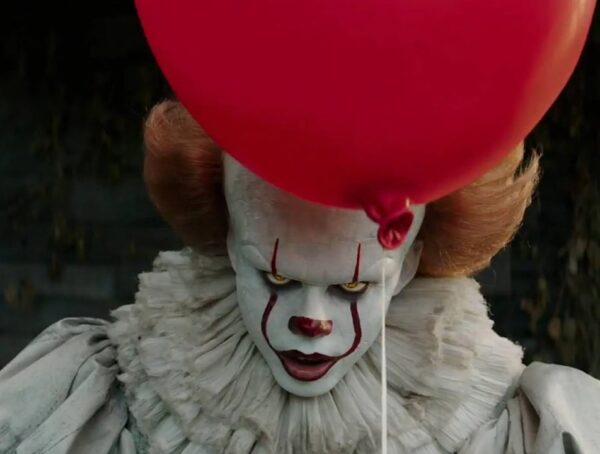 318
Almost as great as my love for watching horror films is my fascination with how well they perform at the …