Sponsored Feature: Petrichor Motion Pictures
Attack of the Swole People is a new horror comedy written by Sean Furey and directed by Elijah Broughton.
A government agent and her rookie partner race to stop a trio of gym bro extraterrestrials from murdering humans and pilfering their creatine supplies.
Q&A with writer Sean Furey
Hi Sean, thanks for joining us to discuss your new horror/comedy Attack of the Swole People! How did you come up with the concept for the film?
Thanks for having us, we're excited to get this film out into the world! I think Attack of the Swole People began about a year ago with only the title. It was a late-night brainstorm that I think my wife and I laughed off at first. I still have the original note in my phone from that night, which is kind of fun to be able to pinpoint exactly when this idea first took hold. (August 31 at 11:16 pm!) A month prior, I had the opportunity to chat with Lloyd Kaufman again, whose passion for filmmaking is absolutely infectious. So the idea of writing something Troma-worthy was definitely on my mind. I knew that was the direction in which I wanted to take the material for my next project.
Fast forward a few months: Elijah and I wanted to submit a project to Texas Frightmare's 2023 Fake Trailer Showcase, and that's when the project really took off (sorry). I actually wrote the first draft as a fake trailer, pairing my Troma goal with my love of old sci-fi/horror movies. Elijah liked the script and concept, and the more we talked about it, the more we thought that if we were going to go through all the effort to get a cast and crew together, we might as well get a full short film out of it. So that's what we did.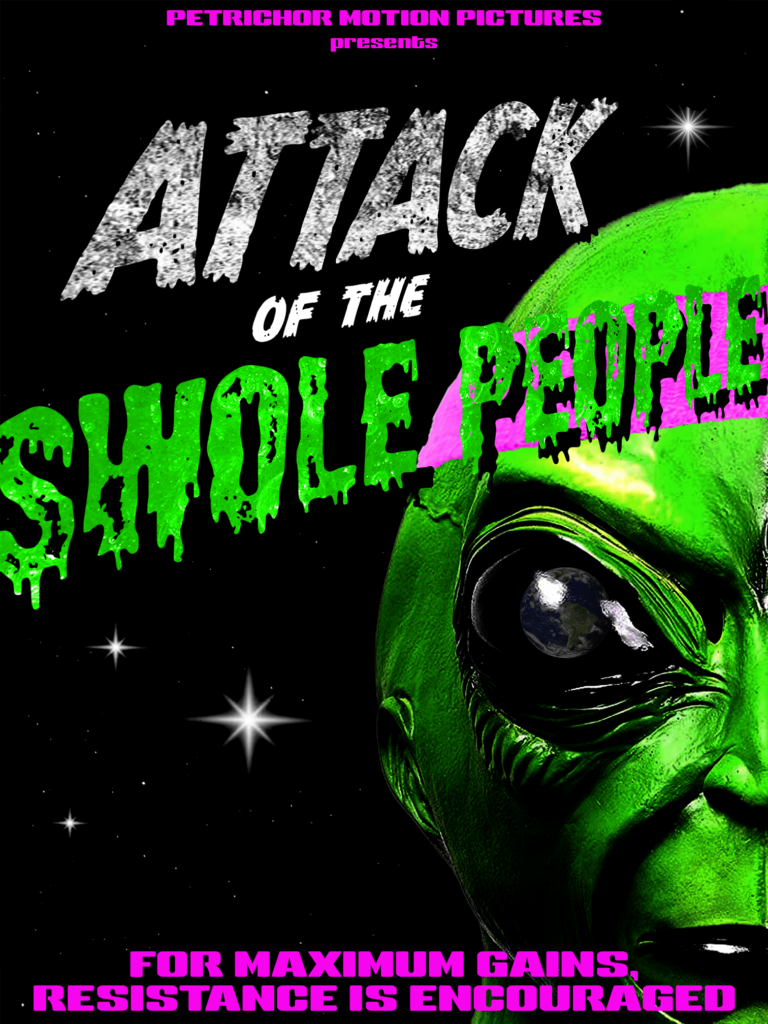 I know you're a fan of sci-fi/horror B-movies of the 1950s and '60s. Were there any specific films you drew inspiration from while writing Attack of the Swole People?
There were tons. We've highlighted a couple of the big ones on Petrichor's socials, including It Came from Outer Space (1953) and The Mole People (1956). Others include Not of this Earth (1957), I Married a Monster from Outer Space (1958), Invasion of the Body Snatchers (1956), Them! (1956), Invaders from Mars (1953), Teenagers from Outer Space (1956), Invasion of the Saucer Men (1959), Earth vs. the Flying Saucers (1956), and many, many more. I discovered several years ago that my local community library is a treasure trove of resources and can find virtually any film. If you're looking to do a deep dive into a particular group of films, check out your local library!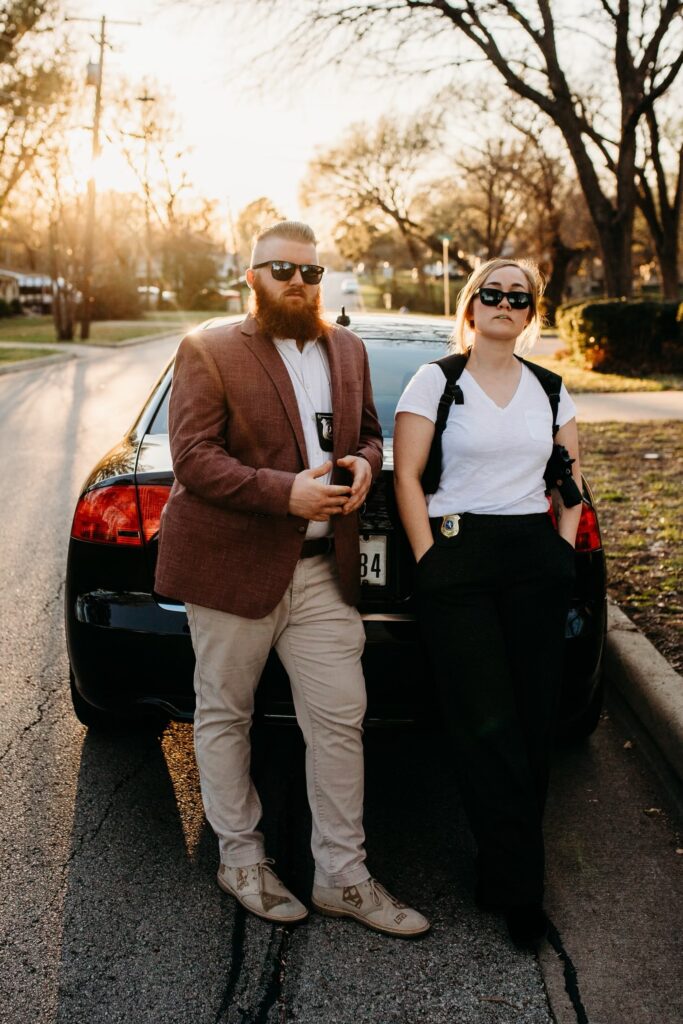 There are a lot of practical effects used in this short that are quite impressive. Why did you decide to go this route instead of using CGI?
Elijah and I have always been on the same page with practical effects. We'll use them whenever we possibly can. I think that when it comes to horror and gore, audiences will always engage more with practical effects than with CGI, and they're a hell of a lot more fun to do on set. We do incorporate CGI in this film (it was kind of unavoidable in this case) but we think those shots will add to the audience experience as well.
Also, shout out to my wife Katie who stepped up to learn make-up and special effects. The practical effects in this film are largely hers and she did an amazing job. Gabe Barron took the lead on the CGI and did an incredible job as well.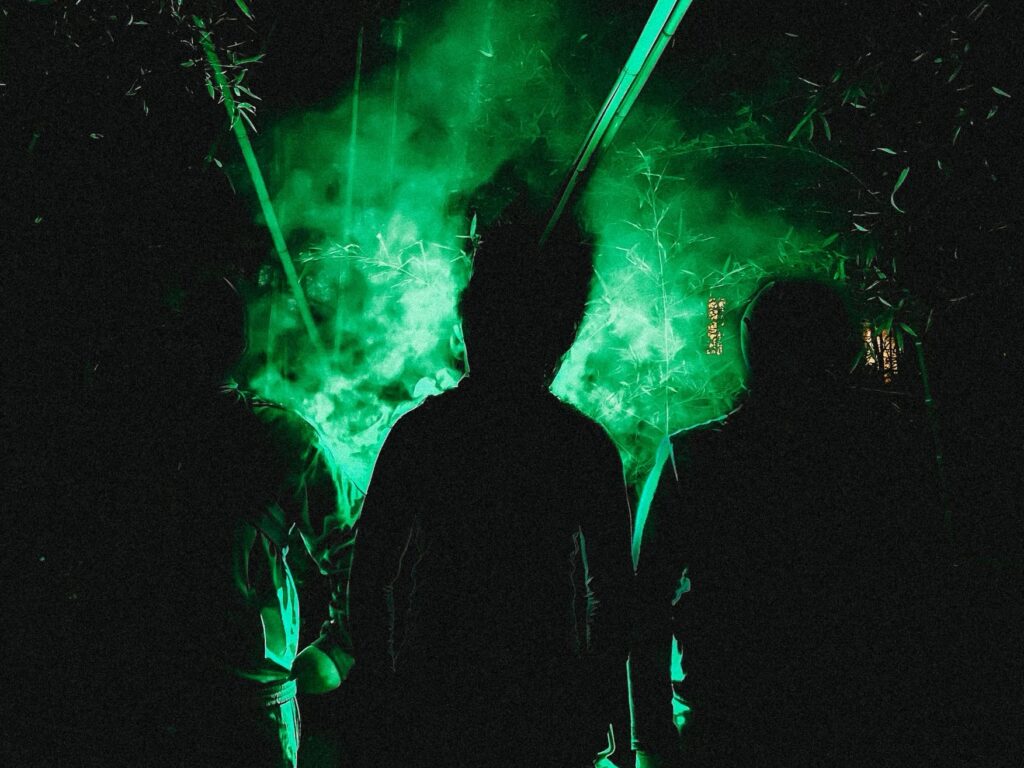 "I think that when it comes to horror and gore, audiences will always engage more with practical effects than with CGI, and they're a hell of a lot more fun to do on set."
What was your biggest challenge during the filmmaking process?
Definitely the shoot itself. We had two days to shoot everything, which made for a very, very long weekend. And I remember thinking at that time, we're getting shots for effects that I still don't know how to do in post. On top of that, aside from the whirlwind shoot we did for the 2022 Dallas 48-Hour Film Project several months prior, this was Elijah and I's first time working together. Of course, he knocked it out of the park in the director's chair, and the crew, who were mostly strangers to me at first, were incredible as well.
Attack of the Swole People keeps viewers engaged throughout. What are you hoping people will take away from the film?
Thanks, the momentum of the film was a big focus during production. I think I can speak for Elijah as well when I say that we just hope that audiences are entertained. I battle pretty severe anxiety and depression, and I always seem to turn to movies to help with, or at the very least distract me from, those thoughts and feelings. I've experienced firsthand the relief that a movie can provide even on my lowest days, and my singular goal as a writer and filmmaker is to share that relief with others. I hope Attack of the Swole People can be one of those movies for people. If it brightens the day of even one person and gives them a reprieve from their burdens, if only for a little while, then I'll have done my job.
For more information, follow @petrichormotionpics on Instagram and visit the film's IMDB page.
You might also like
---
More from Indie Horror
---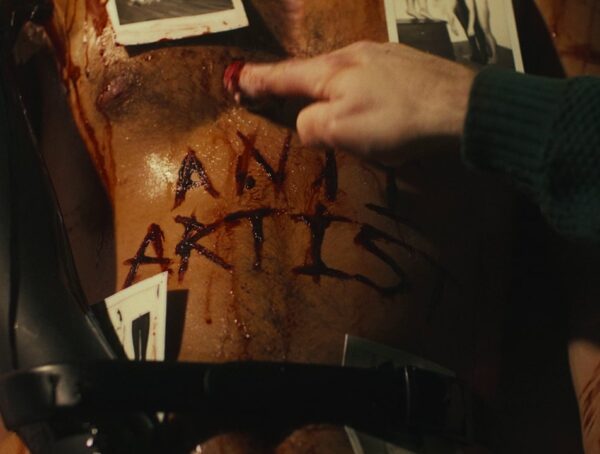 255
Sponsored Feature: SPK Productions & Classified Films AI ARTIST is an award-winning horror short, written and directed by Jessey Nelson & Dani Barker, …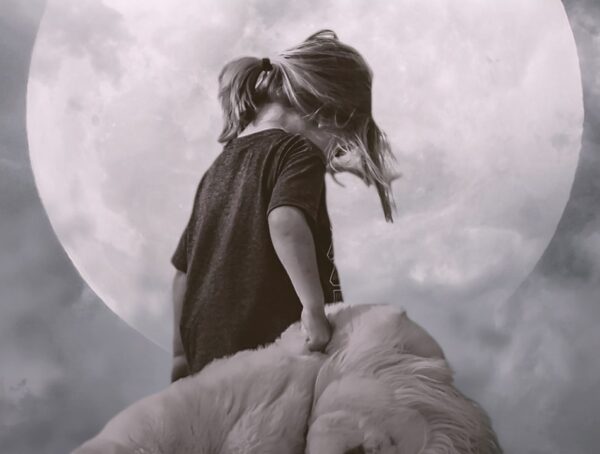 281
Sponsored feature: Extraordinary Pictures LLC Inner Child is an upcoming feature film drama-thriller with horror elements. The story is based on a novella …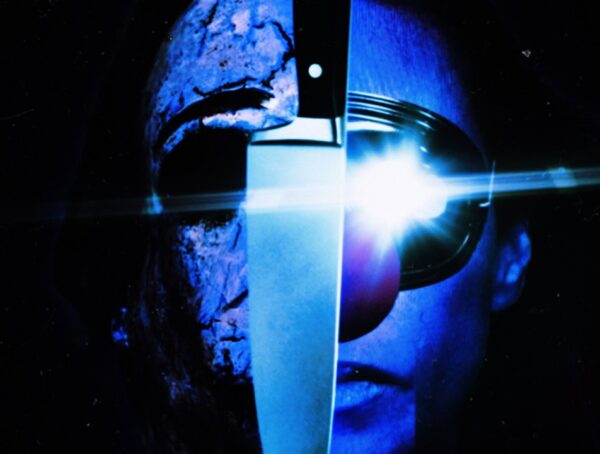 346
Sponsored Feature: Zagan Films Halloween: The Reckoning of Samhain is a new fan film written by Zagan King, Cohen Clark, Jaheim Brisbane and …