Sponsored Feature: SPK Productions & Classified Films
AI ARTIST is an award-winning horror short, written and directed by Jessey Nelson & Dani Barker, that premiered at the Runway AI Film Festival in New York and came home with the Merit Prize.
AI ARTIST follows Dirky, a shrimp-fingered incel who has struggled all his life trying to be an artist. Once presented with new AI software, Dirky flourishes online leading him into unchartered territories that raise uncomfortable questions around what is considered art. This is the first of more AI-featured content to come. This film does not shy away from the bizarre reality of AI in a comical, brazen and at times very disturbing fashion. Dirky's journey to becoming an artist is a social commentary of the fears people have vs. the collaboration/reality of AI taking over. As the story grows and AI develops and evolves, the filmmakers will be using the newest technology to bring each story to life.
Q&A with writer and director Jessey Nelson
Thanks for joining us to discuss your new horror short AI ARTIST! The theme of this film is quite topical with stories about how AI is changing the future all over the news and platforms like ChatGPT becoming increasingly popular. How did you come up with the concept for this film and why did you want to mix AI with horror?
Ya, it's really fascinating and it's evolving so quickly. The concept came about when I first discovered Midjourney and started playing around with their text-to-photo generator on Discord. I found it to be kind of creepy right off the bat, with all its imperfections and weird deformities. I was considering doing a horror anthology series called "BadRoommate" which would be an episodic about messed up roommate situations. So as I was playing around with these images I created two that were specific to the story. Myself as the AI artist, and my roommate Fil (who plays the roommate in the film) as the monstrous canvas created by the AI artist. Those two images alone (seen below) were enough to spark writing the script. Then with the announcement of a local film challenge in Vancouver called "Shits N Giggles" I asked Dani Barker to co-direct with me. Dani and I had been in talks for a while to collaborate as I had been a big fan of her work so this seemed like the ideal opportunity. She had some really great perspectives and ideas on how to evolve the script so she became a co-writer as well. Then we got the team together and made this beautiful disturbing AI film.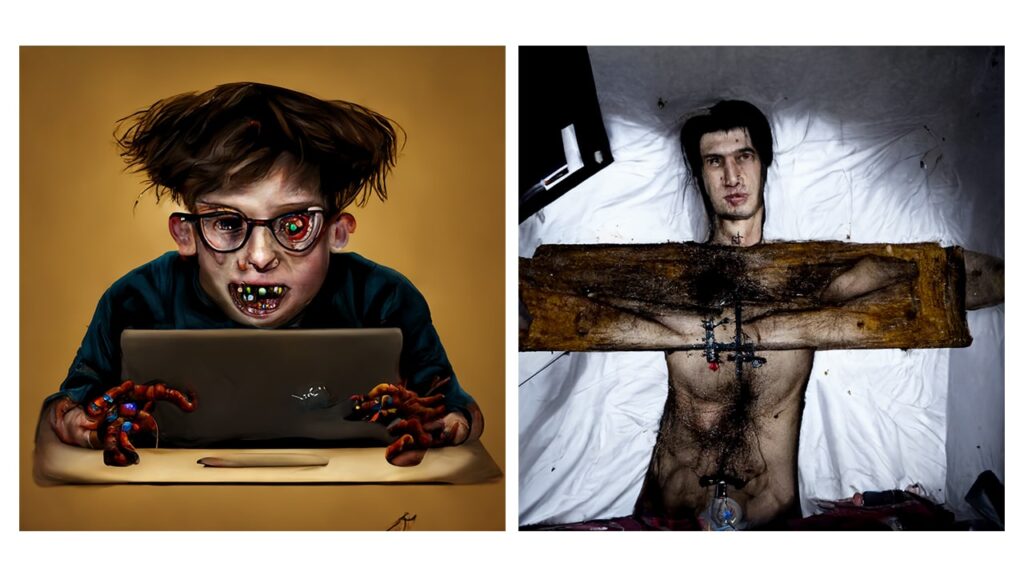 Were you inspired by any other horror films when creating AI ARTIST?
Originally I knew I wanted to make a "body horror." So I was watching films that were heavy on violations of the human body. Tusk, Martyrs, and Human Centipede to name a few. Human Centipede was a film I actually studied for Dirk's character. I felt like Martin in Human Centipede is a very similar protagonist, if you wanna call him that. A sheltered mute, socially awkward, abused by family and confidants, gets his ideas from the grotesque movies he watches to take revenge on people who wronged him. However, once we got into the pre-production we felt this short could live in the world of Black Mirror. It suits that sci-fi/horror anthology vibe. For stylistic tones in the film and lighting, we referenced Requiem for a Dream. We like the dark and gritty. So I guess you can say we were inspired by a cluster of horror and sci-fi content.
FUN FACT: At the 2023 RUNWAY AI FILM FESTIVAL screening in New York, Darren Aronofsky (Creator of Requiem for a Dream) was part of the panelist watching the films and after the event, we met his assistant who told us he loved the film. Turns out he's a big fan of AI. That alone was like a dream come true.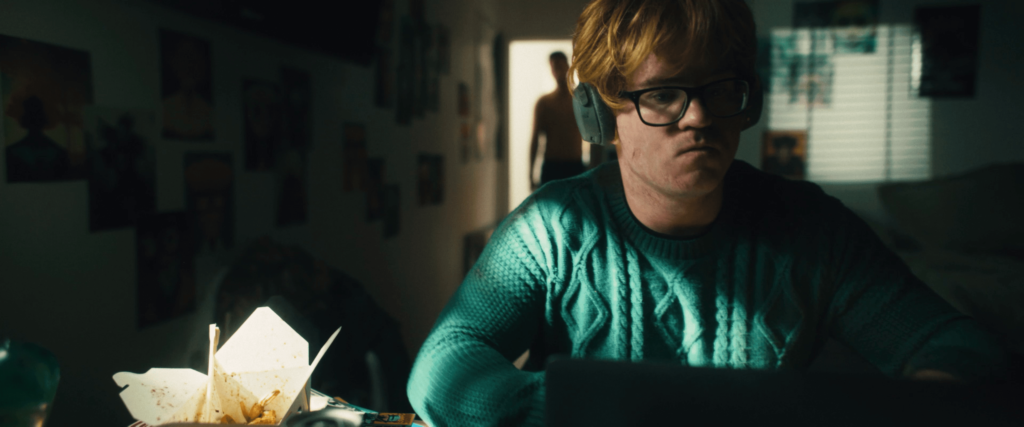 What are the main themes you wanted to really hit home in this short?
We wanted to highlight the struggles of an artistic child whose dreams were squandered by an abusive grandmother before struggling all his life to be an artist. With the rise of AI and using this story of a kid with awkward, monster fingers, we wanted to highlight the debate around AI: is AI stealing art? And if it is a compilation of "stolen art", does that still count as art? We wanted to morph these two worlds as you see at the end of the film, when the lines between artistic expression and creating art through his roommate's body, become completely blurred.
Universal fears around the artistic craft being taken over by robots gave us fuel to create something that instead of fearing it, embraced change and collaboration with the evolution of technology. AI is an opportunity to take creations to the next level with resources we could never have imagined. AI is giving filmmakers a superpower.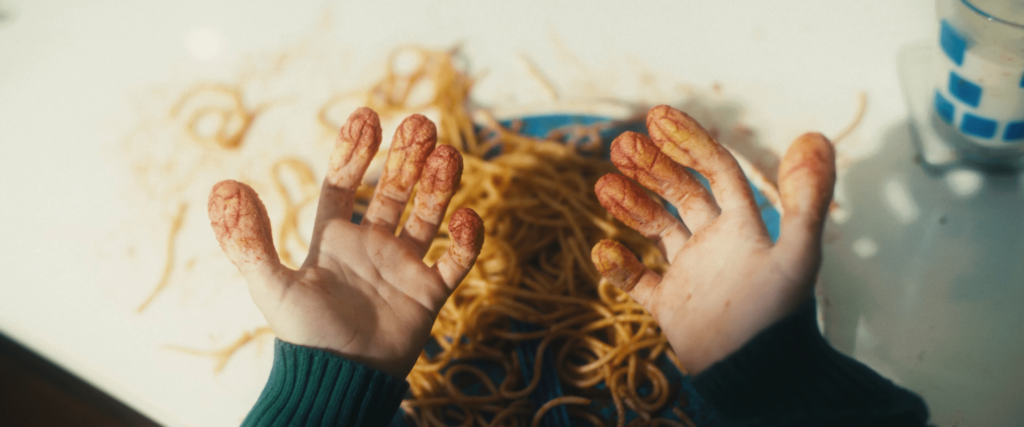 "Universal fears around the artistic craft being taken over by robots gave us fuel to create something."
What were some of the biggest challenges during the filmmaking process?
We originally made the film for the Vancouver "Shits N Giggles" film contest, under 5 minutes as per the rules. But we knew this story deserved more. So after the contest, we organized two pickup days, spent some time in post-production, incorporated more elements of AI in the film and completed it. Our acceptance into the "2023 RUNWAY FILM FESTIVAL," gave us a second deadline to look forward to. After the praise the film has been receiving and the reactions we know that extra energy was well worth it!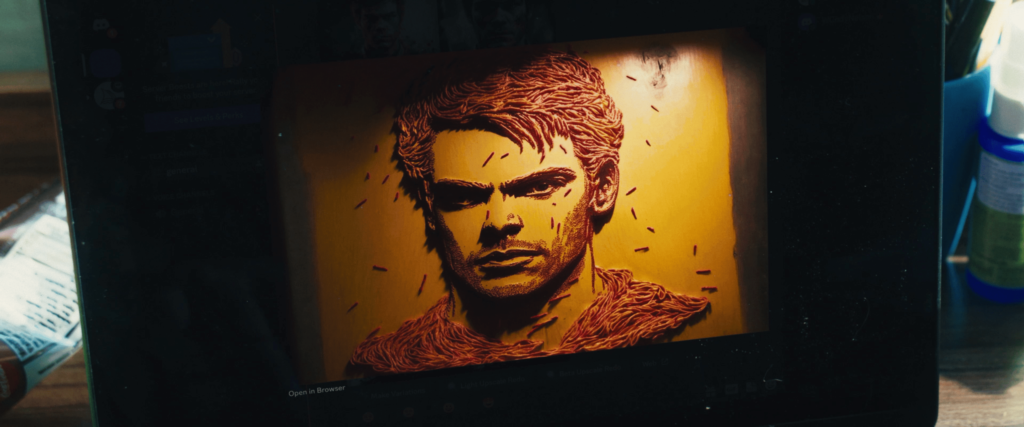 Any fun BTS stories to share while making AI ARTIST?
Overall it was just complete fun and utter chaos putting this film together. Shooting the original film in just 1 long day in 1 location is a challenge in itself but our team was wicked and fun and we really soldiered through it. If I had to name some highlights: The actor that played "Blake" Filip Zivanovic had to keep his mouth shut (with fake staples) for at least 3 hours while in makeup. For a talker, that's a challenge. And highly entertaining for us as he tried to speak through closed lips.
Extra shoot days we did with my brother "Cody Nelson" (also our editor) doing his best Neil Buchanan from Art Attack impersonation was a ridiculously fun time.
The finger peeling scene – playing with stop motion. My sister Amanda Nelson, placed different things we found at the craft store with clay on my fingers so we could incorporate that into the finger multiverse montage.
What AI was used in the making of this film?
We used Ai for conceptualizing, story, production design, VFX, title and End Credits!
For more information on AI ARTIST and other upcoming films, follow @mrjesseyjames @danibarker7 @aiartistdirky on Instagram.
You might also like
---
More from Indie Horror
---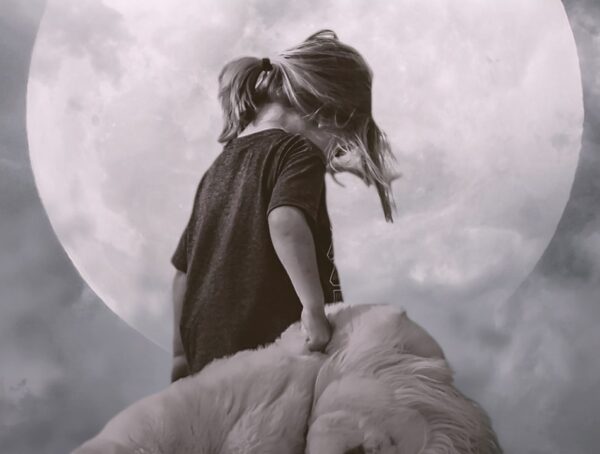 286
Sponsored feature: Extraordinary Pictures LLC Inner Child is an upcoming feature film drama-thriller with horror elements. The story is based on a novella …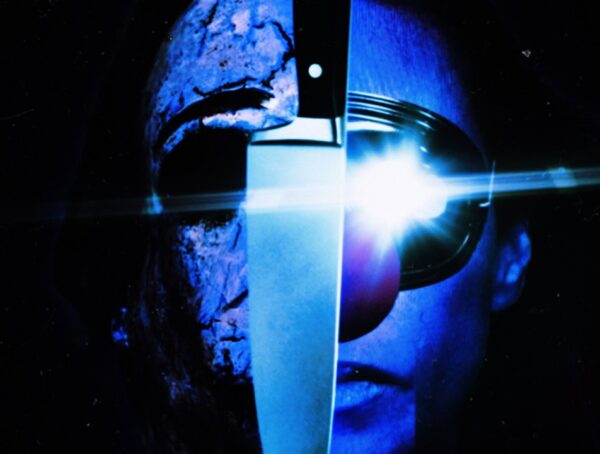 352
Sponsored Feature: Zagan Films Halloween: The Reckoning of Samhain is a new fan film written by Zagan King, Cohen Clark, Jaheim Brisbane and …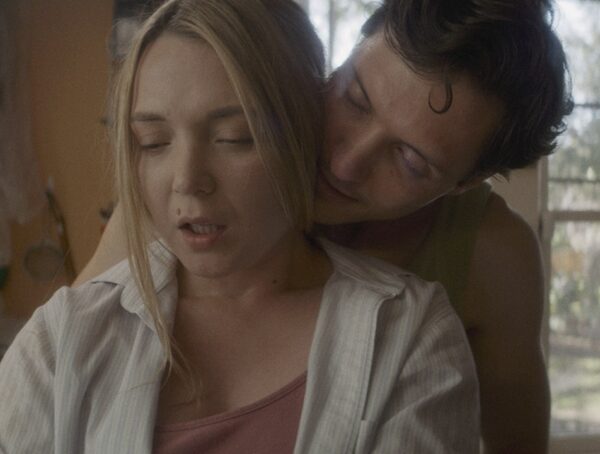 256
Sponsored feature: New 32 productions Biters and Bleeders is an upcoming psychological horror film written and directed by Charlie Carson Monroe and Raven …