The late 90s were a great time for horror, especially the slasher sub genre. As 2018 comes to an end, I want to take a moment to honour some of my favourite horror films that celebrated their 20th anniversary this year.
Whether an original film or sequel, (or 7th sequel) I grew up adoring these movies and though they may not be critically acclaimed, they hold a special place in this rabbit's bloody heart. No matter how many times I watch, I never tire of these iconic flicks.
Here are 5 of my favourite films from 1998!
5/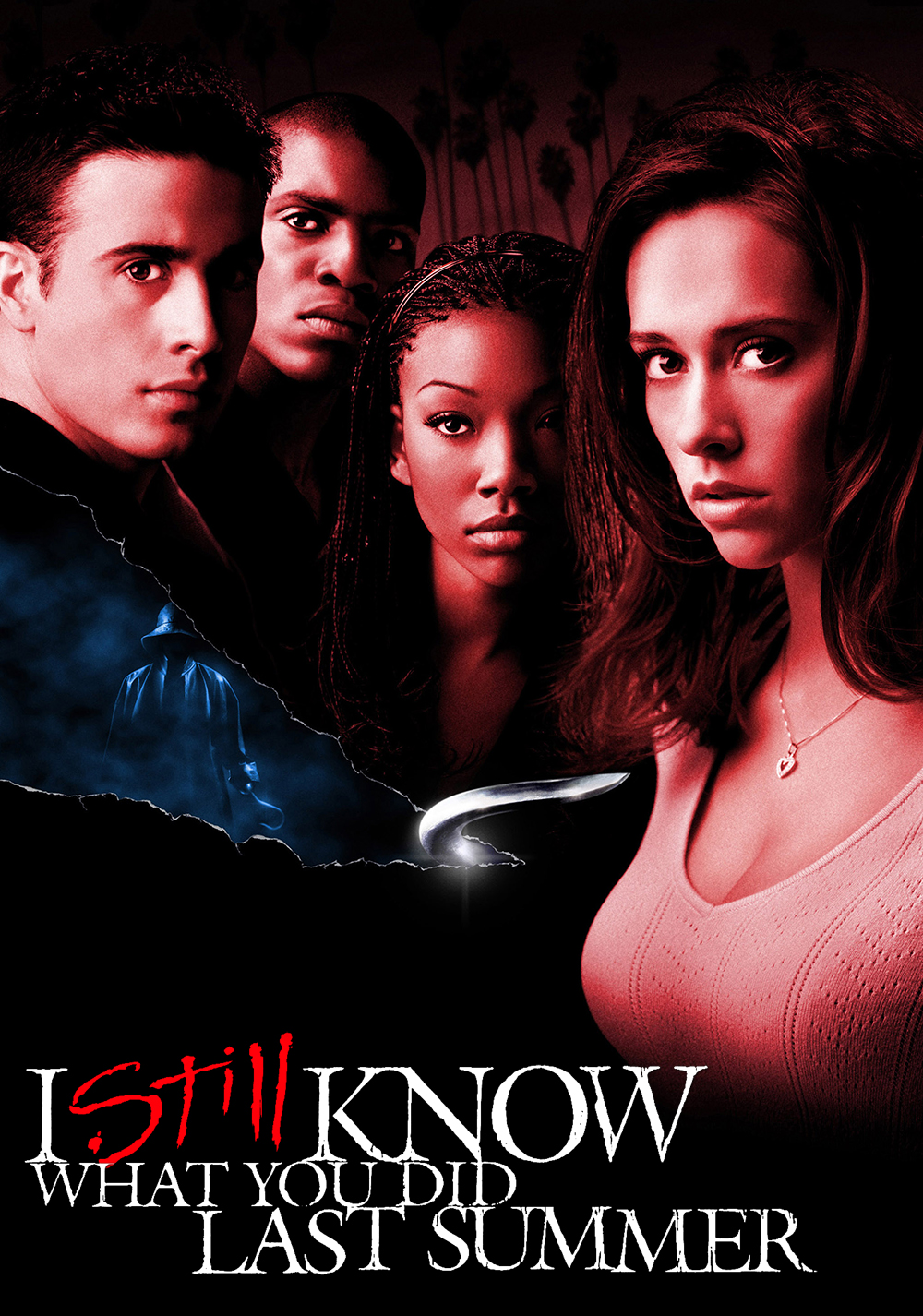 Film:
I Still Know What You Did Last Summer
Director:
Danny Cannon
Release Date:
November 13, 1998
Film Synopsis:
A year after killing vengeful hit-and-run victim Ben Wills (Muse Watson), who gutted her friends with an iron hook, college student Julie James (Jennifer Love Hewitt) is still shaken by the experience. When her roommate, Karla (Brandy), wins a vacation for four to the Bahamas, she plans to bring alo
ng her boyfriend, Tyrell (Mekhi Phifer), attractive Will (Matthew Settle) and Julie. At the resort, Julie starts receiving threatening notes and realizes Ben is still alive.
Favourite Character:
Karla Wilson played by Brandy
Favourite Quotes:
Tyrell: See anybody out there? How about Freddy or Jason or somebody?
&
Julie: Just. Fucking. Die. (while shooting Ben Willis)
Favourite Scene:
Karla falling through the glass ceiling while trying to escape the killer.
Favourite Death Scene:
Tie between Tyrell getting a hook through the back of the neck and Nancy getting a spear through the stomach.
Rabbit In Red Rating: 4 knives!
4/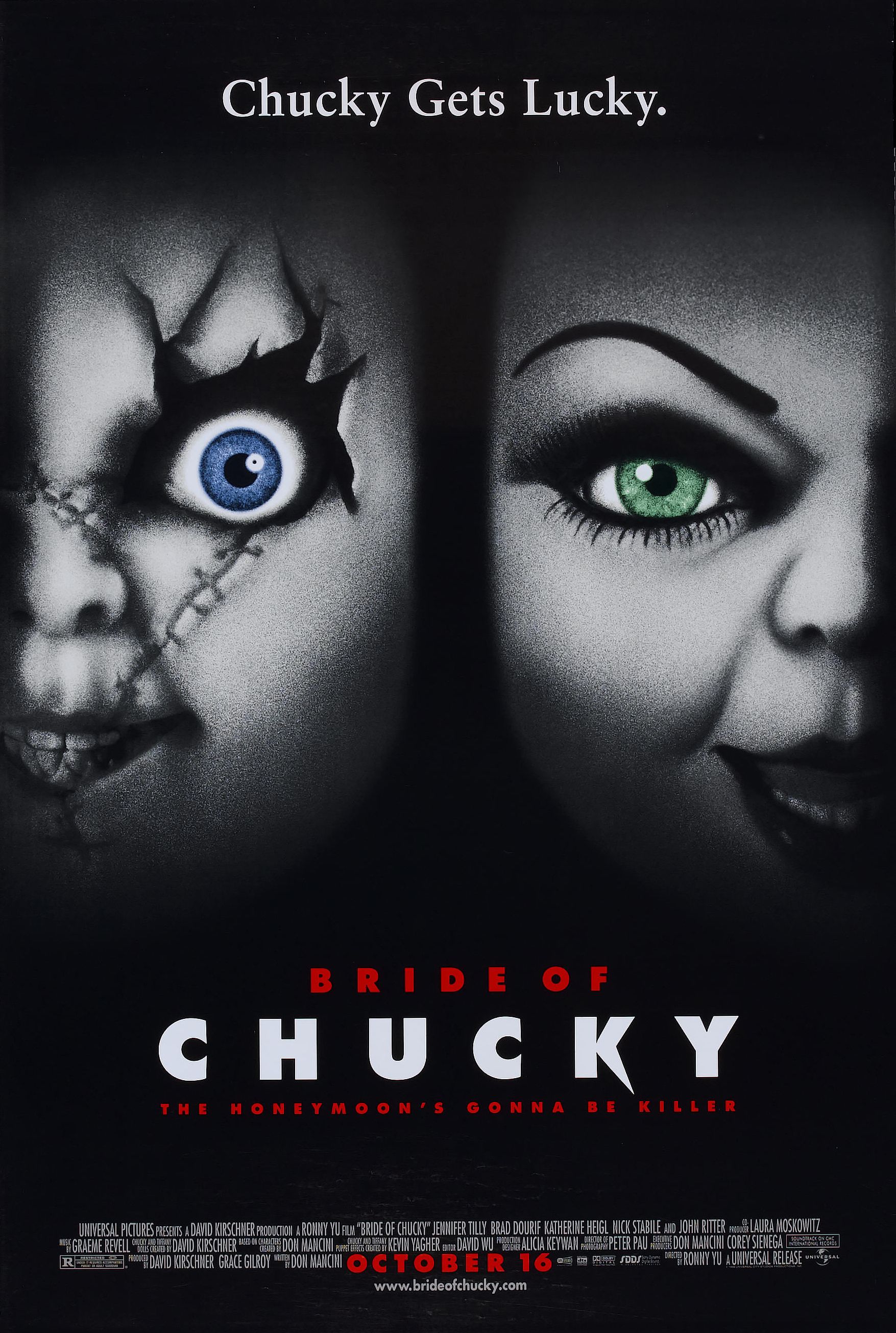 Film:
Bride of Chucky
Director:
Ronny Yu
Release Date:
October 16, 1998
Film Synopsis:
After being cut apart by the police, killer doll Chucky (Brad Dourif) is resurrected by Tiffany (Jennifer Tilly), an ex-girlfriend of the serial murderer whose soul is inside the toy. Following an argument, Chucky kills Tiffany and transfers her soul into a bride doll. To find the magical amulet tha
t can restore them both to human form, Chucky and Tiffany arrange to be driven to New Jersey by Jesse (Nick Stabile) and Jade (Katherine Heigl), who are unaware that their cargo is alive.
Favourite Character:
Tiffany played by Jennifer Tilly
Favourite Quotes:
Tiffany: I wouldn't marry you if you had the body of G.I. Joe.
Chucky: Hey, Raggedy Anne, you looked in the mirror lately? Now's not the time to get picky.
Favourite Scene:
Tiffany's makeover scene. ("Barbie, eat your heart out.")
Favourite Death Scene:
Chucky kills human Tiffany by throwing a TV in the tub she's bathing in. Ironically the TV is playing 1935's Bride of Frankenstein.
Rabbit In Red Rating: 4 knives!
3/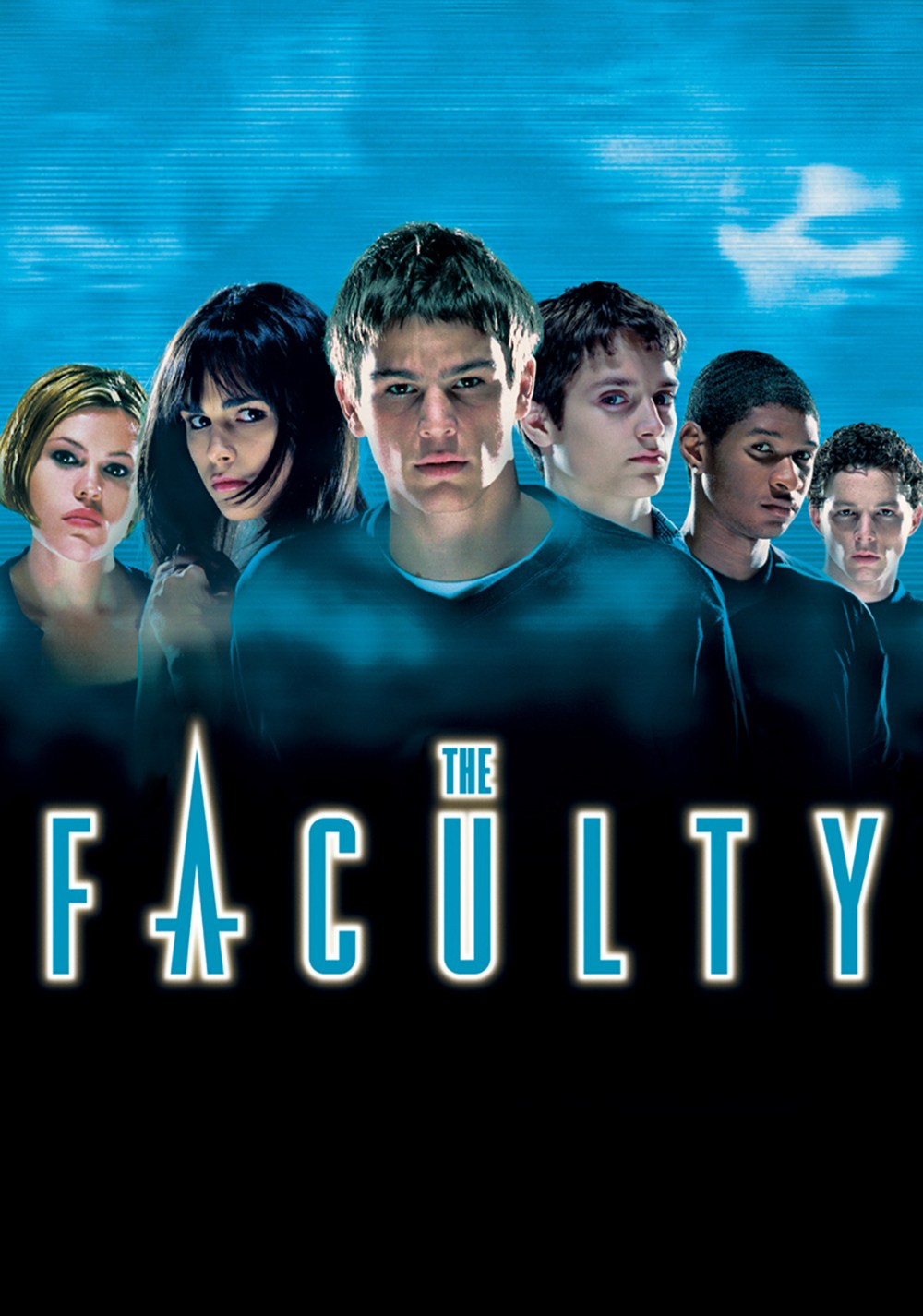 Film:
The Faculty
Director:
Robert Rodriguez
Release Date:
November 12, 1998
Film Synopsis:
To the students at Harrington High, the principal and her posse of teachers have always been a little odd, but lately they've been behaving positively alien. Controlled by otherworldly parasites, the faculty try to infect students one by one. Cheerleader Delilah (Jordana Brewster), football player S
tan (Shawn Hatosy), drug dealer Zeke (Josh Hartnett) and new girl Marybeth (Laura Harris) team up with some of their other classmates to fight back against the invaders.
Favourite Character:
Zeke Tyler played by Josh Hartnett
&
Stokely Mitchell played by Clea DuVall
Favourite Quotes:
Miss Burke: "Woman"? Did you just say "woman"? I'm sick of you, little boy! And if I have to see you peddling your little "Wonder Dust" again, I'm gonna shove my foot so far up your ass, you'll be sucking my toes 'til graduation!
Favourite Scene:
When the students are in Zeke's lab sniffing his drugs to prove they aren't aliens…or are.
Favourite Death Scene:
Principal Valerie Drake's opening death scene
Rabbit In Red Rating: 5 knives!
2/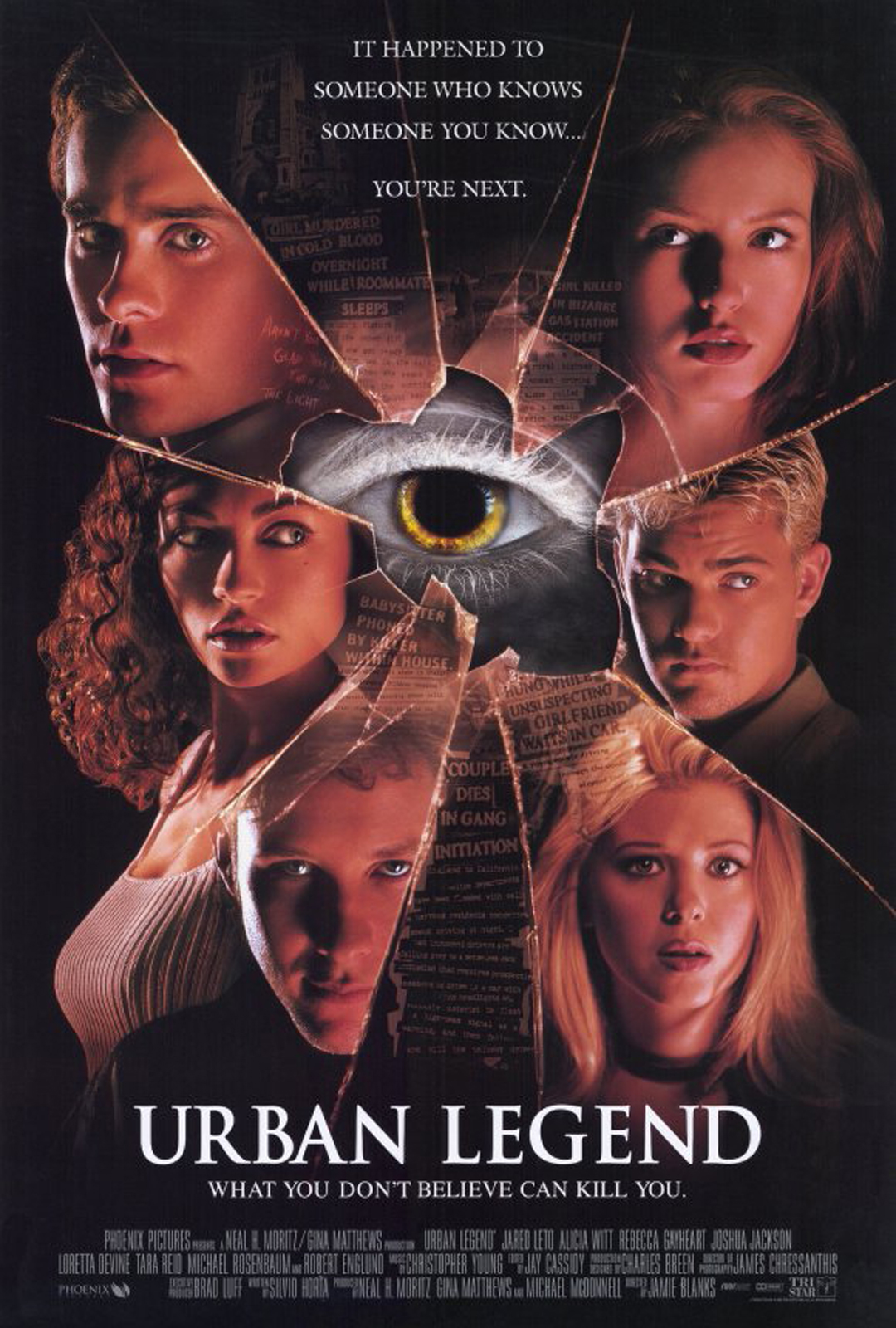 Film:
Urban Legend
Director:
Jamie Blanks
Release Date:
September 25, 1998
Film Synopsis:
A university is beset by a rash of gruesome murders that resemble old urban legends. When her friend Michelle (Natasha Gregson Wagner) is killed by someone hiding in her car, Natalie (Alicia Witt) begins to notice the pattern. Her suspicions grow stronger when her own roommate is strangled to death.
 Soon the quiet college campus is transformed into hunting grounds for a maniac, and Natalie struggles to find the killer and stop the bloodshed before she becomes the next victim.
Favourite Character:
Sasha Thomas played by Tara Reid
&
Reese Wilson played by Loretta Devine
Favourite Quotes:
Brenda: Don't you want to be an urban legend, Nat? All your friends are now.
Favourite Scene:
Sasha's on-air chase
Favourite Death Scene:
Damon Brooks played by Joshua Jackson is hung from a tree by rope that is attached to Alicia's tow hitch. Unknowing that it's him on top of the car fighting for his life, Alicia drives off resulting in Damon's death.
Rabbit In Red Rating: 5 knives!
1/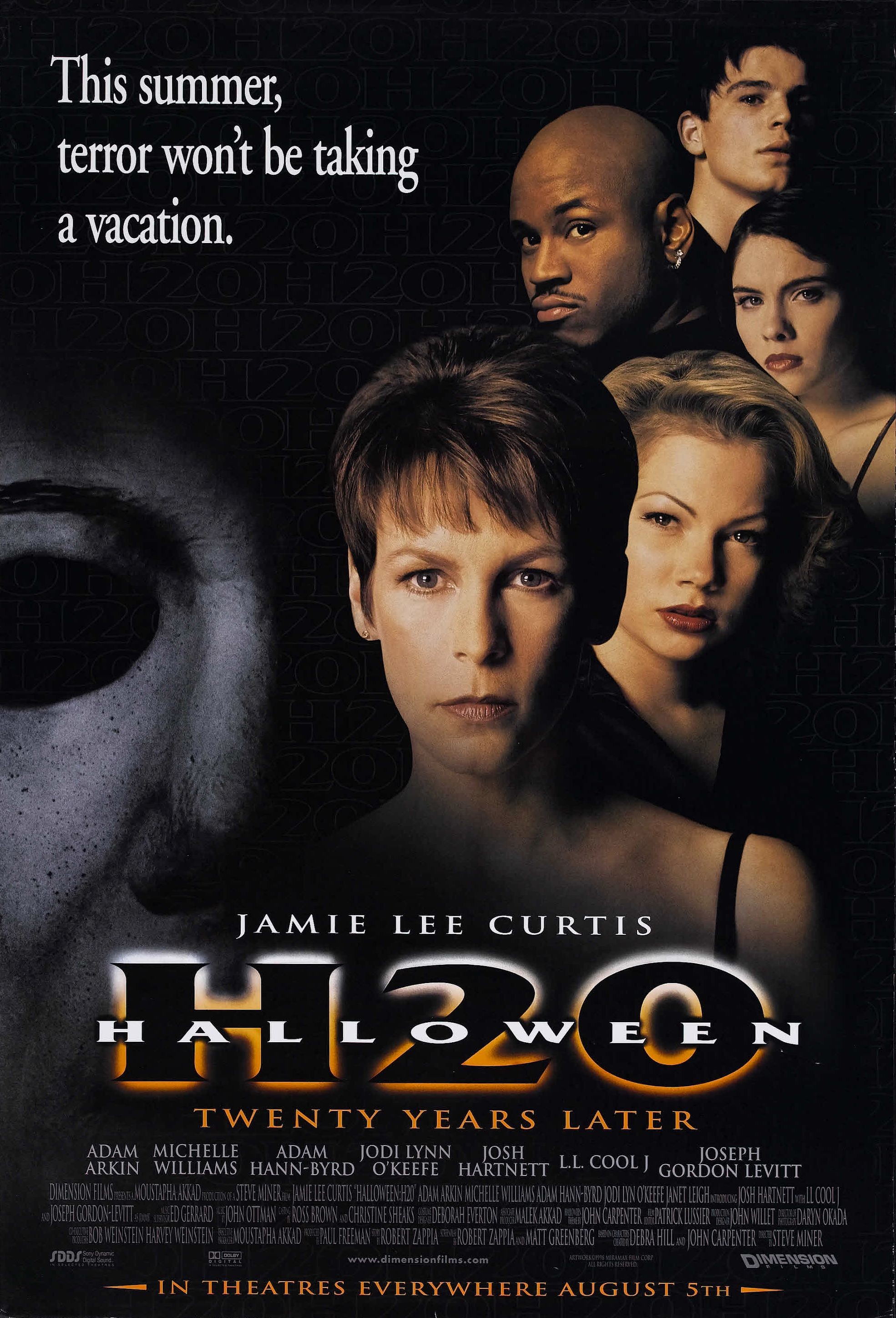 Film:
Halloween H20: Twenty Years Later
Director:
Steve Miner
Release Date:
August 5, 1998
Film Synopsis:
Two decades after surviving a massacre on October 31, 1978, former baby sitter Laurie Strode (Jamie Lee Curtis) finds herself hunted by persistent knife-wielder Michael Myers. Laurie now lives in Northern California under an assumed name, where she works as the headmistress of a private school. But 
it's not far enough to escape Myers, who soon discovers her whereabouts. As Halloween descends upon Laurie's peaceful community, a feeling of dread weighs upon her — with good reason.
Favourite Character:
Laurie Strode played by Jamie Lee Curtis
&
Marion Chambers played by Nancy Stephens
Favourite Quotes:
Norma Watson (played by Janet Leigh): Oh. Miss Tate. I didn't mean to make you jump. It's Halloween. I guess everyone's entitled to one good scare.
Laurie Strode: I've had my share.
Favourite Scene:
Laurie tells John and Molly to leave the premises after Michael and her come face to face for the first time in twenty years. Once they leave she shuts the gate, locks herself in and finds an axe. The Halloween score kicks in and Laurie screams "MICHAEL!" Iconic.
Favourite Death Scene:
Sarah played by Jodi Lyn O'Keefe almost loses a leg before Michael proceeds to stab her to death. Afterwards he hangs her in the pantry like a Halloween decoration.
Rabbit In Red Rating: 5 knives!
What was your favourite film from '98?
More from Reviews
---